Review
Album Review: I-Fire - Spiel Mit Dem Feuer
04/24/2020
by Gardy Stein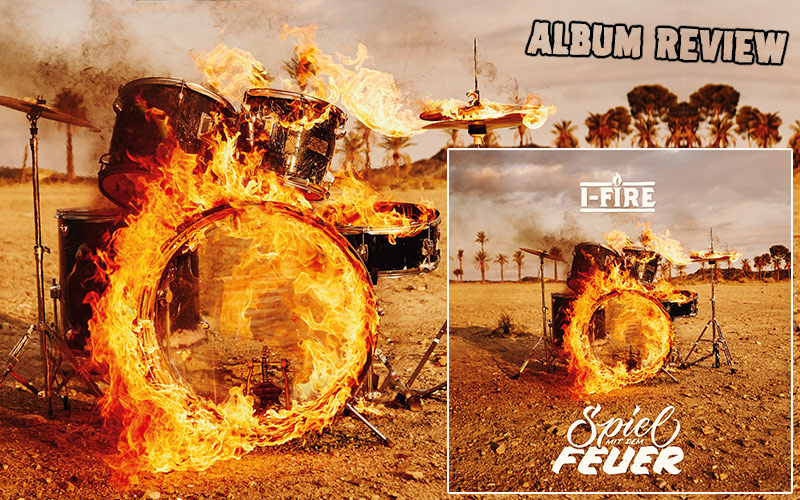 In 2005, nine "Hamburgers" decided to band together and form the North German Reggae-group I-Fire. Since then, they have enthused a growing number of fans with their powerful, danceable music and performance on stages all over Germany. During the last six years, their line-up has seen a few changes, their sound has ripened, and... they seem to have transformed into a bunch of crazy pyromaniacs!
Their fourth studio album Spiel Mit Dem Feuer ('play with the fire') is a hot affair indeed, just as the brilliant cover, a collaborative effort by photographer Niculai Constantinescu and graphic designer Hoycke von der Damerau, promises.
The first and title track sets the pace. Brass, bass, and drums herald the prominent vocals of the three lead singers Robert 'Raw' Schlepper, Nils 'Dub-Ill-You' Wieczorek and Fritz 'Free' Kschowak, who invite us to let the flames flicker. With a similar energy, Gyal Inna Night celebrates female beauty on a danceable Dancehall-beat which, like all other 12 tracks on the album, has been created by the band alone, without external producer. An exceptional feat, in my opinion, that secures a distinctive, compelling sound throughout the release without becoming repetitive.
Thus, you'll find a refreshing variety of styles, from above-mentioned power-beats via the Trap-influenced Nichts Zu Tun ('nothing to do') to dubbed Reggae-pearls like Jamaica or the sing-along-inviting Uh Na Na, which brings to the fore the vocal ability of the three singers.
Devoted fans will be happy to find the tracks Good Vibes, Der Bass Schiebt ('the bass is pushing') and Highgrade on the album, as they have been a staple in the band's live-shows for some years. The latter is a fine Ganja-tune with few lyrical depth, but a huge fun-factor, including playful effects like the Ghostbusters-theme popping up at the end of the song. Der Bass Schiebt, instead, starts with Michael Jackson's Hold Me before exploding into a firework of powerful, old-school Dancehall. And Good Vibes, as its title suggests, spreads positivity.
That's actually one of the winning formulas of the band: creating riddims and lyrics that pick you up when the dull, daily grind kicks in or any unfortunate event throws you off balance. Songs like 38 Grad ('38 degree') or Einfach So ('just like this') will definitely bring a smile to your face - more so when you watch the corrseponding videos!
Stand-out track for me, however, is the wonderful Ich Brauch Nicht Viel ('I don't need much'). Not only because it has this irresistible trumpet hook and an extremeley comfortable bass-line, let alone the infernally dope video, but also because of its decelerating, anti-consumption lyrics. "I don't need much, only a couch to chill (...), a paper and a pen and I write songs like this and more I don't really need, I don't need much, just a Euro and a dream, and I get something going without looking back..." Great stuff!
This appeal for simplicity, for being satisfied with what you've got and for stepping away from thoughtless intake of non-essential goods and activities is a red line consciously developed throughout the album, as band-member Fritz 'Free' Kschowak summarizes: "We back away from turbo-capitalism and refocus on the small, simple pleasures: calm down and chill, folks! Don't always chase after the next big thing."
Despite this statement, Spiel Mit Dem Feuer is the next big thing. Even if you don't master German, you will definitely enjoy the clever compositions, flawless instrumental deliveries and congenial attitude manifested in this album. Let it burn!
---
Release details
I-Fire - Spiel Mit Dem Feuer
DIGITAL RELEASE / 2LP / CD [I-Fire Empire]
Release date: 04/24/2020
Tracks
01. Spiel Mit Dem Feuer
02. Ich Brauch Nicht Viel
03. Pyaka
04. Der Bass Schiebt
05. Highgrade
06. Nichts Zu Tun
07. 38 Grad
08. Gyal Inna Night
09. Good Vibes
10. Einfach So
11. Jamaica
12. Uh Na Na
13. Outernational