Review
Album Review: Prince Fatty vs Mungo's Hi Fi
03/24/2014
by Angus Taylor
It's Mungo's sparse clarity vs Fatty's swing and bounce.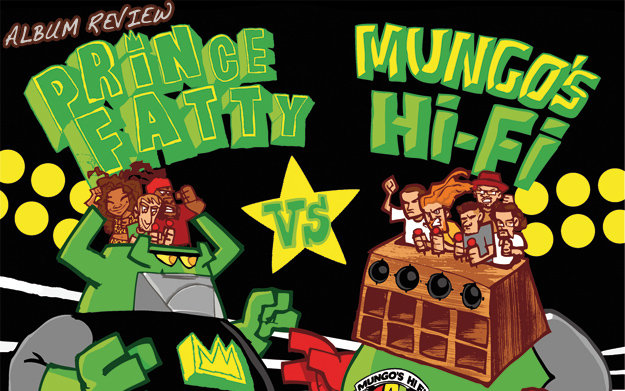 Dub invented the remix. Reggae popularised the clash. And both are still alive in reggae and dub today.

So it's fitting that two of the UK's most consistent and successful non-Caribbean DJ production houses - Brighton's vintage-loving Prince Fatty headed by Mike Pelanconi and Glasgow's digi dancehall dubbers Mungo's Hi-Fi led by Tom Tattersall - are pitted in a ten round musical boxing match by label Mr Bongo. Each peppers the other's productions with high and low sonic blows, trims them down to their beating heart and marks them up with attractive scars.
 
They say styles make fights and this is a good matchup because each producer has a different skillset. Fatty's 70s all-analogue set up renders Mungo's more organic whereas Mungo's 80s computer-meets-analogue ensemble makes Fatty sound less retro. But what adds intrigue is that neither combatant is as locked within their respective era or sub-genre as you might think. In interviews Mungo's have expressed an admiration for King Tubby over Jammy while Fatty says, despite his Tubby-esque name, Junjo is his favourite.
 
The first five rounds belong to Fatty as he gives Mungos tunes a swing and a bounce. It's no surprise that four of the selections – Divorce A L'Italienne featuring Marina P, Herbalist with Top Cat, Did You Really Know featuring Soom T and Under Arrest with MC Ishu - are taken from the Glaswegians' second, most live horn-based album Sound System Champions.

Mungo's fight back, giving Fatty's Guinness-thick productions an unprecedented simplicity and clarity. You can really hear Hollie Cook's voice and very London accent on Sugar Water as never before. Fatty drummer and deejay Horseman appears across the whole affair, rubbing shoulders with Mungo's emcees and Fatty's singers, taking centre stage for his own Horse Move. The proceedings are also strewn with samples: from an anti-police viral YouTube "Bacon breath" video to horseracing commentary.
 
In the end it's hard to pick a winner. It's the 70s vs the 80s. It's comforting retro vs stark originality. It's soupy warmth and swagger vs transparency, precision and punch.



---
Release details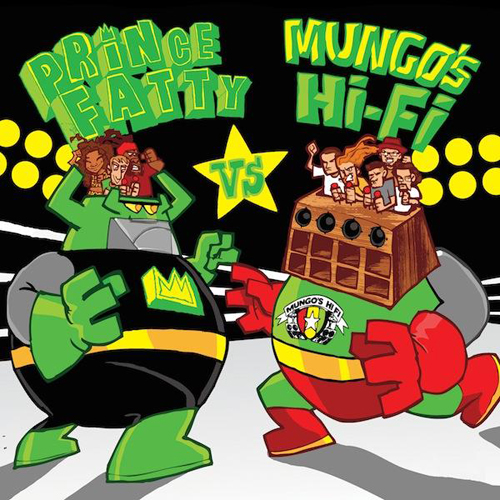 Mungo's Hi-Fi - Prince Fatty vs Mungo's Hi Fi
CD / DIGITAL RELEASE / VINYL [Mr Bongo]
Release date: 03/24/2014
Tracks
01. Prince Fatty - Herbalist feat. Top Cat
02. Prince Fatty - Scrub a Dub Style feat. Sugar Minott
03. Prince Fatty - Did You Really Know feat. Soom T
04. Prince Fatty - Under Arrest
05. Prince Fatty - Divorce A L'Italienne feat. Marina P
06. Mungo's Hi Fi - Sugar Water
07. Mungo's Hi Fi - Dry Your Tears feat. Winston Francis
08. Mungo's Hi Fi - Horsemove
09. Mungo's Hi Fi - Say What You're Saying feat. George Dekker
10. Mungo's Hi Fi - For Me You Are feat. Hollie Cook
Featured artists
Sugar Minott
/
Hollie Cook