Review
Album Review: Hollie Cook - Vessel of Love
01/26/2018
by Gardy Stein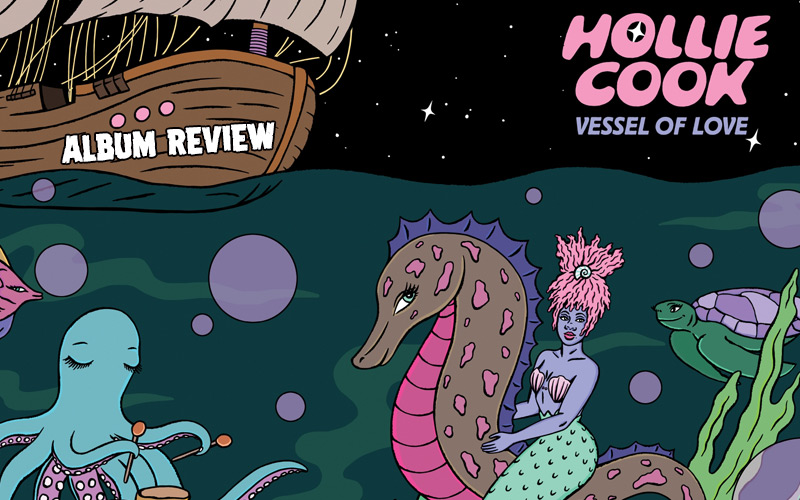 Ever since, in early 2015, I had the pleasure to experience this captivating artiste live at Hamburg's cuddly venue Goldener Salon, I'm a fervent follower of Hollie Cook's output. Devouring her second album Twice like chocolate-chip-cookie-dough ice cream, the wait for a successive release was long – and is over now! With Vessel Of Love (her first ever collaboration with Merge Records), the addiction-inducing singer presents a ten-track goody that's bound to sweeten up your winter days.
Hollie's music seems to combine the punky attitude of her father, Sex Pistols drummer Paul Cook, with her mother's West Indian heritage and her own unique, feathery-soft and at the same time crystal-clear voice. Produced by Martin "Youth" Glover, one of the most prolific producers in the UK who has worked with the likes of Paul McCartney, Pink Floyd and Depeche Mode, the result is a gem in both sound quality and instrumental skills - and in the outstanding vocal and textual performance, of course! As the producer himself points out, Hollie is "one of the most exciting emerging singers and writers" whose songs are characterized by "sharp lyrical observations and clever word play".
So let's dive into the colourful underwater-world of Miss Cook, so fittingly portrayed by the amazing cover-artwork by Robin Eisenberg! The bright shine of trumpets warms us in Angel Fire and Stay Alive, while the slower Lunar Addiction is more drum-dominated and confuses with translucent lyrics. Both Turn Around and Far From Me are prime examples of the singer's capacity to not only hit every note but even perfectly back and second-voice herself.
While all of the above are veritable pieces of art already, the following five make me stand in awe of their creators. Thus, the beautiful title track Vessel Of Love and the equally adorable Ghostly Fading highlight the successful and independent development Jamaican music has taken in the UK through the capable hands of artists like these, without completely forgetting about "parents" such as Up Town Top Ranking. Sweet as sugar, Survive is perfectly translated into a playful video full of 80ies Hi8-charm that brings across Hollie's contagious joie de vivre, and Together sounds like a modern answer to One Love. "Together we are one, together we are powerful!"
From the tips of the perfectly rolling drum sticks to the silky ease with which the singer wraps her words around the surprising chord changes, Freefalling is a deeply enchanting track that will settle permanently in both my heart and the depths of my player. Favourite!
With Vessel Of Love, Hollie's very own take on Lover's Rock is bound to infect you somewhere along the way, so be aware! You better prepare for this dulcet addiction and grab a copy quick (insider's tip: a limited 100 copies of pink vinyl are available, too!).
---
Release details
Hollie Cook - Vessel of Love
DIGITAL RELEASE / VINYL [Merge Records]
Release date: 01/26/2018
Tracks
01. Angel Fire
02. Stay Alive
03. Survive
04. Ghostly Fading
05. Freefalling
06. Lunar Addiction
07. Turn It Around
08. Vessel of Love
09. Together
10. Far From Me