Ninjaman, Gully Bop & Merciless @ Sting 2015 - Live Stream
12/23/2015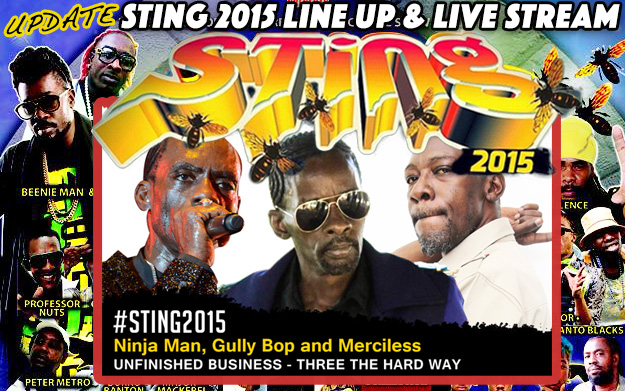 Sting 2015 is just a few days ahead! The 32nd edition of The Greatest One Night Reggae / Dancehall Show On Earth will be staged on December, 26th.

This year's theme From Then Till Now wants to bring back the hit masters of the past: Frankie Paul, Half Pint, General Trees... FULL LINE UP HERE!
Most recently Ninjaman, Gully Bop & Merciless have been added to Sting 2015. Their addition labeled as Unfinished Business - Three The Hard Way is obviously the next round of their clash at Ghetto Splash on December 15th: watch the video here!
 
LIVE STREAM! If you can't be in Jamaica to attend the show. A live stream is the solution. Book early to get the cheap rate. CLICK HERE TO BOOK THE STREAM!


Walk to Sting and drive home?! If you are on spot with a valid ticket you are in! Watch below:

A motorbike give away every hourAt #sting2015 But your tickets for a chance to win

Posted by Reggae Sting on Tuesday, 22 December 2015