Review
Album Review: Groundation - The Next Generation
09/21/2018
by Gardy Stein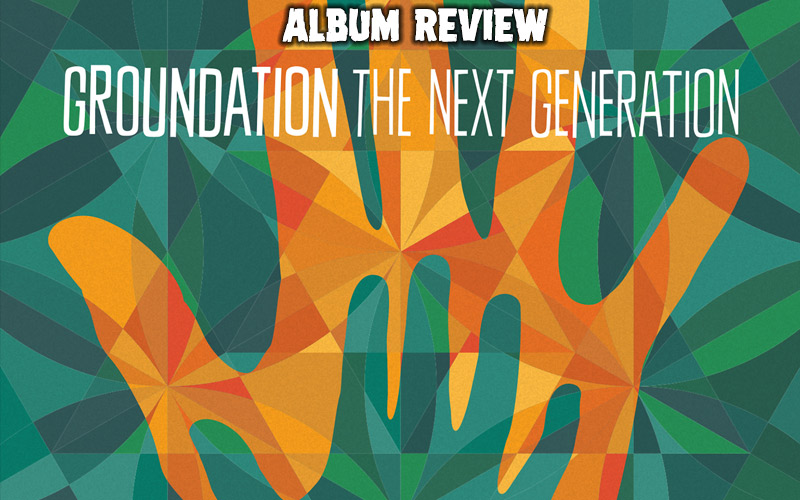 Sometimes, chaos breeds something good. Our universe for instance, which emerged after a gigantic explosion. Or brilliant ideas that surface from a swirling mass of thoughts. Or the first track Vanity from Groundation's new album The Next Generation, which takes on its brass-dominated, musical form after a pell-mell cacophony of notes and tones…
But wait, I'm racing ahead. Let's talk about the next generation of Groundation first before we turn to their current release. The US-band itself has been through some chaotic times, parting with old members and melding new musicians into the 9-piece-unit that founder Harrison Stafford now presents to the world. Will Blades from Berkeley plays clavinet, keyboard and the B3 organ while Jamaican Isaiah Palmer joins on bass. He harmonises perfectly with drummer Jake Shandling, a Californian native who has strong roots in Jazz. Both Brady Shammar and Aleca Smith, the harmony vocalists, took their first musical steps in Jamaica, while guitarist Eduardo Gross was born and raised in Brazil before moving to the US. This leaves the brass section which is made up of Californian Craig Berletti (trumpet and keyboard) and Roger Cox (saxophone) from Kingston.
Together they create what is aptly entitled The Next Generation, an album that has a new sound but is still distinctively Groundation. From the swirling Reggae-Jazz-Funk sound of Prophets & Profit or Lion In Man via the profound, thought-provoking lyrics in One But Ten or Fossil Fuels to the deep Roots beat of Hero, the alluring fascination of Stafford's music remains the same as in earlier works.
Painfully beautiful, the decelerated New Life leaves lots of room for instrumental solos (not only do horns and guitar have a prominent spot, but organ, bass and drums as well) and allows the voices of both lead and background singers to unfold in melodic glory. The incredible duration of 7:33 is not a second too long!
Another special piece is My Shield with its African elements, climbing Gospel-like heights in the chorus and, again, giving the musicians space for improvisation. Try Me and Warrior Blues will appeal to the more traditional Reggae lovers, and the latter's well-timed, warm riddim deserves respect, as it (like all others) has been recorded on the analogue 2-Inch tape machine of the Prairie Sun Studios, meaning the band had to play every song from beginning to end, together!
The track that touched me most, that moved me to tears actually, is Father & Child. Every note, every word of it whispers parental love, tender care and affection, a legacy every child should be equipped with to pass on to The Next Generation.
Having embarked on diverse solo-projects over the last three years (e.g. the exciting Brain Damage combination Liberation Time or the album One Dance), Harrison Stafford is now back with his heart's desire, described by him thus: "Groundation provides a musical vessel that allows me to create and perform the music that I hear in my head." Thanks for sharing, Professor Stafford!
---
Release details
Groundation - The Next Generation
DIGITAL RELEASE / CD [Baco Records]
Release date: 09/21/2018
Tracks
01. Vanity
02. One But Ten
03. New Life
04. Warrior Blues
05. Lion In Man
06. Prophets & Profit
07. Hero feat. Helio Bentes
08. Fossil Fuels
09. My Shield
10. Try Me
11. Father & Child