Review
Album Review: Groundation - A Miracle
10/26/2014
This album is the crown of the Californians' gallery of masterpieces.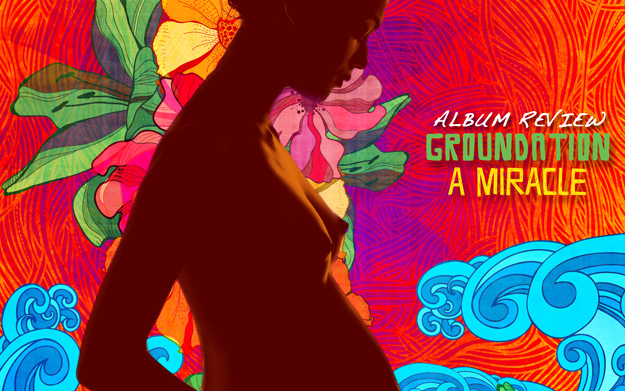 Within the last few years, the Californian group Groundation went from being an insiders' tip for lovers of handcrafted roots music full of soul to becoming a household name on every continent. Placed on an intersection of reggae and jazz which they carved out themselves, their ever growing fan base is recruited not only from reggae lovers or jazz connaisseurs, but from music lovers in general. Most people are sold once they see Groundation perform live. And presumably hundreds of thousand are waiting feverishly for every new album.

A Miracle is the group's eighth studio album already. Its first surprise is the cover artwork. Much more colorful than we're used to from Groundation, it has been designed by no other than Neville Garrick, known as Bob Marley's art director, and his son Nesta. It shows a pregnant women before a backdrop of stylized allegories for life and fertility. Groundation's lead singer Harrison "Professor" Stafford became a father for the second time recently. A Miracle speaks to the "great female spirit", he explains. Logically, female voices feature more importantly on A Miracle than on any of its predecessors. The miracle the title evokes is that of giving birth, of life in general, of a bright future for humanity, and thus again of life in general.

The album comes with ten tracks, ranging in length from 3:57 minutes to rare-in-reggae 7:53 minutes. There's much space for the music to unfold, much room for solos and Groundation's gifted musicians to shine. A Miracle sounds jazzier than previous Groundation albums, and yet catchier, easier to sing along, easier to take in. What hasn't changed is the otherworldly spirituality to Groundation's music. Once the music sets in, whether live on stage or here on A Miracle, your head is no longer part of this world, the world's antagonisms simply forgotten for a moment, while your feet are firmly planted on the ground still.

Naturally free of fillers, among the real killers we find two outstanding combinations. The first is Defender Of Beauty with the one and only Marcia Griffiths, a defender of beauty in her very own right. The second one features her I-Threes sister Judy Mowatt, it is the album's title track. While this is certainly not the type of riddim Judy Mowatt is used to, she doesn't show and does an outstanding job nevertheless. Another personal favorite is the uptempo Hold Your Head Up, designed to lift you up at any moment of your life.

A Miracle is pure magic. It is a purifying journey into the depths of your soul, one that brings you as close to the essence of life as music could ever do. This album is the crown of the Californians' gallery of masterpieces.
---
Release details
Groundation - A Miracle
DIGITAL RELEASE / CD [Soulbeats Records]
Release date: 10/21/2014
Tracks
01. Riddim Hold Dem
02. Defender Of Beauty feat. Marcia Griffiths
03. Free Rider
04. Gone A Cemetery
05. Liberation Call
06. A Miracle feat. Judy Mowatt
07. Hold Your Head Up
08. Jah Defends The Music
09. Born Again
10. Cupid's Arrow
Featured artists
Marcia Griffiths