Harrison Stafford presents 'The History of Reggae Music' Online Course
11/03/2020 by Reggaeville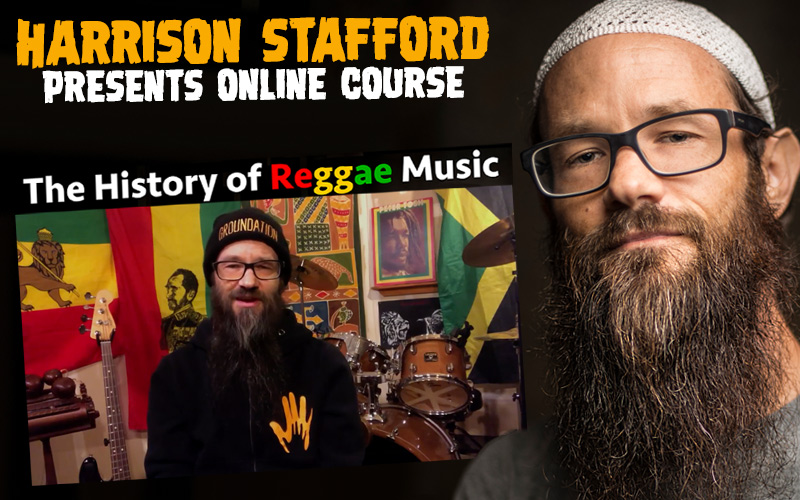 Harrison Stafford, leader of Groundation, presents a six week online course titled The History of Reggae Music.
"If you've ever wanted to know the conditions that inspired the likes of Bob Marley and Peter Tosh this course is for you. We will explore reggae's development from its African origins, to ska, to dancehall as well as its social and political influence on the world."
From 1999 to 2001 Stafford has taught this course at the Sonoma State University in California:
"Drawing on his personal research and his travel experiences in Jamaica and Africa, Harrison created a college level course titled "The History of Reggae Music", which he taught at Sonoma State University from 1999-2001. The course was unique in that it took students who maybe just recently heard of Reggae music or only knew it from the popularity of Bob Marley and helped them appreciate the music on a deeper level; helped them understand how the music and message really defines who we are and where we stand in this time." (source: biography @ harrisonstafford.com)
See below all details about the online course:
Six weekly meetings live online starting Nov 17 and ending Dec 22, 2020
1 meeting per week
2 hours every Tuesday @ 11am PST
The sessions will include a lecture with special guests from the reggae world followed by Q & A.
Weekly meeting will be recorded and available for participants to re-watch at their convenience.
Online access to course syllabus, materials, and listening sources
Official certificate of course completion signed by Harrison Stafford
The cost will be an introductory rate of $200 USD.
The enrollment space is limited so please if you are interested now is the time to register.
Register for "The History of Reggae Music" @ HarrisonStafford.com