Groundation is Back - Introducing the New Generation!
03/12/2018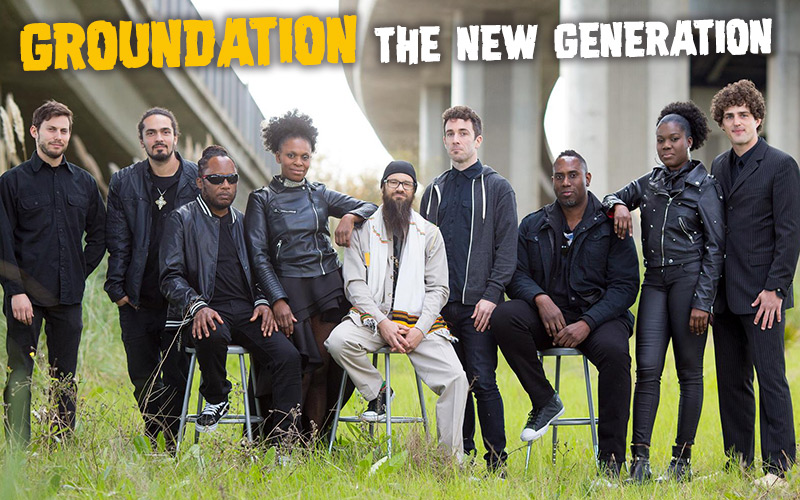 After a year three year break, Groundation will be back in 2018 with a new album, live concerts and a major band change!

Lead singer Harrison Stafford plus eight new band members are the new generation of Groundation.

The fact, that Stafford is the only remaining founding member, left many fans in a shock.

See below the official announcement, a selection of fan comments and statements by former members:
OFFICIAL ANNOUNCEMENT...
GROUNDATION on Facebook - March 10, 2018:
Introducing the New members of GROUNDATION #nextgeneration #newmusic #musicisthemosthigh
First formed in 1998 Groundation returns in 2018 after a 3 year hiatus; debuting accomplished new members, brand new music and that true to form improvisational Reggae/Jazz experience. A unique sound fans have enjoyed for two decades on the biggest stages all over the world.

Harrison Stafford, founding member, lead singer and guitarist for the group is eager to get back to creating this unique and dynamic sound which allows musical freedom, exploration and creativitiy like no other form. Having embarked on several musical projects over the years Groundation remains his first love.

Harrison remarks that "Groundation provides a musical vessel that allows me to create and perform the music that I hear in my head". The sound comes in part from Harrison's early childhood hearing Duke Ellington and Miles Davis from his grandfather and father who where both Jazz performers. He formalized his musical education at Sonoma State University (SSU) completing a degree in Jazz Performance, where he honed his skills for composing, arranging and producing. After completion Harrison went on to teach The History of Reggae Music at SSU before embarking on his own musical journey. A journey that would by and large comprise to date, of eight studio albums and tours to over 40 countries across the globe with Groundation.

Carrying on Groundation's rich history and the high standards, that were set by the musicians before; honoring what was done and pushing further still. A new generation takes the reins, you will find onstage: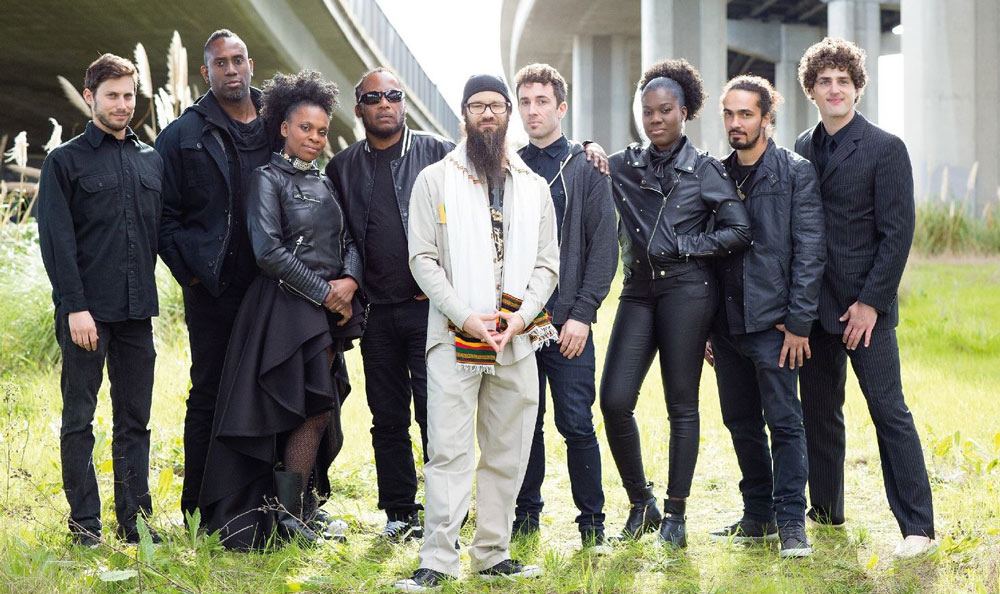 Will Blades (Organ and Clavinet / Keyboard player)
Isaiah Palmer (Bass player)
Jake Shandling (Drummer)
Brady Shammar (Harmony vocalist)
Aleca Smith (Harmony vocalist)
Eduardo Gross (Guitarist)
Craig Berletti (Keyboard & Trumpet)
Roger Cox (Saxophone)

This nine-piece band creates an altogether unique reggae sound, featuring swirling, jazz/funk inspired horns, stout Latin and African based poly-rhythmics, and soulful harmony vocals. Their concerts utilize live improvisation, in classic jazz fashion, and are renowned for their high energy, communion-type atmosphere. Fans can expect to hear classic like Picture On The Wall and Babylon Rule Dem along with new never hear before songs from their upcoming album set for release in September 2018.

FAN REACTIONS...
While some fans expressed their displeasure about the changes, many are happy about the return and are looking forward to the new band. See below some Facebook comments:

Alan Dominguez without Marcus Urani and Ryan Newman this band is not Groundation!!

Mike Crosson There's no question in my mind that this project is going to take reggae music to the next level... am I going to miss the old lineup? Of course! but will I dwell and let this stop my love for what Harrison Stafford has brought? Absolutely not!

Craiggae Music Loved the vibe before. I'm sure I'm gonna love it now!! Excited to hear Groundation rebooted!

Wes Richardson As a bassist Ryan Newman was a big part of the draw for me. Not excited about the member shake up, those are huge shoes to fill.
FORMER GROUNDATION MEMBERS STATEMENTS...
In the past months, there has been some information about the comeback in 2018 and former members have also made statements via Facebook:

Marcus Urani (Founding Member - B3, Keyboards) posted in October 2017:
"[...] I am so sorry to say that Groundation will not be coming back in 2018. Harrison is hiring a whole new group of musicians and is going to call it Groundation. […] Harrison should be honest about the new music he is creating […]. In fact, this project should be called "Professor", just under his name, or a new name since it will be a new group.
We as Groundation were together for 17 years and we created our own sound, even if we changed some members through out the years Harrison, Ryan, and myself were always there at the core shaping the music. Having written, arranged and produced a large portion of our music as Groundation I am sad that we are not together anymore. I miss performing our songs and sharing positive vibes with all of you. […] This new group needs a new name as it will not be Groundation anymore but a new project which I'm sure will be great […]. I am not going to make a bunch of announcements that this new project will not be Groundation, so I leave it you guys to spread the word and let people know the truth. Hopefully Harrison realizes himself that it is not right to use our name with a new group of people. Many of us are still playing together and look forward to seeing you guys in one form or another. We love you all and will always be creating new music as a soundtrack for these wild times we are all living in. Thank you again for the positive energy that you have given us through out the years, we look forward to many more moments together!"

David Chachere (Trumpet) posted in February 2018
"I'd like to say I'm happy Groundation will be returning to the stage this summer.
However, the lead singer didn't invite anyone from the band to join him. So Groundation is not actually returning to the stage. I am sorry that you will not hear the songs you know or the musicians who wrote and performed them. Groundation was formed in 1998 and continued until 2015. We toured in forty-two of the fifty States and almost forty countries on six continents. During that time we recorded eight albums. I hope our friends and fans share our good memories."

Jason Robinson (Saxophone, Flute) posted:
"It's with a sad heart that I share the news that I'm no longer involved with or interested in being involved with Groundation, a group that I was a part of since 1997/1998. Having recorded on just about every album from Youngtree to A Miracle, having composed a GIANT portion of the horn lines for these albums, having performed in numerous countries with the band, having played with many of my friends in the band in a number of other situations--geez, having probably even taught one or two of them how to think about music theory and jazz harmony--it's no wonder this comes with a heavy heart. [Following edited for more clarity:] I wish the lead singer the best in his future endeavors, but Groundation without all of its creators is not Groundation. And good luck to the new members of the lead singer's new band, whoever you might be."