56 Releases Nominated for Reggaeville's ALBUM OF THE YEAR 2020 Poll
12/18/2020 by Reggaeville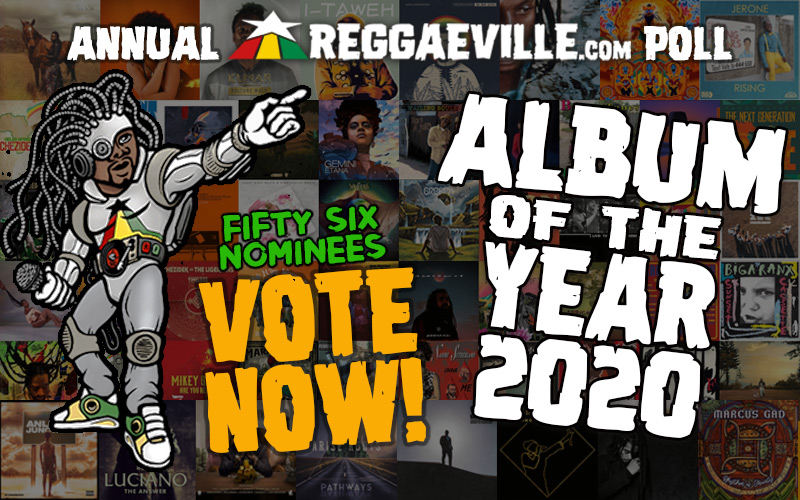 Just a few weeks left in 2020... it's time again for Reggaeville's ALBUM OF THE YEAR poll.
In the past years the album poll contained 200-300 releases. All releases in our database were automatically part of the voting and it was a tuff challenge for the fans to select their favorite three releases. This year it's a bit different:
For the first time ever, we made a pre-selection with an internal vote. The voting panel included 22 people from TeamReggaeville and we invited a few guests: Mattia (Warrior Sound International, Germany), Robbo Ranx (Robbo Ranx Radio, UK), Fabi Benz (Germany), Carter van Pelt (USA), Shotta Paul (Jugglerz, Germany), Lukie Wyniger (SRF 3 Radio, Switzerland), Shrik Kotecha (DJ 745, UK) and MC Allgi (Sentinel Sound, Germany).
30 people submitted their favorite releases of 2020, a total of 160 different releases. 56 of these entries made it to the final round and are now open to public voting.

ALBUM OF THE YEAR 2020 - CLICK HERE TO VOTE!
The voting ends January 17, 2021 (moved from January 14)! A few days later the results will be revealed in the Reggaeville YEARBOOK 2020.

NOMINEES - ALBUM OF THE YEAR 2020 (A-Z)
Agent Sasco - Sasco vs Assassin EP
Alpheus - The Victory
Anthony B - King In My Castle
Arise Roots - Pathways
Arkaingelle - Nah Watah Down
Biga Ranx - Sunset Cassette
Blakkamoore - Upward Spiral
Blvk H3ro & Wayne J - New Millennium
Bob Marley & The Wailers - Live At The Rainbow 1977
Buju Banton - Upside Down 2020
Bulby York - Heart Crafted
Carlton Santa Davis - Africa Is My Home
Chezidek - Hello Africa
Chezidek & The Ligerians - Timeless
Clive Hunt - Blue Lizzard
Dexta Daps - Vent
Dre Island - Now I Rise
Dub Inc - Acoustic (Live)
Etana - Gemini
Fred Locks - Bigger Tunes
Gentleman - Blaue Stunde
Govana - Humans and Monsters Are Not the Same
GReeeN - Highland
Groundation - The Next Generation live
I-Taweh - Reload
Jah9 - Note To Self
Jerone - Rising EP
Kapelle So & So feat. Captain Yossaria - Bob
Keznamdi - Bloodline
Kumar - Kulture Walk
Lila Iké - The Experience EP
Luciano - The Answer
Major Lazer - Music Is The Weapon
Marcus Gad - Rhythm Of Serenity
Mark Wonder - Remz Of The Dragonslayer
Mikey Spice - Are You Ready
Nadine Sutherland - Inna Me Blood
O.B.F. - Signz
Popcaan - Fixtape
Protoje - In Search of Lost Time
Rebelution - Dub Collection
Richie Spice - Together We Stand
Rootz Underground - Red Gold Green
Sevana - Be Somebody EP
Skip Marley - Higher Place EP
Stonebwoy - Anloga Junction
Tarrus Riley - Healing
Tessellated - Tropics Vol.1
The Archives - Carry Me Home (A Reggae Tribute to Gil Scott-Heron and Brian Jackson)
The Wailers - One World
Toots & The Maytals - Got To Be Tough
Tribal Seeds - Live: The Sessions 2020
Vybz Kartel - Of Dons & Divas
Vybz Kartel - To Tanesha
Wailing Souls - Back A Yard
Zoe Mazah - On Repeat EP

ALBUM OF THE YEAR 2020 - CLICK HERE TO VOTE!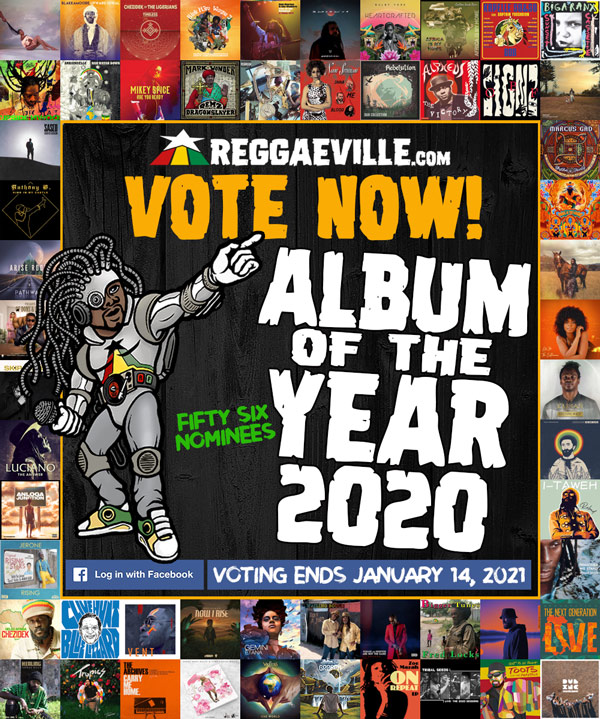 Since 2012 we are asking our users to choose their favorite album of the year. Check the previous results...

ALBUM OF THE YEAR 2019
1. Stick Figure - World On Fire
2. Cultura Profética - Sobrevolando
3. The Movement - Ways Of The World
4. Koffee - Rapture
5. Julian Marley - As I Am
Full results @ YEARBOOK 2019 (Page 124/125)

ALBUM OF THE YEAR 2018
1. Samini - Untamed
2. Alborosie meets The Wailers United - Unbreakable
3. Protoje - A Matter of Time
Full results @ YEARBOOK 2018 (Page 108/109)

ALBUM OF THE YEAR 2017
1. Chronixx - Chronology
2. Stonebwoy - Epistles of Mama
3. Damian Marley - Stony Hill
Full results @ YEARBOOK 2017 (Page 108/109)

ALBUM OF THE YEAR 2016
1. Alborosie - Freedom & Fyah
2. Takana Zion - Good Life
3. Dub Inc - So What
Full results @ YEARBOOK 2016 (Page 118/119)

ALBUM OF THE YEAR 2015
1. Kamil Bednarek — Oddycham
2. Protoje - Ancient Future
3. Mellow Mood - 2 The World
Full results @ YEARBOOK 2015 (Page 126/127)

ALBUM OF THE YEAR 2014
1. Chronixx - The Dread & Terrible Project
2. SOJA - Amid The Noise and Haste
3. Tarrus Riley - Love Situation
Full results @ YEARBOOK 2014 (Page 98/99)

ALBUM OF THE YEAR 2013
1. Protoje - The 8 Year Affair
2. Alborosie - Sound The System
3. Jah9 - New Name
Full results @ YEARBOOK 2013 (Page 46/47)

ALBUM OF THE YEAR 2012
1. SOJA - Strength To Survive
2. Busy Signal - Reggae Music Again
3. Natural Roots - Words of Jah
Full results @ YEARBOOK 2012 (Page 48/49)