Review
Album Review: Green Valley - Ahora
04/02/2016
by Lena Pletzinger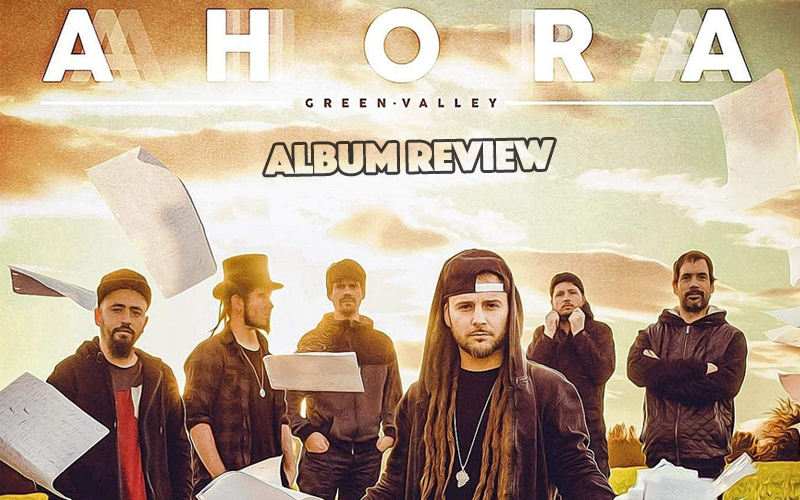 Green Valley means Valle Verde or Valverde in Spanish. Valverde is also the surname of Ander, the founder and lead singer of the band Green Valley, which explains the origin of the band's name. Ander Valverde started his musical career in the Basque Country in northern Spain with solo projects and as a singer in a sound system before he came up with the idea of forming a band in 2004.
Twelve years and four album releases later, the six-member band Green Valley, currently based in the Spanish seaside metropolis of Barcelona, has just put out its fifth album. It's named Ahora, which means Now in English. The lyrics of all 14 new tracks, plus a bonus track, are in Spanish and demonstrate to the public that the time for Spanish reggae is now.
The band focuses on the values of righteousness and unity, and maintains a positive mood. There is also a lot of passion and emotional poetry. They have obviously invested their talent and heart in this project, and has focused on the positive aspects of life. The lyrics are indicative of the singer's life experiences and the related lessons that life has taught him.
Ahora was produced by two of the best-known persons among those involved in Spanish reggae and dub: Genis Trani and Chalart 58. The highly respected Alex Psaroudakis did the mastering at Sterling Sound Studio in New York. Musically, this album offers modern and pop-influenced reggae rhythms and melodious hooks, which support the airy and uplifting vibes of the lyrical content.
The opening tune, La Cura (The Healing), spreads good vibes with a one-drop rhythm, saxophone sections, and inspiring lines like: "La cura de la humanidad será la humildad"  (The healing of humanity will be humility). The single La Vida Va (How Life Goes) is about ups and downs in life, the importance of having faith in oneself, and learning from one's mistakes. El Regalo De Vivir (The Gift Of Being Alive) is a life-affirming song, full of gratitude and positive energy. The up-tempo melody combines classic ska elements with a modern hook. In No Me Voy A Rendir (I Will Not Give Up), the singer declares that nothing can ever drag him down, because no matter how badly life treats him, he believes that everything happens for a reason. Nubes De Cristal (Crystal Clouds) is a romantic song that uses the imagery of the sky to communicate an uplifting feeling of hope. Yes, this is one key part of Spanish reggae: the sense for romantic topics.
This album counts numerous national and international guest appearances. Featured artists from the Spanish capital of Madrid are MC and singer Marodo in the refreshing song Escribe Tu Historia (Write Your History) and dancehall artist Fyahbwoy for the party anthem Estamos Ready (We Are Ready) in an old-school dancehall style. The female singer La Tifa from Colombia is featured in El Viaje (The Journey). Another big international combination is Cuando Salga El Sol (With The Rising Of The Sun), featuring the Chilean hip-hop crew Movimiento Original, as well as Chile's Tiano Bless and Rapsusklei from Madrid.
Vibrant productive energy and musical creativity led the band to come up with a new album nearly every year since the release of their debut album En Tus Manos (In Your Hands) in 2010. En Tus Manos united various reggae styles in one disc. It provided an insight into the versatile range of the band's musical repertoire and interests: from dub to dancehall and ska. La Voz Del Pueblo (The Voice Of The People) was released in 2012. The approach of this album was to be more critical of society and it was musically influenced by roots and dub. One year later, in 2013, a complication of acoustic songs Mirame A Los Ojos (Look Into My Eyes) followed, and in the year 2014 came Hijos De La Tierra (Sons of the Earth). The latter album comes closest to the modern roots and pop style of Ahora.
Due to language barriers, Spanish reggae never reaches as many people as English reggae does. Nevertheless, Spanish reggae bands benefit from a strong international network with Latin America. So does Green Valley have a strong fan base in countries like Chile and Colombia. Despite the limited range of people who can be addressed through Spanish reggae, the Green Valley members stick to their language roots, promote the good things in life, have just put out an excellent and highly recommendable new album, and join a movement that carries Spanish reggae forward to the world. Ahora Now!
---
Release details
Green Valley - Ahora
DIGITAL RELEASE / CD [Green Valley]
Release date: 03/31/2016
Tracks
01. La Cura
02. La Vida Va
03. El Regalo
04. Escribe Tu Historia feat. Morodo
05. No Me Voy A Rendir
06. Por Siempre Jamás
07. Suspiros
08. El Viaje feat. La Tifa
09. Fuego Verde
10. Estamos Ready feat. Fyahbwoy
11. Cuando Salga El Sol feat. Movimiento Original, Rapsusklei, Tiano Bless
12. Momentos
13. Nubes De Cristal
14. A Veces
15. Outro