Review
Album Review: GreeeN - Smaragd
06/28/2019
by Gardy Stein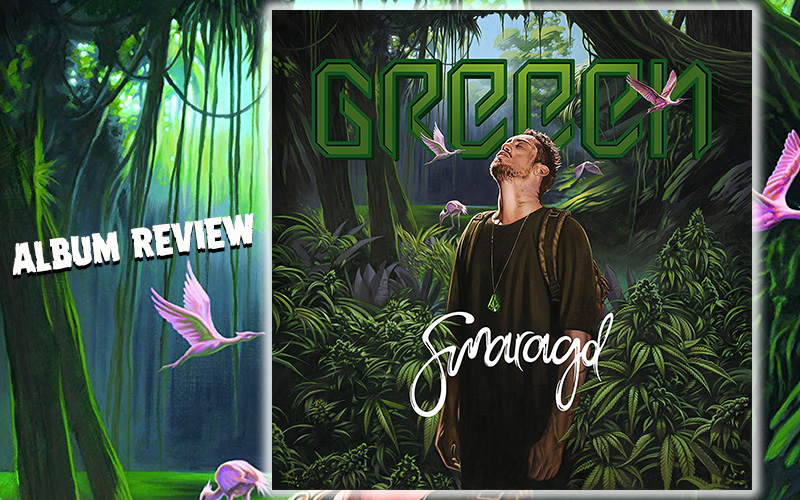 "All the green of nature is concentrated within the Emerald." (Hildegard of Bingen)
The emerald, a green gem stone, is said to represent youth in the age of man, symbolizing hope and the future, renewal and growth. It is thus the perfect match for artist GReeeN, who carries the fascination with many of these properties and especially its colour in his name. Pasquale Denefleh by birth, he is a true self-made artist, having built up his career from scratch, without wealthy or famous parents to pave his way. Maybe that's why he is so damn real, authenticity oozing from his every word and beat.
The encounter with Vienna's production stronghold Irievibrations Records has given him wings two years ago, and the current release Smaragd is the second outcome of this collaboration (the celebrated EP Ach Du Grüne Neune dating back to last year). Again, executive producer Syrix contributed most of the tracks, while mastermind Slick created the other half. Actually, the only piece that was added by another talent called Sebastian Arman is Autostrada, a song that feels and sounds as if taken from a road movie. Let's start this journey!
After a jolting Intro, Ab Jetzt ("From Now On") is an encouragement to follow your passions in life, as every one of us has the strength and brains to achieve something special. "From now on, every day is a good day!" This kind of empowerment is prevalent throughout GReeeN's work, especially on this release. My personal favourite Wunderschönes Wesen ("Beautiful Being") talks about the problem of missing self-love, resulting in low self-esteem, depression and even suicide. The singer tells us insistently to make sure you love yourself, be strong and accept what you cannot change because it makes you unique.
Of course, GReeeN wouldn't be the herbalist he is if he wouldn't sing about the weed. Both Roll It Up, a melodic prompt to smoke, and the title track Smaragd on a powerful beat come with amazing visuals with lots of green, shot during a most recent stay in Jamaica. Take a look!
A more serious examination of the subject is initiated in Pharmazeug ("Pharma Stuff"), discussing the sad reality that big pharmaceutical companies prefer to concentrate on marketable (chemical) solutions instead of relying on natural products or even teaching people how to strengthen their inner self-healing powers. Honey Rider, taken from the first Bond-girl in the 1962 movie, describes the feeling of having arrived at a place you are comfortable with. "See the world with your heart!"
With a beautiful slavic guitar pattern and a melodic hook-line, 8 Jahre ("8 Years") is a very intimate, auto-biographic piece that paints an accurate picture of teenage life in a small German city even I can relate to. This leaves us with the last three songs, each one of them a jewel indeed. Freunde ("Friends") on the distinctive guitar pattern of No Woman No Cry is an ode to those people who are the most important in life, next to family. Discussing the difficulty of successfully handling a relationship as a busy artist, Adler ("Eagle") is an honest claim for the personal freedom needed sometimes: "I need you, but I need me as well. I am an eagle baby, can you live with that?"
Probably the most Reggae of all, Lieg Am See ("Laying at the sea") celebrates these carefree moments we spend with loved ones, weed - and nature. "Nature calms me, here I don't know what fear is..." The lyrics stress GReeeN's connection to Mother Earth once more, an earth without which we couldn't exist. Memba that!
Smaragd is a strong example of how German Reggae can sound like when experts are at work. Thank you, team GReeeN, for putting this out for the world to hear!
---
Release details
Greeen - Smaragd
DIGITAL RELEASE / CD / VINYL [IrieVibrations Records]
Release date: 06/28/2019
Tracks
01. Intro
02. Ab Jetzt
03. Roll It Up
04. Autostrada
05. 8 Jahre
06. Honey Rider
07. Wunderschönes Wesen
08. Pharmazeug
09. Smaragd
10. Freunde
11. Adler
12. Lieg Am See