Review
Album Review: Govana - HUmans And Monsters Are Not The Same
01/17/2020
by Steve Topple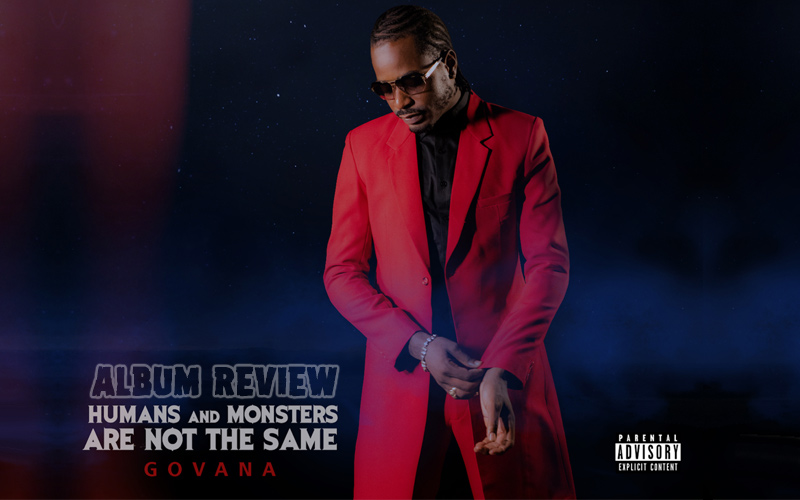 We're only ten days into January, but Govana is straight out of the blocks with one of the first albums of the year. And considering it's his debut, he may have set the standard for conscious Afrobeats/Dancehall in 2020.
In short, Humans and Monsters are Not the Same (HAMANTS), released by Raheef Muzik Group, is quite extraordinary. Gone is the slackness and bad boy image, as have the hard Dancehall beats. It's been replaced by innovative sounds, complex musical arrangements, powerful yet thoughtful lyrics and a strong vocal performance.
Musically, HAMANTS is a curious yet compelling, and experimental, mix of genres and styles. The album is heavy on the Afrobeats, light on the Dancehall and weighs in on all manner of other genres in between – including UK Grime, RnB and Gospel.
The straight up Afrobeats tracks are probably HAMANTS weakest points. But, paradoxically, even they are strong in their own right – showing the skilfulness of Govana and his production team (which includes Chimney Records, Chemist Records, JLL Productions and Frenz for Real to name a few).
Take I Really as an example. The stuttering, offbeat percussive line complexly puts the track firmly in Afrobeats territory. A smoothed-out, mellow 808 follows the root chord – only pulsing on the first beat of each bar, creating the illusion of the track being slower than it is. And Govana's intricate vocal rhythms complete this top-class lesson in Afrobeats.
HAMANTS nods at Dancehall throughout, but it's generally on the back foot compared to other genres. You can see its influence in Champ. The traditional three note Dancehall bass is present, but only across the first two beats of the bar, a pattern which is mimicked by the keys.
But it's when Govana delves into unexplored territory that HAMANTS comes into its own. He has a wicked way of creating Afrobeats ballads, which litter the album. Impossible is a shining example. If you put the instrumental arrangements on their own, you'd get RnB-influenced Hip Hop keys and a bass on a firm Soul lick. But then add in that twitchy, stuttering Afrobeats percussion and Govana's (once again) rhythmically complex performance (which sits between singjay and straight up vocal), and you have a pleasing and smart 'Afroballad'.
Grime is a consistent feature throughout HAMANTS as well. The heavy reverb, choral-like synths and smooth 808 are 'Straight Outta East London'. On Unanswered, with the incomparable Tarrus Riley, there's an Afrobeats/Two Step percussive mash-up and an on-the-beat pulsing bass. Quick fire vocal delivery from both artists keep us in that territory. The use of samples, baby-like voice synths and the musical breaks hark back to the glory days of Timbaland and Darkchild. But the mellow 808 and choral synths hint at the Grime Govana clearly knows well.
He also delves into Revival territory, creating an unboxable smorgasbord of a track with Grammy winner Protoje on In The City. What is it? I really couldn't quite tell, although I loved it. But then, I wouldn't expect anything less when Govana and Mr. In.Digg. join forces.
But for me, there are two stand out tracks in particular. First, the bonus track Sleep. The stripped-backed percussion, with at times just a solitary, offbeat snare, shifts you into Trap/Drill. The smooth bass, gliding across bars, is pure Grime – slowing what is actually a rapid BPM right down. Govana's singjay/vocal hybrid is pure Dancehall/Afrobeats. Yet in with this are double time acoustic guitars, a string line and a chorus which is more RnB. This extremely complex track is a fitting conclusion to the project.
But it's Pray which truly took me aback. It's almost Drake-esque Ambient RnB, but far better than that. Those RnB/Hip Hop keys are back. A haunting use of synths perform an almost robotic duty. But then the grimy bass gradually comes in; the percussion follows and becomes more complex and the track quickly moves forward. Govana's superb vocal builds in pitch and intensity with the instrumentation. He then subdues his performance, becoming almost reflective and at odds with the continuing, intricate percussion.
It's a masterpiece. But moreover, it shows Govana at his movingly most vulnerable. From one son who's taken his mama to hell and back, to another: you got me, bro: "We got to bury you. You can't bury me". My tears flowed.
Pray is the perfect example of how you cannot listen to HAMANTS without being drawn in by its lyrical content. Much like Jahmiel did with 2019's Great Man, Govana has created a conscious project from the grounding of Afrobeats/Dancehall. Every track has a message, much of it relating to his faith; more often than not social issues too.
The gorgeous Mental Slavery is one such stand out. It's a brilliant narrative on how the system, media, celebrity and tech are essentially turning us into passive zombies: "Nobody cares about human rights; Dem only care about Instagram views and likes".
Protection, with it's Gospel-laced vocal arrangement over another one of Govana's 'Afroballads', is also on-point: a song of praise, hailing that despite his own 'monsters', Jah is still looking over him.
HAMANTS is damn-near perfect. Faultless composition, arrangement and production. An impressively broad and colourful vocal performance from Govana. And lyrically thought-provoking and moving. The album is a magnificent vehicle to showcase this extremely talented man.
But moreover, to see another Dancehall artist show his conscious, vulnerable side melted a bit more of this cynical heart of mine. Govana and his project are already on my 2020 'Album of the Year' shortlist. Glorious.
---
Release details
Govana - Humans and Monsters Are Not the Same
DIGITAL RELEASE [Raheef Muzik Group]
Release date: 01/10/2020
Tracks
01. Champ
02. Impossible
03. The Light feat. Dre Island
04. Mental Slavery
05. Unanswered feat. Tarrus Riley
06. I Really
07. Cups Up
08. Protection
09. Loyalty
10. Pray
11. In The City feat. Protoje
12. Believe Me
13. Ole'
14. Sleep
Featured artists
Protoje
/
Dre Island
/
Tarrus Riley