Review
Album Review: Ginjah - Survival
03/20/2020
by Steve Topple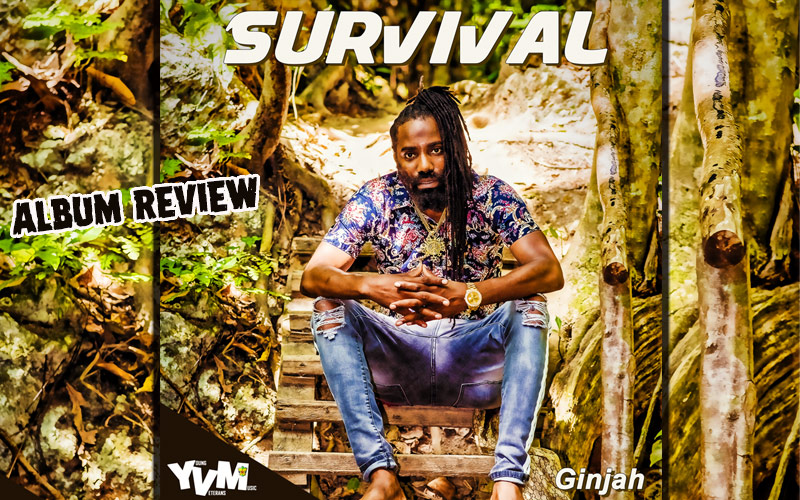 In these times of worldwide crisis, many of us could probably do with some comfort and succour from the global chaos. And perhaps Ginjah has the answer, in the form of one of the most exciting crossover albums of the year so far.
Survival, released via Young Veterans Music and VPAL Music, is essentially a Reggae/Soul hybrid album. Not least in this is the smart production from Young Veterans' chiefs Andrew and Sheldon Pennicott. But musically and vocally from Ginjah, it shows the glorious breadth of this man's talents. And moreover, his ability to build accessible narratives coupled with the most stirring of performances.
The album can be broken down into several distinct musical groups. Roots is clearly a driving force on the record, but the level of inclusion of its musical devices varies from track to track. The majority of cuts consist of the standard bubble rhythm, along with a one drop. Both these cement Survival's base genres.
Moving is probably the most authentic Roots track on the album. It opens with an almost James Bond theme urgency, with the keys, drums and guitars all crashing on the same riff. We then travel into some simplistic, yet effective composition. The bass works off a riffing but highly syncopated Rocksteady formation. The keys are fairly regimental on a bubble rhythm. A melodica tinkers away just out of earshot. But, as is the case with much of Survival, the electric guitars have a musical mind of their own. They veer from whining call and responses to the main vocal, to running a melody themselves. It's all very Rock-Blues, and this coupled with the Roots devices, Ginjah's powerful, driving main vocal and F. Forrest's Gospel call and response backings put Moving firmly in Marley territory.
Other tracks on the album lean towards more Pop-Reggae than Roots, including the soulful To Be Alone (with gorgeous trombone work from E. Gayle) and Jah By My Side. Meanwhile, if you were hoping for some nods to Dub on Survival then you'll be happy with the title track. But it also introduces some elements of Soca.
These are expanded upon in Stronger Together. The clave the bass works off, while not one of the traditional Soca ones, still reeks of the genre. The focus on the offbeats along with the ups, gives the track a rapid pace, enhanced by numerous instruments hitting the beats together. Also, the chord progressions at the start, working up in semitones, are pure carnival. All this is finished off by Ginjah's smooth, joyous vocal. Delicious.
But his vocal really shines on the Soul-orientated tracks. From the stripped-back Special Friends, with its Hammond organ and Ginjah's Soul runs and riffs, to Many Mountains with its glissando keys opening and Gospel-rhythm chorus melody.
Shootie Shootie is a masterclass in how to arrange melodic progression for a Soul track, as while much of the instrumentation works off the root chord, Ginjah's melody avoids it most of the time. Those Eric Clapton-esque electric guitars are back again, as is the melodica (albeit on downbeat chords). But once more, Ginjah's vocal is pure class. He has such a gift for using the top-end of his tenor range. And it's always crystal-clear, well enunciated and mechanically controlled.
But what Shootie Shootie also shows is Ginjah's skill at constructing narratives. From this track's heartfelt and impassioned call for an end to Jamaican violence, to Fire Blaze's cautionary tale about how people under Babylon's spell are essentially living in vanity and sin without even realising it. White Lies is a damning potted history of slavery and colonialism and how it still to this day blights the lives of black people. But much of Survival is also about self-affirmation and humble self-confidence. Many Mountains is, essentially, taking all of those previous issues and reminding us that we all have crosses to bare in life on our journey to spiritual and social awakening. It also again shows Ginjah's vocal at its very best: controlled, with colourful use of vertical and horizontal embouchure and such an impressive range. And the album's conclusion, I'm Alive, is the denouement to all the themes previously explored – insomuch that despite what life throws at you, you're still here.
Survival is perhaps a seminal moment for Ginjah. Musically deft, it's credit to Young Veterans' ear for exceptional production and engineering. The compositions are glorious, full of light, shade and exquisite attention to detail. The themes are powerful but not overbearing. But it's Ginjah who truly shines. His vocal technical skill, natural ability and soul-stirring passion are almost second to none in the Roots movement. There are times when he quite literally takes your breath away – without losing his own. And Survival shows his remarkable talent and passion at the peak of its powers. Stunning.
---
Release details
Ginjah - Survival
DIGITAL RELEASE [Young Veterans]
Release date: 03/20/2020
Tracks
01. Jah By My Side
02. Fire Blaze
03. Jah Light
04. Shootie Shootie
05. Many Mountains
06. Survival
07. Stronger Together
08. White Lies
09. Moving
10. To Be Alone
11. Special Friend
12. I'm Alive