Review
Album Review: Gentleman's Dub Club - Dubtopia
04/07/2017
by Gardy Stein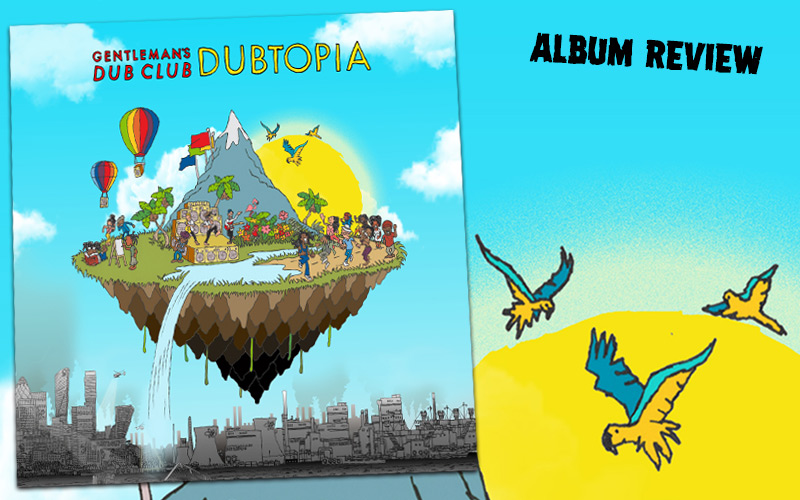 Swaying palm-trees, a snow-capped mountain, balloons and flags and birds, a stage built of speakers and a dancing crowd on a beach next to a little stream, all atop a colourful little island slowly drifting over a dull, grey, smoke-choked industrial city - the cover of the new Gentleman's Dub Club album paints a vivid picture of their vision of Dubtopia.
After 2 EPs and 3 albums (the latest of which came out as a remix of their fine The Big Smoke), Dubtopia is the sixth release of the nine-headed British Dub- & Reggae-Rockers, launched, as its predecessor, by the New York label Easy Star Records.
The flying island takes off with diverse sounds of nature and music mixed in the Intro, perfect match to the graphic design, giving way to the Marley-esque Dancing In The Breeze. Latest during the next song Let A Little Love, you'll have fully arrived at the Gents' kingdom, probably feeling that you never want to leave again. Thus, the band's claim of having created "a musical paradise set apart from everyday life intended for pure celebration" becomes as tangible here as it does in Dubtopia's last track Sun Kissing.
Less Dub, more variety seems to be the notion this time, and even though elements of Dub of course still linger in tracks like Gridlock, Your Light, Higher Ground or Fade Away (oooooh these brass sections in the latter two!), the fine features make the listening experience a different one compared to prior releases. Parly B and Eva Lazarus, for example, set a tight pace in Fire In The Hole, picked up again in Hotter, while Lady Chann powerfully educates and empowers every single Young Girl out there and Taiwan MC lyrically explodes on the Steppa-track Take Control.
Even old friends are met again, like the signature bass line of the Hard Times riddim in In Your Heart, brought to new glory here with an amazingly dubbed brass line. This fine-tuned live recording of the tracks at the 27 Club Studio and The Fish Factory as well as the skilful mixing and mastering guarantee a joyful trip through time and space.
Dubtopia blends the diverse influences the band has been exposed to in their 11 years of history, and Jonathan Scratchley (vocals), Tommy Evans (drums & background vocals), Luke Allwood (keys & background vocals), Nick Tyson (guitar), Toby Davies (bass, synth & background vocals), Niall Lavelle (percussion), Matt Roberts (trumpet), Kieren Gallagher (sax) and Harry Devenish (sound) as well as additional brass players Sam Glaser (tenor sax) and Lucas Petter (trombone) once more managed to unreel a remarkable instrumental carpet to fly away upon. Make sure you catch the magic live during the extensive European tour ahead!
---
Release details
Gentleman's Dub Club - Dubtopia
DIGITAL RELEASE / VINYL / CD
Release date: 04/07/2017
Tracks
01. Dubtopia Intro
02. Dancing In The Breeze
03. Let A Little Love
04. Fire In The Hole feat. Parly B & Eva Lazarus
05. Gridlock
06. Young Girl feat. Lady Chann
07. Hotter
08. Higher Ground
09. Take Control feat. Taiwan MC
10. In Your Heart
11. Fade Away
12. Your Light
13. Sun Kissing