Review
Album Review: Gentleman's Dub Club - Down To Earth
03/18/2021
by Gardy Stein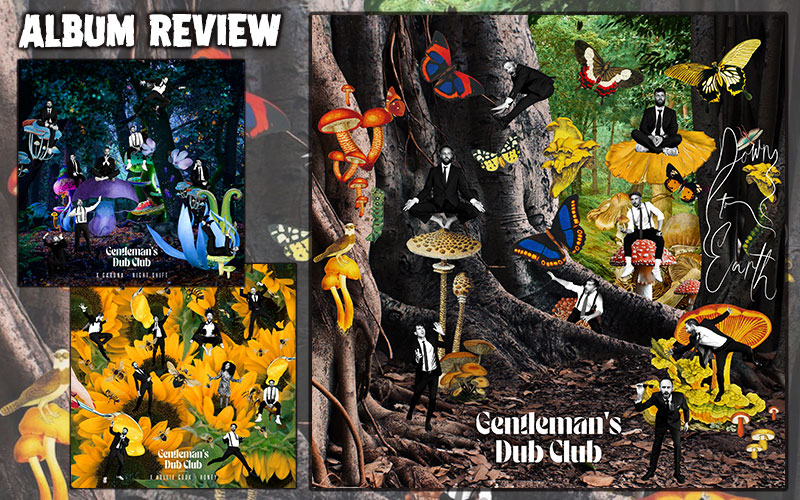 "Somewhere on this long and rocky road, we lost ourselves, trying to find a home (...) maybe together we can build a castle in the sky!"
From heaven to earth, through sunshine and moonlight: Gentleman's Dub Club invite us to an imaginative journey to the roots of things, butterflies and mushrooms included (if we are to believe the fascinating cover-art by Charlotte Smith aka Artwork by Blondie). Down To Earth is the title of this 8th studio album of the Britishers, realized, as its four predecessors, in close collaboration with the cross-atlantic Easy Star Records.
As for most artists during the last twelve months, touring and stage shows were not an option, so Jonathan Scratchley, Tommy Evans, Niall Lavelle, Nick Tyson, Luke Allwood, Kieren Gallagher, Matthew Roberts and Toby Davies have holed themselves up in Crosstown Studios to jam, meditate and create: "We decided that Down To Earth should be a snapshot of that point in time, where everyone was able (for better or worse) to reflect on their role in the world around them and consider the past, present and future inside the vacuum of lockdown." (Press Release)
This introspection has resulted in ten novel tracks, each of them unfolding its own unique charme. While opener Castle In The Sky has an almost cinematic quality to it, thanks to the dominant strings and multi-layered choruses, the title track Down To Earth will remind loyal fans of the band's early sound. "I'm coming back down to earth, I know you missed me so I'm back down here to stay, I know you missed these tunes, so I'm back down here to play."
Today, the band is artistically mature, a fact that's confirmed not only by the quality of their own works but also by that of the people they chose to collaborate with. Hollie Cook, the fairy-like singer who enchanted us with her album Vessel Of Love back in 2018, adds her sweet vocals to Honey, a laid-back, organic tune clad in beautiful airy brass harmonies that speaks of temptation and desire. On a faster beat and a much more earthy vibration (ooooh that bass!!!), Bristol-based vocalist Gardna joins singer Jonathan on the high-energy Night Shift, a track that will be a hell of a party experienced live.
Both Moonlight Dreams and More Than Memories share a breezy, care-free attitude, and the band definitely had fun developing those various layers of instrumentation, ranging from firm drums and percussions to funky synthies and spherical keyboards. The latter perfectly showcases Jonathan's vocal range, starting off velvety low and winding up a few octaves in the chorus.
Less dreamy, the three "S"-songs Sunshine Revolution (co-written by General Roots' Joe Price and backed by Hollie Cook), Smile and Sugar Rush celebrate life, love and music, something we should do every single day of our lives. Thanks for the reminder, guys!
Last Chance, the closing track, is the Gents at their best musically and incontestable proof that this band has every right to carry the Dub in their name. With incredible force, this piece immerses us in a bass-heavy, horn-mighty steppas bubble you won't want to emerge from. Where are the dubs and remixes to this dub?
Down To Earth is a convincing oeuvre by a great team of musicians, cementing the position of Gentleman's Dub Club as one of UK's hottest and most professional Reggae band and performers. By the way, if you want to experience the likeable boys at least semi-live, tune in to their YouTube streaming party, including a Q&A, from 6pm GMT on release day!
---
Release details
Gentleman's Dub Club - Down To Earth
DIGITAL RELEASE / CD / VINYL [Easy Star Records]
Release date: 03/19/2021
Tracks
01. Castle In The Sky
02. Down To Earth
03. Honey feat. Hollie Cook
04. Sunshine Revolution
05. Moonlight Dreams
06. Night Shift feat. Gardna
07. More Than Memories
08. Sugar Rush
09. Smile
10. Last Chance
Featured artists
Hollie Cook
/
Gardna