Review
Album Review: Gentleman - Blaue Stunde
11/20/2020
by Gardy Stein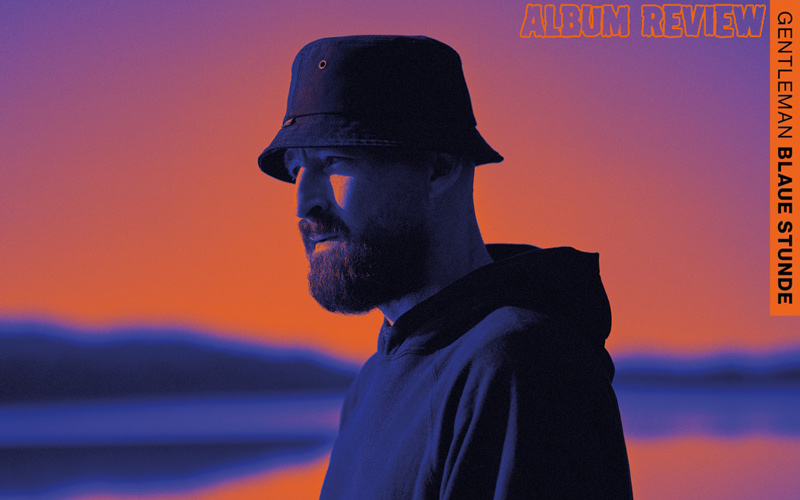 We know and love Gentleman as an artist who combines his exceptional vocals with a deep passion for Reggae and Dancehall culture, who regularly enthuses thousands of fans in his spectacular live-shows and who has released 12 albums and countless Singles so far. The youth who impressed the critical Jamaican audience with his skillful use of Patois in the 90ies and made the code accessible for the German massive has grown into a man who successfully built his empire. After extensive touring for MTV Unplugged and his "best of" compilation The Selection, he obviously took a step back, climbed a lonely mountain and meditated on his journey.
The outcome of this contemplation is a different take on his art. Less globe-trotting and adventures, more quality time spent with family, friends and colleagues; less global subjects, more personal ones; less Patois, more... German! In a surprising move, Gentleman's new album Blaue Stunde ("blue hour") was announced as his first ever work written and presented in his mother tongue, a decision the artist himself explains thus: "It's a different twist (...). We fly there (to Jamaica), biggin' up the kulcha, fly back and sing music in Patois… and are successful with it! More successful than Jamaican artists, who do this much longer. This was always a conflict, a conflict that's resolved with this album." (press release).
To make sure the lyrics resonate with both intended meaning and the artist's identity, Gentleman invited songwriters Mario "Malo" Wesser and Florian "Damion Davis" Renner aboard, who let their Pop- and HipHop-influences slip in respectively. Music-wise, the album rests on three main pillars. Jugglerz, the German DJ-, producer- and label-team around Shotta Paul, DJ Meska, Sir Jai and DJ Jopez sign responsible for six tracks (one of them in combination with Daniel Nitt); seven are contributed by Jamaican producer Donovan Bennett aka Don Corleon. While these, with the exception maybe of Staubsauger ("vacuum cleaner") and Mehr Als Mich ("more than me"), follow the common computer-based production method and thus provide an impressive, club-fit sound quality, it is pillar number three that ties up to the "old" Gentleman and distinguishes the album from similar productions. Frank "Pollensi" Pollak, long-standing keyboarder of the legendary Evolution Band which is the back-bone of Gentleman's success and live-shows, has started producing as well, and together with his band-mates Giuseppe "Big Finga" Coppola (drums), Florian "Stahl" Münzer (guitar) and Fabian "Odi" Zepezauer (bass), he managed to add that magical analogue sparkle.
Their instrumental artistry is probably why, for me personally, the first part of the album is the most relatable. Starting with Ahoi, a track that combines the beauty of an acoustic jam session with the intensity of a Nyabinghi Grounation, Gentleman shares his very personal reflection upon life and his future with us. "I never lost hope. I'm looking forward to look back on all this...". The subsequent Zwischen Den Stühlen ("between the chairs") is even more intimate, describing how the artist built his home between Cologne and Kingston, constantly doing the splits between "Hahnwald and Gaza" or "ackee toast and semolina" - a fine livication to the two cultures Gentleman feels part of.
Instant favourite, Garten ("garden") is a sweeeet feel-good song with an equally mellow video by Henning "Imun" Brix that celebrates the simple pleasures of gardening and, in a metaphorical sense, the decision to take a time out sometimes to watch your seeds grow. These words actually provide a perfect transition to the next track: Time Out. "Everything is much too bright, too fast, too loud." The wish to press stop on the remote control of life certainly crosses everyone's mind once in a while, and Gentleman knows how to translate this desire into his characteristic, emotive voice. Speaking of... described as "vocal cloud-pillows" in the press-release, Sherieta Lewis' backings are outstanding and lend a special shine to each song she touches.
Other voices featured on the album include Sido on Schöner Tag ("beautiful day"), a single complemented again by the impressive visuals of Imun, Summer Cem on Bruder ("brother") as well as Ezhel and Luciano on Devam (turkish for "continuance, standing, length"). No, not the Jamaican singer Luciano but the German Rapper who, along with his turkish colleague Ömer Sercan aka Ezhel and Gentleman, confers a bad-boy-vibe to the accompanying video.
A whole different image is conveyed in Bei Dir Sein ("be with you"), a tender declaration of love to the child that was born to Gentleman and Tamika and which, as most parents can confirm, evokes a whole new dimension of that feeling. A different kind of love is broached in So Nah ("so close"), speaking about bygone arguments and a friendship that is dearly missed in the present.
For those who understand German, special attention is drawn to the complex lyrics of Mehr Als Mich, in which Gentleman sings "freedom is when longing becomes stronger than reason", or Dunkelblaues Boot ("dark-blue boat"), a metaphorical piece that probably comes closest to the album title. No need to look for lyrical depth in Feierwahn ("party mania"), though, a track that describes a nocturnal frenzy and rides on a Dancehall riddim that creator Don Corleon dubbed Can't Cool The Fire.
Wo Auch Immer ("wherever") and Wieder Gehn ("go again") assure further musical diversity, while Ich Komm Zurück ("I'll return") circles back to the fine instrumental productions of the beginning, assuring his loved ones that he will always come back.
Blaue Stunde is indeed both a wonderful comeback and a new beginning for Gentleman, a successful experiment of combining his German roots with his artistic output. Expectations fulfilled: check. Well-produced music: check. Exceptional vocal performance: check. Clever lyrics: check. Felicitous linguistic transfer: check. Five out of five stars for this oeuvre, Team Gentleman!
---
Release details
Gentleman - Blaue Stunde
CD / DIGITAL RELEASE / 2LP [Universal Music]
Release date: 11/20/2020
Tracks
01. Ahoi [VIDEO]
02. Zwischen Den Stühlen
03. Garten [VIDEO]
04. Time Out [VIDEO]
05. Schöner Tag feat. Sido [VIDEO]
06. Devam feat. Luciano & Ezhel [VIDEO]
07. Dunkelblaues Boot
08. Wo Auch Immer
09. Bruder feat. Summer Cem
10. So Nah
11. Staubsauger [VIDEO]
12. Feierwahn
13. Bei Dir Sein
14. Wieder Gehen
15. Mehr Als Ich
16. Ich Komm Zurück