Interview: Gentleman about Diversity, Don Corleon and Next Album
06/02/2011 by Angus Taylor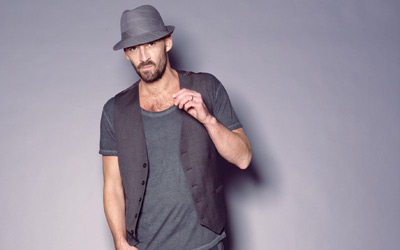 In this mini interview Angus Taylor spoke with Gentleman on his European tour just before the summer festival season. The main interview will published soon in our digital magazine FESTIVILLE. Here Gentleman talks about 2010's Diversity album, his work with Don Corleon and what his sixth studio effort might have in store...

Did you intend for Diversity to be a double album when you were making it?
No, I didn't! I went to Jamaica to record several songs without time pressure - there was no release date in my mind - so I was just there and followed my inner voice to see what would happen. I was surprised because it was really a creative flow. I was working with Corleon and a lot of songs were manifested so at the end of the day I had 35 songs and I liked them all! So I decided to cut out some songs and I had two versions, one with 28 songs and one with 19 songs. It was actually the idea of the record company to say, "Let's make two different albums" and we said, "That's nice. We'll do it". But, yes, I was surprised by the input.

Corleon speaks very highly of you in his interview with us. How did you start working with him and what makes your partnership strong?
I think it was 2004 when I did Intoxication for him on the Dropleaf rhythm when he had his old studio still. I think the link came through Jack Radics when somebody asked Jack and said "Corleon wants to work with Gentleman" so we went up there. The vibe was there immediately and I fell in love with the rhythm and I heard the song Jah Cure had just voiced and was in love with the song. So Intoxication was a big success and I really liked the way he pushed the song because my whole international thing went on a whole different level. I heard Intoxication all over the radio in America, Jamaica and worldwide. He's really a passionate producer. On one side is the production and on the other is what producers then do with your song – and this is a very important part. We voice a lot of songs for producers and they just do nothing with it and sit on it so it's a waste. So you need to know that about which producers you work for and Corleon is someone who's got all the links to all the radio stations and puts a lot of pressure on the thing. So I was really happy with the result and from there we just kept on working.

You embrace modern one drop reggae whereas some non Jamaican artists are more interested going back to the foundation. Is it important to stay current?
I can't really answer that question! I think it's really important to follow your inner voice and be true to yourself. It could be anything – the traditional foundation style or it could be the modern one-drop, so-called modern roots reggae, or dancehall or even the Stephen McGregor hip hop flavour – it doesn't matter so long as you follow your inner voice and be authentic. People aren't stupid. They know what's real and what isn't real and as long as you put your passion in it doesn't matter what kind of rhythm it is. I think there is a time for everything and the foundation analogue sound will come back. There are times when this modern roots reggae and dancehall digital thing is very strong and there are times when the handmade will come back. There's a coming and going of different styles.

How does Cologne and Germany in general compare with Jamaica in terms of the culture, the people, the vibe?
In Germany it's like a whole different thing. The motherland of reggae music is Jamaica so when I'm in Kingston I'm immediately connected with the source. I don't think so much there. It's more of an intuitive thing – just doing it. In Germany there is a culture – singers, producers, sound systems – but the music doesn't really take place in the mainstream. When I turn on the radio I don't hear Luciano or Jah Cure – I hear Lady Gaga. People outside Germany think reggae is really big in Germany but it's not. And just because me, or Patrice or Seeed or other German artists are successful doesn't mean reggae music is successful. In Jamaica reggae music is all over – it's omnipresent. It's coming out of every car. So there's no comparison.

Compared to most European artists you're very confident when it comes to singing in English and patois - where do you get your lyrical confidence from? Have you had other artists in Jamaica helping you?
It's funny what you say about me seeming confident because for me an important part of making it in the business is being doubtful in your own work. I am full of doubts too. But I am passionate. I love to do this and I do spend a lot of time in Jamaica so that's the reason why my music reaches so far because I get a lot of motivation there from the right people at the right time who make me confident in my songs. But of course you have doubts in between and moments where you are not sure of certain things and I think this is a very important part too. What I don't doubt is my creativity and my talent in manifesting ideas – writing songs about issues people are interested in.

I hear Don has supplied you with some new rhythms. Is he working on your next album?
Oh no! I'm not thinking about the next album yet! I'm going with the flow, touring and promoting Diversity still. I'm collecting ideas, writing lyrics and I'm surrounded by musicians but I'm a very open-minded person and I always work with different people. At the same time I will definitely check him again when I go back to Jamaica. The plan is, after the festivals we're going on a US tour in October and then I will go back and see what is there. Maybe I'll work on a new album, maybe I'll just record some songs but I'm definitely going to check Corleon because I like the vibe in his studio, I've got some rhythms from him and working with him he always gets the best out of me. He's definitely going to be a part of it – I can say that right now.