Review
Album Review: Various Artists - Maximum Sound 2014
07/10/2014
by Angus Taylor
Something for everyone across six wildly diverse rhythms and two exclusive bonus tracks.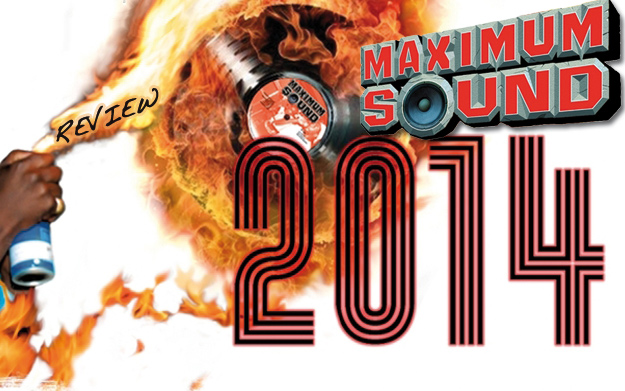 Last year "Frenglish" producer Frenchie celebrated 20 years of his label Maximum Sound. In 2014 he is still with us - despite sounding on the verge of exiting the business during the file-sharing explosion of the 2000s. This year sees the return of his annual compilation of recent rhythms – shelved in 2013 to make way for a 2 disc career retrospective. In reggae/dancehall terms Maximum Sound 2014 contains something for everyone - as well as productions that are a bit of everything in that distinctively Frenchie style.


As ever Frenchie has the pick of veteran vocalists, established artists and hot prospects for his projects. If you follow the music there are few singers and deejays you won't have heard of - demonstrating the respect for this pioneer who came out of London's Fashion empire to inspire the new generation of continental producers.


His creations spans from relicks of bygone rocksteady and reggae to classic and contemporary up-tempo beats. He also likes to build hybrid backings that marry the starkly digital elements of his early 90s beginnings to live instrument foundations. These are more aurally challenging than the re-treads but you can't fault Frenchie for not being stuck in a box or staying true to his own path.


The Jah Blessings riddim typifies this mixture of a slick one-drop and initially abrasive-sounding saw-toothed synth strings. They contrast with the sweet emotive singing voices of Christopher Martin (Jah In It) and Jah Cure (Save My Soul). The faux strings continue on the as yet unnamed tune-base to the never-before-released After Life by vaunted lyricist Masicka.


But if Frenchie's fearless melding of organic with synthetic leaves you cold, his King Tubbys Duplate Style revamp of John Holt's Ali Baba will see you right. It boasts rising singer Randy Valentine (Splice Dub Plate) and resurgent deejay Captain Sinbad (When Dance Used To Ram).


Likewise the more conservative dancehall fan should enjoy the Tin Mackerel featuring Tony Curtis - who adapts Petula Clark's Down Town for the chorus of Number One Sound. An even less likely appropriation is Mr Vegas, Natel and Major Mackerel's use of brattish indie-pop group Fun's We Are Young - reminding that anything is up for grabs in dancehall if it's catchy enough.


The dark side of bashment is strong in another unreleased exclusive: a remix of Vybz Kartel's chilling Ghetto Youths Mek It In A Life - warning that said youths will succeed whether by smarts or violence.


And for roots heads there's the Imperial Crown backing – a dubby monster that recalls the 70s and the 90s with its syn-drum sixteenths and horn break that channels Yabby You's Jesus Dread. Luciano caveats Kartel's message on Spread Your Bed Hard by cautioning that if you can't do the time don't skip the crime. The usually gritty chanter Jesse Royal shows a different facet for Raise Your Voices to the Lord – sounding very like Luci and Bushman when he sings.


Finally there's the soulful, brass led pop roots of the Mightiest with singy-singer Tarrus Riley (Life Story) and barking deejay Anthony B (Can't Take No More) followed by the reappearance of Randy Valentine and Mr Vegas atop the Slim Smith/Bunny Lee rocksteady sampling Number One Station.


Six wildly diverse rhythms and two exclusive bonus tracks. It's good to hear Frenchie keeping on keeping on – as only he can.


---
Release details
Various Artists - Maximum Sound 2014
DIGITAL RELEASE [Maximum Sound]
Release date: 07/07/2014
Tracks
01. Jah In It - Christopher Martin
02. Save My Soul - Jah Cure
03. Go Hard - Loyal Flames
04. After Life - Masicka
05. Splice Dub Plate - Randy Valentine
06. Early Morning - Gappy Ranks
07. When Dance Used To Ram - Captain Sinbad
08. Number One Sound - Tony Curtis
09. We No Worry Bout Them - Konshens & Romain Virgo
10. Flash Up Unu Lighta - Mr Vegas, Natel & Major Mackerel
11. Ghetto Youths Mek It Inna Life (2014 Re-Fix) - Vybz Kartel
12. Spread Your Bed Hard - Luciano
13. Let Jah Love Shine Down - Dre Island
14. Raising Our Voices For Freedom - Jesse Royal
15. Life Story - Tarrus Riley
16. Take A Walk In My Shoes - Exco Levi
17. Can't Take No More - Anthony B
18. Victory - Randy Valentine
19. Plastic Dolly - Mr Vegas
20. Voice Of One - Shanty B



Featured artists
Christopher Martin
/
Loyal Flames
/
Masicka
/
Randy Valentine
/
Captain Sinbad
/
Gappy Ranks
/
Tony Curtis
/
Romain Virgo
/
Konshens
/
Mr. Vegas
/
Luciano
/
Vybz Kartel
/
Jesse Royal
/
Anthony B
/
Exco Levi
/
Tarrus Riley