Review
Album Review: Suga Roy & Conrad Crystal – The Kings Book
06/02/2014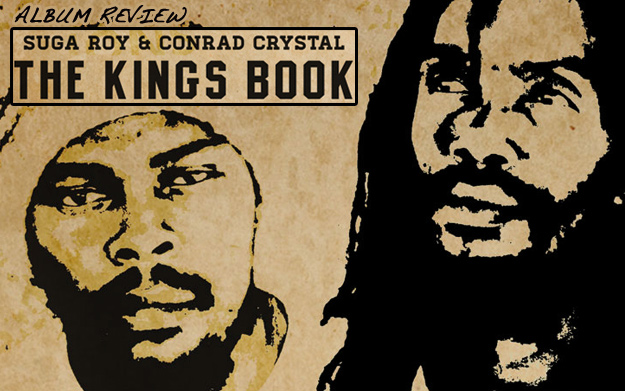 Suga Roy and Conrad Crystal are two conscious artists that almost always appear together live and on records. Both have been around for quite some time, never forgotten but neither really established. While Suga Roy is a seasoned and gifted producer who has worked with numerous Jamaican luminaries, they teamed up with Oneness Records from Munich, Germany for their latest album-length release. Also on board for featurings is a nice array of friends: Gappy Ranks, Alborosie, Maikal X, Natural Black, and Cocoa Tea – this is Suga Roy and Conrad Crystal's "Europe please take note of us" album.

And not only Europe should. Sure, Suga Roy is no particularly gifted singer. He might just be better off producing instead. Being the gifted producer and songwriter he is though, his albums never fail to amaze. And producer Moritz "Baron" von Korff of Oneness Records falls in the same category, he is a sure shot anytime. He is the one ultimately responsible for this album. The Kings Book is solid modern roots with a classical touch and the occasional foray into those genres that are reggae music's closest cousins. As far as the vocals are concerned, Conrad Crystal compensates much with his much better developed, honeyish voice.

The title implies it: The Kings Book has been recorded to spread the teachings of His Majesty. Suga and Conrad refrain from those empty phrases, luckily, what they want to teach you is fueled by their life experience. Know who you are (Who Are You), lend a Helping Hand to others because you might need help too one day, know that you cannot always be on top in life, but you will have your turn (Life Is A Gamble). Just Never Give Up Jah.

The Kings Book is thirteen tracks of pure consciousness and worldly-wise wisdom. The album has its lows, but for fans of conscious edutainment, it is one of the finer releases of 2014. Check it out yourself!


---
Release details
Suga Roy & Conrad Crystal - The Kings Book
DIGITAL RELEASE [Oneness Records]
Release date: 05/30/2014
Tracks
01. See Dem A Run
02. Who Are You feat.Gappy Ranks
03. Helping Hand
04. Run Come feat. Alborosie
05. Word Sound & Power
06. Life Is A Gamble feat. Maikal X
07. Never Stop feat. Natural Black
08. No Love feat. Cocoa Tea
09. Party Ska
10. Father Help Us All
11. Never Give Up Jah
12. Roots Music
13. When My Life
Featured artists
Alborosie
/
Cocoa Tea
/
Gappy Ranks
/
Maikal X
/
Natural Black