Review
Album Review: Gappy Ranks - Shining Hope
09/17/2013
by Angus Taylor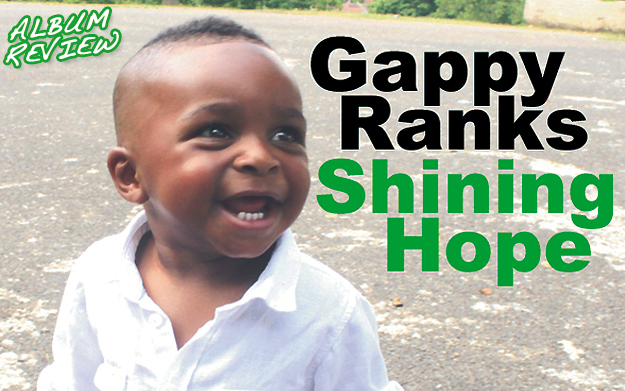 Gappy Ranks rose from a troubled past to become the beacon of a beleaguered British reggae industry, cutting Peckings produced modern classic debut album Put The Stereo On in 2010. 2011's Thanks And Praise turned the vintage rhythms off for contemporary one-drop and dancehall but had its share of big tunes (like the Jazzwad built title track and Delly Ranx combo Could A Runaway).

Fast forward to 2013 and dancehall is bothering the British charts and the MOBOs with next young prospect Stylo G. Gappy has been busy recording third effort, Shining Hope, bearing an endearing cover picture of his son Japan (named for the 2011 earthquake Gappy witnessed on tour). It's a modern one drop reggae set with a pop edge that takes a middle path between the two records that came before.

There's only one vaguely uptempo rhythm: Everything's Gonna Be Alright with Exco Levi, being sufficiently Bob-inspired to not frighten the horses. Lyrically, Gappy continues to present himself as the hardworking, against the odds success and the childlike, vulnerable lover. But he also gives more space to an African consciousness hinted at in places by Put The Stereo On.

As usual all Gappy vocals are recorded in his Harlesden home studio while many of the rhythms come from producers who worked on Thanks And Praise. Italy's Macro Marco, and France's Bost and Bim are joined by Jamaicans Kemar Flava McGregor and Notice Productions and the USA's Larger Than Life Records. Gappy's wish to balance future and past is again evident in the choice of artist collaborations – Jamaican rising star Levi and his old friend from Suncycle Crew Reddman UK.

The album puts its four most slick commercial songs upfront over the traditional compiling route of mixing light and shade. These find Gappy loved up on both living (somewhat cluttered sounding single Shining Hope) and the ladies (power ballad duet First Sight with belting voiced Jamaican Denyque). Unreconstructed fans of Put The Stereo On may find this section a little too syrupy and want to skip straight to track 5.

Because at this point Gappy turns his lyrics to life's hard realities and the music follows suit. As if reacting to the lightweight material before, superb self-production Back To Reality finds Gappy having a frank chat with his reflection, chastising himself for not giving as much to the music as in his hungrier days. Maybe I, helmed by Flava McGregor and Still In Love, by Bost and Bim, look at the challenges of relationships. Up Again from Lion King Muzic polishes the Studio 1 sound of Put The Stereo On, whereas the Channel One inspired Carpenter by the mighty Royal Order Music is strictly roots. In general, Gappy's messages are moving in a cultural direction. "I've always been an African baby" he reminds on Nothing Comes Easy. Sell Out openly states that he doesn't need locks to be Rasta.

Put The Stereo On is still Gappy's benchmark. Yet Shining Hope, like Thanks And Praise, takes more risks while yielding plenty of good songs.


---
Release details
Gappy Ranks - Shining Hope
DIGITAL RELEASE / CD [VP Records, Hot Coffee Music]
Release date: 09/17/2013
Tracks
01. Shining Hope
02. Tomorrow Loves You
03. Hello
04. First Sight feat. Denyque
05. Back To Reality
06. Nothing Comes Easy feat. Reddman UK
07. Maybe I
08. Sell Out
09. Up Again
10. Everythings Gonna Be Alright feat. Exco Levi
11. Still In Love
12. Never Enough
13. Why?
14. Carpenter
Featured artists
Exco Levi