Review
Album Review: Gappy Ranks - Pure Badness
09/20/2017
by Dan Dabber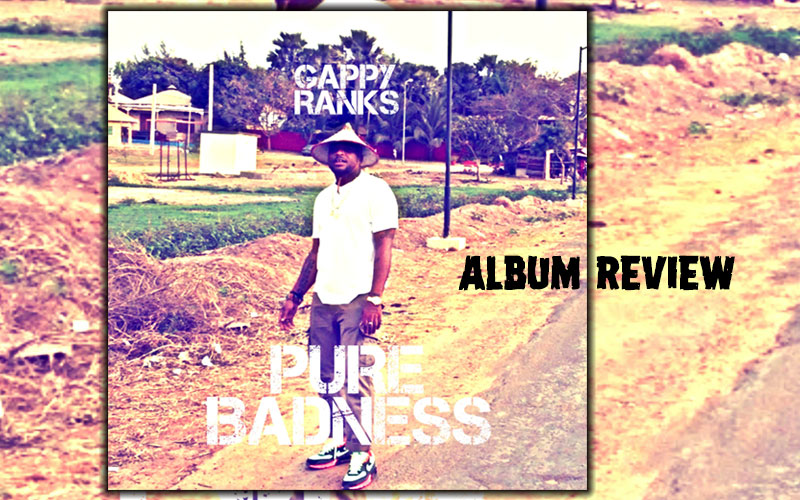 Gappy Ranks has returned with Pure Badness, his eighth solo studio album and the fourth release from his Hot Coffee Music Group label. Since he burst into the international spotlight in 2010, Ranks has proven to be a force on any type of riddim. However, Pure Badness is laser-focused on a very particular brand of pop-influenced, contemporary dancehall. This lighter approach to the music is counterbalanced by Gappy's reality lyrics, employed in about half of the songs, including the titular track. This dichotomy between the lyrics and the riddims inspires a deep sense of unrelenting hope in the face of adversity. Pure Badness, When I Grow Up, Town, and similar tracks further my personal perception of Gappy Ranks as one of the most emotionally stirring contemporary songwriters in the world of reggae, if not the world.
If half of the tracks on Pure Badness are reality-themed songs, around a third are various types of gyal tunes. Cover You is an emotionally supportive dedication to the love of a lifetime, set against a synth-driven riddim that bends heavily toward an afro-soca vibe. This vibe is reinforced with featured Ghanaian superstar, Stonebwoy, who just released his own self-titled album in early August. There are several instrumentals on Pure Badness that lean toward an afrobeats influence, including another gyal tune, You Run Tings, a collaboration with one of the few dancehall artists/producers that can match the talent of Gappy Ranks, Demarco. You Run Tings is certainly complimentary, but is more sexy than emotionally supportive, focusing on image more than the intimate lyrics of Cover You. This essentially makes You Run Tings a party tune, though the instrumentation is minimal, a la Rihanna's Work.
One song, Living Good, stands out amongst the mostly bubbly pop feel of Pure Badness due to its dark, brooding beat. Fittingly, this is another tune that Gappy goes reality on, describing a presumably autobiographical rise from hood living to good living - a purposefully inspirational track aimed at what he calls the ghetto yute dem. Living Good is one of five tunes on the album produced by Ranks, and it is a very good example of how raw and unique his productions can be. It is also the perfect backdrop to feature his longtime friend and collaborator, Reddman UK, who helped the young artist get a break early in his career with a prominent UK musical collective called Suncycle. Reddman's mere presence on the track has a powerful impact because of his connection to Gappy's rise, and this force is compounded by his deep voice and straightforward delivery, a perfect and persistent complement to his friend's lyrically dense middle-register.
Gappy Ranks is one of the best in the world at what he does, and he has a massive, largely glossed-over catalogue to prove it. He is lethal on pretty much any riddim, but, because of his tendency toward reality lyrics, his talents are maximized on dark and dirty instrumentals. When his reality takes the form of a braggadocious bad man tune, few can hang with Ranks over a slow and mean dancehall riddim with a heavy low end and crispy snares. When he takes a more revolutionary approach, Gappy can make a relick of a forty-year-old roots riddim feel as urban and contemporary as grime or trap. Living Good is the only glimpse into this more rugged version of Ranks, who otherwise polishes up maybe too nicely for Pure Badness. However, it would be impossible for such an incredibly versatile artist to represent all his sides and maintain musical cohesion for a long-form piece. In this regard, Pure Badness ain't bad at all, but in the grander scheme, this isn't Gappy's most memorable work.
---
Release details
Gappy Ranks - Pure Badness
DIGITAL RELEASE / CD [Hot Coffee Music]
Release date: 09/15/2017
Tracks
01. Pure Badness
02. When I Grow Up
03. Town
04. Turf War feat. Shanti Force
05. Rich & Switch
06. Living Good feat. Reddman UK
07. No More
08. I Wanna See
09. You Run Tings feat. Demarco
10. Cover You feat. Stonebwoy
11. Tivoli Gardens
12. Close To You
13. No Giving Up
14. Brighter Days feat. Ice Cream & Bramma