Review: Damian, Stephen & Julian Marley @ Respect Jamaica 50th
07/28/2012 by Angus Taylor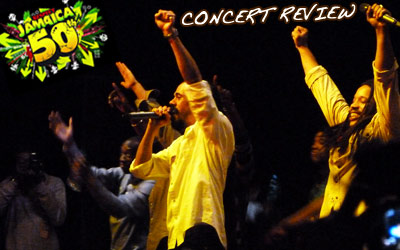 The ambitious 12 day Respect Jamaica 50 celebrations at the Indigo2 got off to a wobbly start on Wednesday with the non show by Lee Scratch Perry - leaving the venue very disappointed.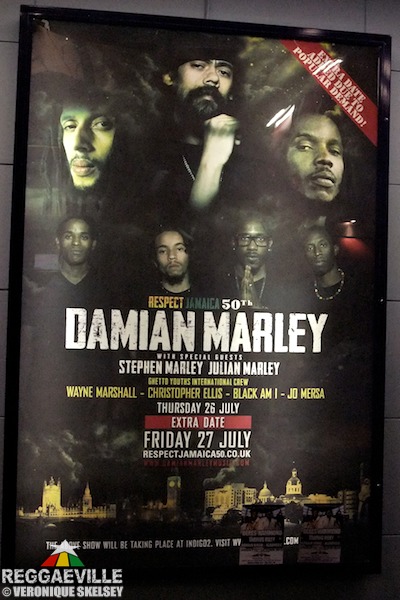 With rumours circulating of artist Visa quibbles, Respect Jamaica needed something special to recover its momentum. Fortunately Damian Marley, his brothers Stephen and Julian and the Ghetto Youths Crew for two nights (the second of which was witnessed by Reggaeville) is about as close to a sure thing, entertainment-wise, as can be obtained.

Unlike its big sister arena within the Millennium Dome, the 2400 capacity Indigo2 is pretty reliable sound-wise. It boasts clever quirks like a video screen outside the ladies in case of heavy queuing (not required this time as there was little heavy drinking in evidence). Despite Olympic military security scanning on entry, a long line for the door was processed quickly. Inside local soundmen, singers and mcs were moving in the throng, including Ras Lawi - who got a chance to shine opening for the ill-fated Scratch date.

The host, BBC 1Xtra's Robbo Ranx, introduced a showcase of the children and grandchildren of legends - each to the strains of Sun Is Shining played by Damian Marley's vacuum tight band (featuring Shiah, son of Third World's Cat Coore on guitar). First came upcoming deejay Black Am I, in a red gold and green waistcoat, from Bob's birthplace 9 Mile, chanting his anti-violence message People Kill People ("I'm a Rastaman, we bun certain things") as well as his eponymous signature side.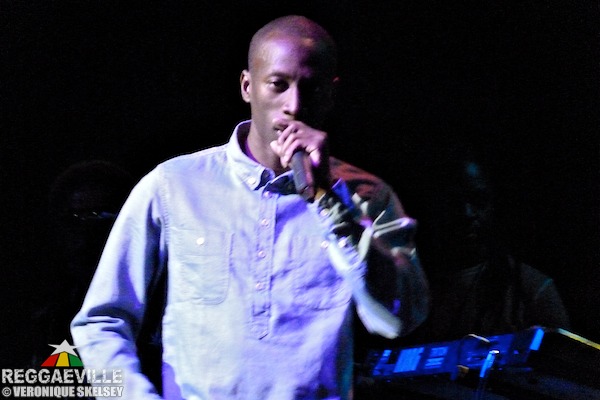 The crowd - wearied by work, the muggy heat, transport issues caused by that night's Olympic Opening Ceremony, and a two and a half hour wait for live music - were unnecessarily muted during Christopher Ellis singing his father Alton's Willow Tree and his own modern classic English. But they soon changed their ways when the Ellis went uptempo with his new soul-pop single Don't Change Your Number. And, as per the night before, the place erupted for his friend Gappy Ranks joining him for Knocking At My Door on Stephen's Sly & Robbie sampling Jah Army rhythm (Gappy shouting "Smiley Culture" as Chris sang "You're supposed to protect and serve").

Alliance-turned-Ghetto Youths member Wayne Marshall - not a Marley or Ellis yet linked to the famous Chin dynasty by marriage - judged the mood wisely asking "Are you ready for the bashment now?". He was also the first artist to mention Independence (testing the audience's Jamaicanness with call and responses of songs by Half Pint and Toots) and the Olympics ("I can't wait to see Jamaicans bun up London and get all the medals!"). He paid a quick tribute to his mentor Bounty with a few bars of Sufferer and had quite a few people jumping with two very different perspectives on love: the self produced Good Ole Wife and the pain-fuelled My Heart.


At ten fifteen, with Bunny Wailer's spoken intro to Confrontation and the tang of herbs in the air, Marley announcer Sky High announced the Ghetto Youths Trio, beginning, surprisingly, with Damian himself. Having raised pulses with his voice from offstage, Junior Gong bounded into view with his locks down to his feet and his familiar flag waver, cook and smoking buddy Donovan in tow. Jamrock tracks like Beautiful got an instant rewind but offerings from the Grammy-snubbed Distant Relatives such as Dispear ("Designed for warriors only") and Dennis Brown do-over Land Of Promise demonstrated just how far this man has come. The first straight Bob tune, Get Up Stand Up reminded what a great singer Gong is; he could have been another Stephen, yet instead as a deejay he is a fruit of the tree with an intense new flavour. An ovation for Move/Exodus made the dread serious scion relax and crack a smile, then the lights dimmed for Affairs Of The Heart - a song that on initial listen makes you question all the fuss before tightly taking hold.

Denim-clad big brother Julian's slower, rootsy material (Violence In The Streets, Boom Draw, and Systems) while solid, caused a slight lull in energy levels - with even Donovan's flag flagging. Luckily the arrival of Stephen for their combo Little Too Late revitalised proceedings.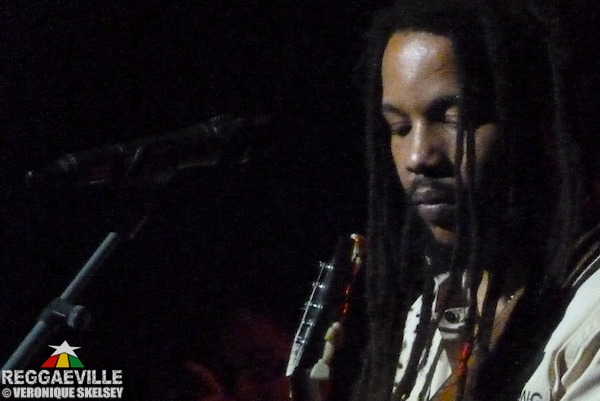 Greeting us "In the name of His Imperial Majesty" he strapped on his Gibson for an apt Tight Ship from his hype-surpassing Revelations album.. Damian came back on for Jah Army, his fast chat verse pushing fists aloft, teeing up Stephen's deejaying skills (comparable to Damian's singing) for Buju's part. His son, and Bob's grandson, Jo Mersa, showed his own rough and tough chanting on Bad So, and the next generation in action. A soft Pimpers Paradise gave way to a histrionic The Mission, the only song to be wheeled twice. As the set seemed ready to close, a couple of guitar chugs from Could You Be Loved told everyone what was coming. The now hoarse and sweat-soaked brothers let the people do the lion's share of the vocals until a better-rested Julian relieved them for the second verse. Unlike the previous concert, their sister Cedella was not brought on.

Prompted by screams for more, Damian returned for Road To Zion and invoked Sly and Robbie again for a Welcome To Jamrock ripe for the occasion (if perhaps a rawer advert for Jamaica than its government might like). The slickness of the band and the sheer number of characters on stage in a Marley family gig often recall a (Reggae on) Broadway show: and never more so than when the entire cast of the Ghetto Youths regrouped to sing One Love (including a dubwise to stop things from getting too cheesy ) with the balcony on their feet.

As the venue emptied, the Jah Army rhythm played out, a final reminder that the unsung heroes of the night were Sly & Robbie, who Reggaeville looks forward to seeing tonight - standing toe to toe with Ernest Ranglin and Tyrone Downie. On the strength of this well-received near-note-perfect performance (the only major gripe being not enough from Stephen's Revelations) Respect Jamaica is back on track.