Reggae Jam 2011: Line-Up
04/09/2011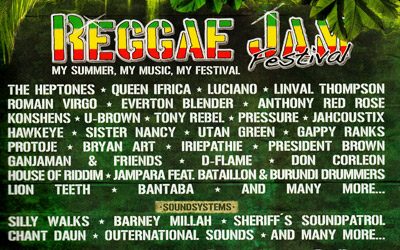 A huge amount of artists for Reggae Jam 2011 has been revealed:
Anthony Red Rose
Bantaba
Bryan Art
D-Flame
Don Corleon
Everton Blender
Ganjaman & Friends
Gappy Ranks
Hawkeye
Jampara feat. Bataillon & Burundi Drummers
Konshens
Linval Thompson
Lion Teeth
Luciano
Pressure
Prezident Brown
Protoje
Queen Ifrica
Romain Virgo
Sister Nancy
Tony Rebel
U-Brown
Utan Green
Ken Boothe & Marcia Griffith are no longer part of the line-up! Their appearance has been cancelled.