FREE DOWNLOAD: Festiville 2011 - Reggaeville Festival Guide
07/14/2011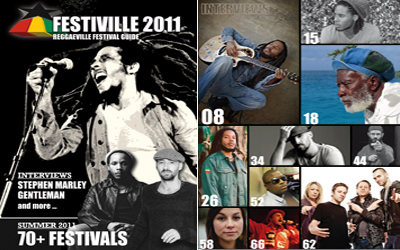 Festiville 2011 - The Reggaeville Festival Guide is now available for PDF download.


On 136 pages the FESTIVILLE features some 70 festivals from Europe and the big events from the USA.
Each festival is introduced by a short description, hyperlinks lead to thorough information provided by reggaeville.com. Additionally there is an interview section with fresh talks, which are exclusive to this publication:


Burning Spear
Ziggy Marley
Daniel Bambaata
Stephen Marley
Gentleman
Harrison Stafford (Groundation)
Gappy Ranks
and much more...