Festiville 2011 - Reggaeville Festival Guide
06/03/2011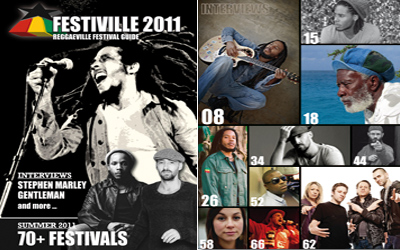 It's festival time this summer! Therefore Reggaeville, the world of Reggae in one village, created a digital magazine with focus on the european festival season: FESTIVILLE 2011


On 136 pages the digital magazine features some 70 festivals from Europe and the big events from the USA.
Each festival is introduced by a short description, hyperlinks lead to thorough information provided by reggaeville.com. Additionally there is an interview section with fresh talks, which are exclusive to this publication:


Burning Spear
Ziggy Marley
Daniel Bambaata
Stephen Marley
Gentleman
Harrison Stafford (Groundation)
Gappy Ranks
plus much more, 20 album reviews and photo spreads.

Shotta Paul & Meska from top ranking sound system Sentinel (World Clash winner 2005) contribute an unique edition of their radio show KingstonHot, which plays in the background when you read the magazine.

Read, listen and enjoy here
FESTIVILLE 2011 - REGGAEVILLE FESTIVAL GUIDE