Baco Records Launches Riddim Contest
11/18/2018 by Reggaeville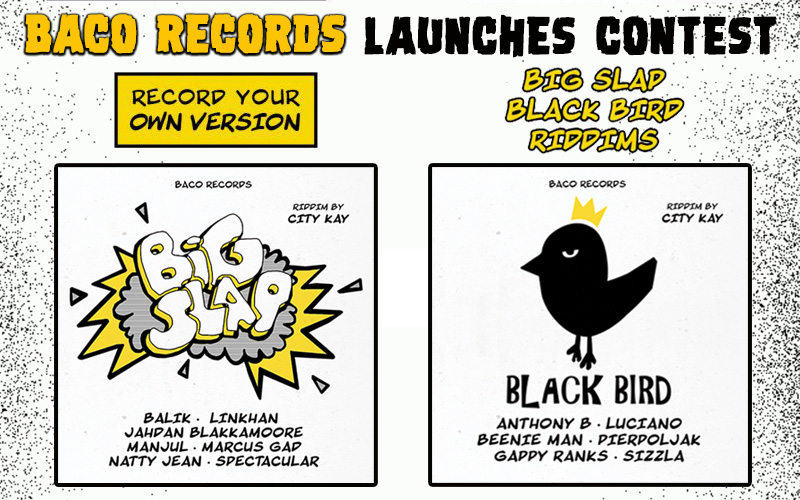 French label Baco Records announced the release of their first two Riddim selections (Big Slap & Black Bird) for February 22, 2019.

Members of the french group City Kay produced both Riddims. Featured artists are Sizzla, Beenie Man, Anthony B, Natty Jean, Luciano, Balik from Danakil and many more…

The release date is intentionally in three months, because in the meantime Baco is looking for an additional songs. A contest is now open to the public were everyone can voice his own song and submit it.

From all submissions, Baco Records will choose their favorites, which will then be made public. In a public voting one song will be selected for each Riddim to be added to the final release.

Now is your turn to record your own version! Check all details and download the Riddim files @ BACORECORDS.fr

Deadline to submit is January 15, 2019!

Riddim Credits:
Drums & Electronic Drums : Simon "Saymon" Roger
Bass: Pierre Patinec
Lead Guitar: Yoann Minkoff
Riddim Guitar: Aurélien "Mr Dread" Janin
Keyboards: Mael "Loeiz" Danion
Saxophone: Guillaume "Stepper" Briard
Trombone: Didier Bolay

Recorded & Mixed at Well Tuned Studio by Mael "Loeiz" Danion / except Horns recorded at LFC Studio by Thomas "Mato" Cirade & Yann "Chaka" Jaffré.

Black Bird composed by Mael "Loeiz" Danion. Big Slap composed by Jérôme "Jay Pharaoh" El Kady.

All songs arranged & Directed by Mael "Loeiz" Danion, Simon "Saymon" Roger & City Kay.