Interview: 8 Underplayed Freddie McGregor Tunes Everyone Should Know
10/25/2016 by Angus Taylor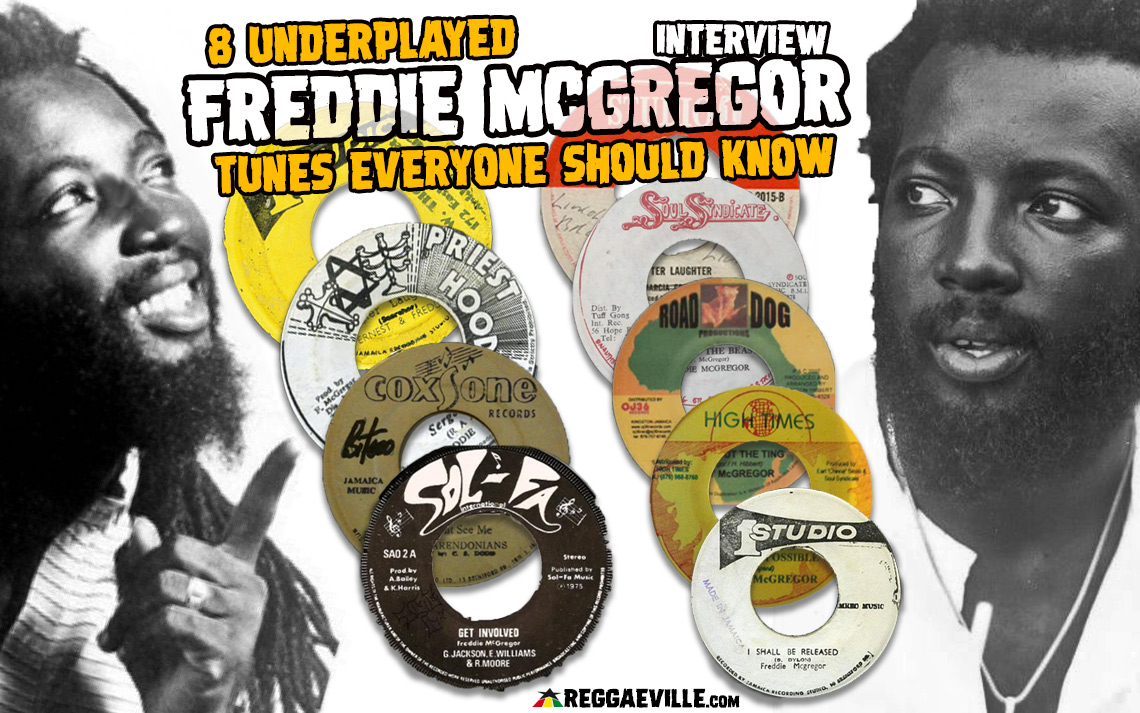 In his 5 decade career, Freddie McGregor has made "hits on top of hits".

From his emergence as a child star at Studio 1, through the 70s' Rastafari awakening to his romantic staples of the 80s, 90s and 2000s, the Clarendon singer has cemented a vast body of popular songs. The biggest, such as Big Ship, When Push Comes To Shove, and Just Don't Want To Be Lonely must be performed at his concerts without fail.

But McGregor also recorded some lesser known yet artistically strong offerings that are highly prized by vinyl collectors. To celebrate the release of this year's True To My Roots album, Angus Taylor asked Freddie about 8 of our writer's own personal favourites – including several 60s Studio 1 and 70s roots reggae classics. (Readers will note there are actually 9: we included one tune where he wasn't involved which still relates to his history). The smile on Freddie's face when he remembered a few of them was something to see.
SCROLL DOWN AND LISTEN TO ALL SONGS IN THE PLAYLIST!
THE CLARENDONIANS - YOU WON'T SEE ME (STUDIO 1)
Freddie didn't actually sing on this 1966 Studio 1 rude boy ska cover of The Beatles by the Clarendonians. But the duo of Ernest Wilson and Peter Austin were the ones who took him to meet label proprietor Clement Dodd and start his recording career aged just 7.
Freddie says: "I didn't sing on that one. That was one of the songs that Ernest and Peter were recording before I went to Kingston. But I later the covered that song because I loved it so much. The Beatles were one of the greatest groups."



LITTLE FREDDIE - AFTER LAUGHTER (STUDIO 1)
Freddie's first recording for Clement Coxsone Dodd was a 1968 rendition of Wendy Rene's After Laughter Comes Tears – the original later famously sampled by the Wu Tang Clan.

Freddie says: "Yeah, I am surprised to see how many people have recorded that song. Mr Dodd was the person who introduced those songs. Because Mr Dodd used to go away and do farm work to America and he used to bring back records. So that's how he would bring records and introduce them to us. Mr Dodd would match the song to the person."

AL AND FREDDIE – BORN A FREE MAN (STUDIO 1)
This duet with Freddie's old friend, the singer Al Campbell, is one of the rarest and most sought after pieces of vinyl McGregor ever recorded.

Freddie says: "Al and I, we go far. When Al would come to the country he would stay at our house and so when I was in Kingston I would stay by him. That's the kind of relationship we had. We were at Studio 1 and Al used to be at Studio 1 with us so we introduced him to Mr Dodd. Mr Dodd found out that he could sing, and so he being our friend, we tried to push him by recording songs with him and stuff like that."

FREDDIE MCGREGOR – I SHALL BE RELEASED (STUDIO 1)
Freddie's sing-over of Nobel Prize winner Bob Dylan is less famed than the 1969 Heptones cut on the same rhythm - but just as worthy.

Freddie says: "I love my version! Because Mr Dodd again introduced those songs to me. And he would have Jackie Mittoo arranging the songs. I mean there were so many songs that he had brought to me. There is another song called Ghetto Child. He brought a Johnny Mathis song to me called I Am Going Home - and I love that. Because I was learning. I was always learning. That was great."

FREDDIE MCGREGOR – GET INVOLVED (WORLD CHAMP)
This propulsive 1974 revamp of George Soule's socially conscious hit was recorded for under-sung producer Alphonso Bailey. It came to prominence years later on Blood and Fire's soul covers reissue compilation Darker Than Blue.

Freddie says: "Oh yeah! Alphonso was a friend of ours who was a producer. He had a record store and he came to me with the song and asked me if I would do it. And of course I liked it because at that time we were in a disco mood. We were doing the funky and all that kind of stuff so that was a popular song in Jamaica. The song is political and it has a nice vibe and that is why I covered the song."

FREDDIE MCGREGOR – MISSION IMPOSSIBLE (HIGH TIMES)
During the 70s Freddie recorded some of his toughest material for Soul Syndicate and High Times guitarist Earl Chinna Smith. This cover of the Interns/Viceroys Nothing Is Impossible is an overlooked classic begging to be revived.

Freddie says: "Oh! How do you remember that one? That's a wicked tune. One of my favourites too. Well, like Mr Dodd, Chinna again is another inspiration. Because Chinna brought me so much music, introduced me to so many groups and artists. Chinna is my soul. My inspiration."

FREDDIE MCGREGOR - MARK OF THE BEAST (SOUL SYNDICATE)
1978 saw Freddie and Chinna create one of his most devout and outspoken statements. From a Rasta perspective he criticises European Christian traditions such as celebrating Christmas on December 25th.

Freddie says: "'Here comes the sign of the beast, 666, mark his pagan feast, December 25th. Don't be no part of the system, I'm sure he will use you as one of his victims.' Well, at the time I was just reading about His Majesty, Africa, the Bible. We just saw some things and we saw the system and we started to write against the system. I read and I saw it had nothing to do with any of that that so I had to say it."

FREDDIE MCGREGOR - SERGEANT BROWN (PRIESTHOOD)
A 1979 Chinna-produced lament about a police raid on herb crops, Sergeant Brown is Freddie's own forebear to John Holt's Police In Helicopter. Another song that deserves a 7 inch reissue and more sound system play.

Freddie says: "I love it. Sergeant Brown, I think it was originally composed by the keyboard player from Soul Syndicate. His name is Jah Macka and he came up with the idea. He said "Freddie, you must sing this song" and I didn't hesitate because I love the song myself. And, yes, there was a real officer named Sergeant Brown. And he actually did those things with my herb tree!" (Laughs)

FREDDIE MCGREGOR - NAH SELL OUT THE TING (ROAD DOG)
This 2007 monster for producer Hopeton Hibbert demonstrates that Freddie can still cut a hard roots tune and cause a sound system explosion. Like Sergeant Brown, the lyrics about someone attempting to bribe Freddie are drawn from real life.

Freddie says: "Me and Hopeton - we are friends. And sometimes when we hear a rhythm track and it's potent we think of something that's worth approaching it. I liked it and the idea was there. You see a nice rhythm so then you take a nice melody. That's how we came up with the song. Something happened but it's personal. I don't bring it out in the song but we always say: Who the cap fit, make them wear it!"