Review
Album Review: Exile Di Brave - The Journey Begins
05/05/2015
by Gardy Stein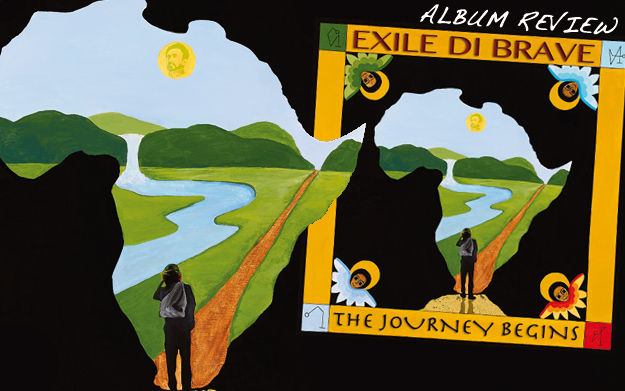 "If the mountain won't come to you, you must go to the mountain."

This quote seems to be the motto and driving force in the building of Clayton Johnson's career and his artistic Alter Ego, Exile Di Brave. Hardly known outside of his Jamaican community until 2 or 3 years ago, he decided to introduce himself to the European world of music last summer (read the interview for more details). His doing so was a stunning success, and this year he is not only performing on shows and festivals all over Europe, he is also presenting his new album aptly entitled The Journey Begins.

Released under his own label EDB Entertainment, the second full album of this uprising artist shows a steady development. While his debut The Calling was produced digitally for the most part, Exile invited musicians like Andre Wright, Garfield Blair, Clayton Samuels, Wilkie Powell, Leonard Grierson and Andrew Carter to contribute to this new musical adventure.

Of the 13 tracks included, the outcry Hungry has been around longest and can be admired in video format as well. Up next is Mr. Pretender. Featuring the talented Kazam Davis (one of the artists enriching Vinyl Thursdays with almost weekly performances), it drops on a heavy Roots-Reggae-Beat to which both singers skilfully add their voices. Another young artist from the growing Kingston family is Jahkime, who is in part responsible for the humorous Country Man (again, I have to refer you to the interview for further explanation).

Even though some of the tracks seem rather simple (Save The Children or This Generation, for instance, which score with lyrics instead), on closer inspection each one reveals a certain charm, be it through instrumental details as in Be Careful which has German expatriate Matthias Reulecke play drums, or through interesting features – Dub Poet Abebe Payne on Showing Defiance is a good case in point.Or they have exciting origins, like Love Changes: this track has been produced by Austrian Ambassajah Records in cooperation with R.B. Sound who welcomed Exile like a family member and support him to this day.

Turning to the gems of the release, we have the conscious Seek Jah Kingdom and the movement-inducing Till A Mawning, which conveys a live-concert feeling. Tell di police naa lock it off! Further up, love brightens my day whenever I listen to the gentle Complete Me – pure melodical sweetness! The best is saved for last, however: The Journey Begins! Framed by original speeches of Marcus Garvey and Haile Selassie, this calm tune is not only the title track, but also the perfect closing for an album that no doubt will serve as a runway for Exile Di Brave. Critics might say that he is not a perfect vocalist or that the production lacks refinement, but this album breathes a soulful creativity, a spirit of self-made success – to quote a friend of mine, "Every note performed is better than those which remain unheard." Apart from that, Exile is one of the most likeable, committed and cheerful artists I've ever met.

By the way: the cover is made by a gifted Kingston-based artist called Joanna. It's a hand made painting - original art, no computer graphic! And the same image is used for Exile's customized Ziggi Rolling Papers, so in case you catch him on tour one of these days, make sure you grab one! And make sure you grab a copy of his album as well – it will grow on you!
---
Release details
Exile Di Brave - The Journey Begins
DIGITAL RELEASE [EDB Entertainment]
Release date: 05/05/2015
Tracks
01. Hungry
02. Mr. Pretender feat. Kazam Davis
03. Becareful feat. Daddy John
04. This Generation
05. Save The Children feat. Juba Lion & Black Indian
06. If This Is Love
07. Love Changes
08. Country Man feat. Jahkime
09. Complete Me
10. Till A Mawning
11. Showing Defiance feat. Abebe Payne
12. Seek Jah Kingdom First
13. The Journey Begins
Featured artists
Kazam Davis