Review
Album Review: Brighter Days Riddim
12/01/2013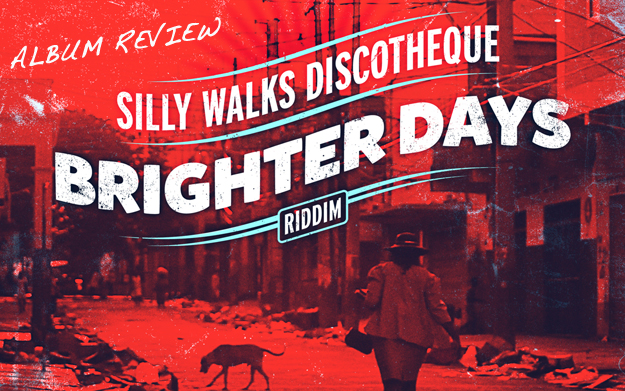 The summer is over, the days get shorter and shorter, and the sun rarely wins against the heavy clouds that bring rain and snow to Hamburg, Germany, the place Silly Walks Discotheque calls home. Instead of falling for winter depression, Silly Walks decided to fight for Brighter Days musically. Germany's most reliable riddim forge presents a selection of tunes on the riddim of said name that have been voiced mainly by young talents we can safely say of that they are here to stay.

Jr. Blender programmed and mixed this mid-tempo one drop riddim with a heavy bass line and sweet chord progression. The Brighter Days is almost as sweet as the Honey Pot, Silly Walks' last selection that dates back to February 2013. It is a bit faster (84 BPM, the Honey Pot has 74) and in F major. Six of the eight tunes on this selection are new, two have been released already.

Busy Signal teamed up with RC, a young crooner from Clarendon which Donovan Germain of Penthouse Records took under his wing, for Dreams Of Brighter Days, the eponymous opener. Dreams Of Brighter Days is an uplifting sufferer's tune with two very distinct voices. Christopher Martin reminds us that we shouldn't judge people by their appearance (Look On My Face).

Romain Virgo covers Michael Bolton and Andrew Goldmark's Soul Provider lyrics from 1989 for his intense song of the same name on the Brighter Days. We don't know if Etzia heard the same copious promisses. If she did, they became meaningless. She asks him why he had to Go Away, since he wasn't there for her when she needed him the most. The Swedish dancehall artist aligns herself to the modern roots riddim and shows a smooth vocal style that is in stark contrast to the roughness she usually applies.

The Canadian Penthouse protégé Exco Levi states that Jah Nah Sleep. Behave yourself, is the bottom line. Fiji & J Boog's Lonely Days was already part of Fiji's 2013 album Born And Raised II - The Rebirth. The tune is an apology to a lost love. Hezron's Everytime was first released on Silly Walks' 2012 album Storms Of Life. Hezron is, in my eyes, the most promising of that young generation of crooners that includes Duane Stephenson and RC. His Everytime is one of the strongest tunes on this selection that comes without let-downs. Break Free closes the deal. It's Loyal Flames' contribution, a young singer with an edgy voice hailing from St. Catherine.

One riddim selections might be of limited interest to album collectors, but Silly Walks Discotheque's selection of artists and the quality of the riddim itself justify a purchase for these fans.
---
Release details