Review
Album Review: Exco Levi - Country Man
03/17/2015
by Dan Dabber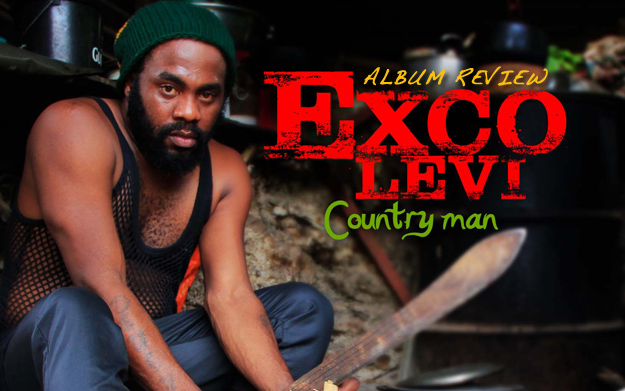 "I still maintain my roots as a rural country man," Exco Levi proclaims on My Life Story, the opening track of his new album, Country Man, but Levi maintains his roots on many levels, probably best exemplified by his choice of profession. Reggae music runs in his family. He grew up watching his father deejay in the 1980's for a local sound system out of Clarendon, Jamaica called Super Soul. Although his father never made it big as an artist, Exco took what his father gave him and ran with it to places that no reggae artist had been before.

"Ultimately, I have achieved a lot of accolades in Canada including the Juno Award, which is Canada's biggest music award," Levi also mentions on My Life Story, "I am lucky enough to have won it three times consecutively. Nobody ever done that before." Ever modest, Exco has won the hearts of Canadian music fans with his talent and his conscious brand of authentic reggae music since emigrating to Canada a decade ago. Canada has embraced Exco so thoroughly that, as of this past Sunday, he won the Juno Award for Reggae Recording of the Year for the fourth year in a row, this time for a track from Kheilstone Music called Welcome The King, which is sadly not on the Country Man album. All but three of the tracks on this album are exclusive to this release, so if history and Exco's continuing popularity are any guide, it is likely that one of those remaining thirteen songs will receive a Juno Award in 2016. And, as a bonus, one of the three previously released tunes on Country Man, Storms of Life, which was released as a single and was the titular track from a 2014 various artist album release from German production outfit Silly Walks Discotheque, was the Juno winner in 2014.

But life has not always been so kind to Exco. Always true to his roots, the tracks on the Country Man album provide an index of the struggles he has endured like One Room Shack, Suffering Man, One Shirt, and the especially potent, Life in the Factory, which is backed by Penthouse Records' popular 9.58 Riddim, most commonly known for Busy Signal's 2012 hit version, Reggae Music Again. In fact, every song on the album references Exco's origin story; even the order of the songs seems to have a somewhat chronological feel. The first tune on this album is the title track, Country Man, a light-hearted track that outlines Exco's upbringing in rural Jamaica and the sensibilities he developed from having a country background. But this easy going, nostalgic vibe is dashed to bits with Exco's next song, City Life, a flash forward to the tension and pressure one feels living in an urban, capitalist system. There are other themed song groupings that exist on this album including a dreadlocked-based one-two punch at the CD's halfway point that includes Natty Haffi Long and a cover of the Twinkle Brothers' song, Since I Throw The Comb Away, which was released on their 1980 album coincidentally titled Countrymen.

Although the Twinkle Brothers do not make an appearance on Exco's album, there are a few notable collaborations with guest artists, including more musical influences from his past. Jahmali, who, like Exco's father, is from Clarendon, assists Exco with a reboot of his classic 1997 reggae hit, El Shaddai, and Michael Rose, former lead singer of roots power house Black Uhuru, blesses Country Man alongside Exco with another update of Black Uhuru's 1979 song, General Penitentiary. Romain Virgo, who, like Levi, is a young, conscious artist on the rise, adds his talents into the mix by joining Exco on Get It in Your Head, a beautiful and inspirational tune targeted at young people. However, the most important musical contribution to this album other than Levi's is undoubtedly from iconic Penthouse Records producer Donovan Germain, who in addition to producing nearly all the tracks on the album is also the link that ties Levi, Rose, Jahmali, and Romain Virgo together. All of these artists were at one time voicing riddims quite heavily for Penthouse under the tutelage of Germain.

Although this is Exco Levi's first full length release, he has already accomplished so much on his way to this point, and it is likely that this is just the start of what will be a long and fruitful career. But no matter how far this talented artist takes his music in the future, you can expect that this down-to-earth musician on a conscious reggae mission will never outgrow his roots as a country man.
---
Release details
Exco Levi - Country Man
DIGITAL RELEASE [Penthouse Records]
Release date: 03/17/2015
Tracks
01. My Life Story
02. Country Man
03. City Life
04. One Room Shack
05. One Suit
06. Suffering Man
07. Call On His Name
08. El Shaddai feat. Jahmali
09. Since I Throw The Comb Away
10. Natty Haffi Long
11. Loneliness My Story
12. Under My Sheet
13. Storms Of Life
14. Life In The Factory
15. Get It In Your Head feat. Romain Virgo
16. Youth Dem So Violent
17. Badness No Wear Pon Face
18. General In Penitentiary feat. Michael Rose
19. Letter To Jah
Featured artists
Mykal Rose
/
Romain Virgo
/
Jahmali