Review
Album Review: Bobby Hustle - It's The Hustle
07/17/2015
by Dan Dabber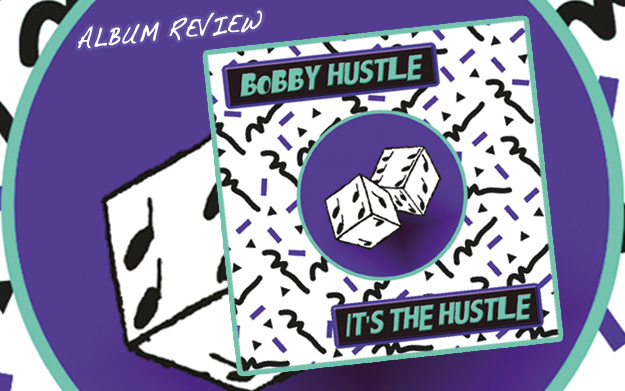 There are plenty of American reggae acts in 2015, but none of them as genuine as Bobby Hustle. Built on a broad knowledge of reggae and dancehall music, Bobby's authenticity is most impressive because it is self-taught and born of a true passion for a genre that most Americans only know through Bob Marley's ubiquitous Legend CD. Bobby's hustle doesn't rely on growing dreadlocks for credibility. He is an accomplished versionist, having voiced riddims for labels from Japan to Jamaica and his music is played by sound systems in dancehalls all over the world, often alongside songs from major Jamaican artistes. Bobby Hustle has contributed to riddim projects and released singles and mixtapes since he first arrived on the scene in 2010, but hadn't released a full length solo album until this summer. Aptly named It's The Hustle, Bobby's first album begins, quite fittingly, at the exact moment when the hustle should start - at the crack of dawn - with his opening track, Kush Morning. A welcoming ganja tune that was originally released in 2012 as part of the Kush Morning Riddim from Dynasty Records and Twelve 9 Records, Kush Morning is a satisfying wake-n-bake session that begins with a dreamy swirl of acoustic guitar and melodica. The listener is then suddenly jolted by the sound of an alarm clock and the riddim quickly comes to life, building into a fun, laidback one drop. Kush Morning is one of Bobby's strongest performances on the album and it sets the tone for It's The Hustle in a big way, immediately informing the listener that Bobby Hustle's vocal talents and stoner lyrics are the real deal.

Bobby shines with a few of Jamaica's brightest stars on his album, further cementing his place in the world of reggae. Sizzla is the biggest name to be featured, contributing his fiery vocals to another weed anthem called Smoke Some Ganja. The riddim pushes this track into hip hop territory, a place where both Sizzla's wild energy and Bobby's laidback approach fit quite nicely. These opposing styles balance each other well, giving the track depth and a sense of musical dialogue that leaves the listener wanting more. Defend Them, which features four-time Juno Award winner, Exco Levi, has a similar, maybe even heavier impact, accentuated by a powerful, dub-inspired one drop riddim and cautionary lyrics warning the youth of life's pitfalls. Exco's style is more subtle than Sizzla's, creating a blend with Bobby that has a slightly warmer and more natural feel than the Smoke Some Ganja combination. However, both tracks are top selections from It's The Hustle, and it is possible that they may soon be running at a dancehall near you.


It's The Hustle includes several other notable songs like Life Is What You Make It and Inna Rizzla, but the most important track from this release is Looking Glass, a popped-out acoustic guitar-based ditty that mixes both hip hop and dancehall-style rhythms. Although Looking Glass strays from Bobby's reggae/dancehall roots more than any other song on the album, he still sounds authentic and at home in this pop space. However, it's of no consequence if Looking Glass fails to achieve pop success since the importance of this track is in its demonstration of Bobby's potential to have a musical impact beyond the core reggae market, while still employing the techniques he learned as a reggae artiste.


One need look no further than Snow, the Canadian-born dancehall singjay who scored a massive global pop hit with Informer in 1993, for proof that an artiste from outside of Jamaican culture, like Bobby Hustle, can achieve pop success by tailoring his style to fit into the dance. Although much of the world considers Snow a one-hit-wonder, avid reggae fans know that he built a long and varied catalogue, voicing riddims for some prominent Jamaican labels well into the 2000's. As non-Caribbean caucasians who have voiced riddims for Jamaican producers, both Snow and Bobby Hustle are in a very exclusive club that also includes well known contemporary reggae artistes like Gentleman and Alborosie, as well as the original white dancehall deejay, Dominick - all three of which hail from Europe. These men were outsiders who found their niche in reggae by exploring the music on its own terms. As such an artiste, Bobby Hustle is certainly on the right path as an American reggae singer, and the day may soon come that he finds his Informer-level hit. There is a possibility that it may even be lurking on It's The Hustle.
---
Release details
Bobby Hustle - It's The Hustle
CD / DIGITAL RELEASE [Loud City Productions]
Release date: 07/17/2015
Tracks
01. Kush Morning 
02. Life Is What You Make It
03. Defend Them feat. Exco Levi
04. Looking Glass
05. Cancel My Plans
06. Inna Rizzla 
07. Memories 
08. Another One Gone 
09. They Don't Know
10. Smoke Some Ganja feat. Sizzla
11. No Commitment
Featured artists
Exco Levi
/
Sizzla