Review
Album Review: Etana - Reggae Forever
03/18/2018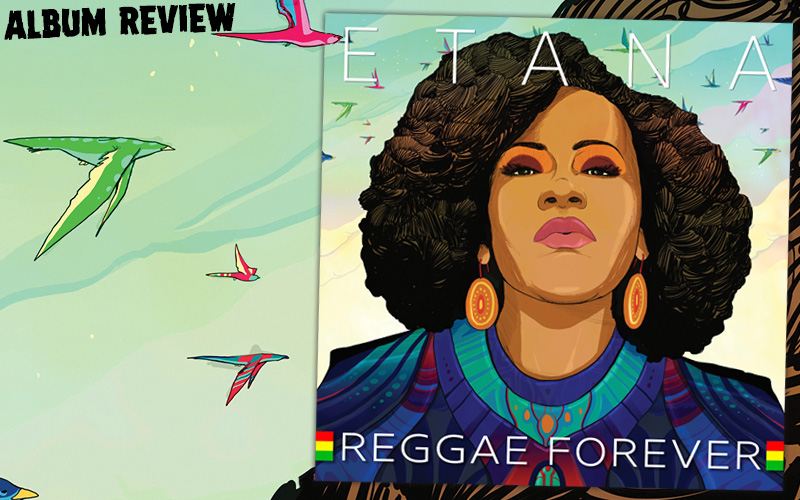 The Strong One is back. Not that Etana was absent for long, not at all. In fact, she already released Live in London this year as a result of her extensive touring in Europe and the U.S. But she is back in so far that she leaves behind whatever political statements made her look bad in public. Notwithstanding this, on International Women's day 2018, she put out a caliber with Reggae Forever (Tad's Records), which is outstanding in quality and versatility. From the very beginnings of Jamaican popular Music, to Modern Roots and Dancehall, Reggae Forever has it all.
Distinctly Jamaican instrumental features like uncompromisingly groovy bass and drum sections, bold, determined and well-arranged brass parts and R'n'B and Country inspired Guitar lines alla Lamont "Monty" Savory are right next to programmed dancehall beats, acoustic songs, old-school, first-wave Ska, and Roots Reggae in digital attire. The umbrella term Reggae unites all those styles and Etana's soulful voice glues the songs together as if there had never been different genres in Jamaican music. Collecting the past in this way, she certainly lives up to the album title. On Reggae Forever, she created what in the future may possibly come to be seen as a classic.
The lyrical content and substance on this album is timeless and covers a wide range of different emotional angles. However, love in its many different modes is the all-pervading red thread on Reggae Forever. Even the revengeful Burned, including its controversial video, carries a certain flavor of inversed attachment; maybe the result of desperate love and the delirium and loss of sense of reality that comes with it sometimes.
Freedom, too, is an essential concept which constitutes the character of songs like Free Pt.II. Just like Spread Love, which was co-written by Tanya Stephens, it carries a certain African spirit, rooted in back vocals and instrumentation. A provocative rhetorical question opens Fighting For Nothing, which is home to a groovy Rock beat, refined harmonies and the some of the most delicious facets of Etana's voice. Carry You brings in dubious synth and guitar lines, as well as a very thoughtful and reflective Etana. You're The One is the Ska tune, mentioned above, authentically bringing back the spirit of the late 50s right into 2018. In a digital sound garment, Sprung reflects Reggae sound ideals from the early 2000s until now. In this song, Etana brings forth a new facet of her vocal performance when she is lasciviously toasting about adult topics.
Tarrus Riley's song writing is unmistakably imprinted on My Man, an anthem to all the man "who really love dem lady." According to a recently conducted Reggaeville interview with Etana, the toasting parts on this one can also be traced back to Tarrus. The acoustic intro of Soldier has a somewhat Country touch. Especially its gospel-like back vocals and big band inspired brass parts turn the song into a joyful celebration of love. Good Enough is a statement of unconditional love and devotion. On a One Drop Riddim, Etana moves back and forth between rejection, acceptance and the often heart-rending feelings in between. As mentioned above, in Burned, Etana knows no compromise and no mercy. The cheater hast to die! This aggressive mood is also reflected in the riddim's rock attitude and chorus line "and another one bites the dust." On No Money No Love, featuring an unidentified male guest, Etana shows off her dancehall attitude, just like she does on 6 Mins: 21 Secs, which manifests yet another, somehow sweeter and more souly side of the Dancehall queen Etana, which didn't really have much of an appearance before.
The album closes with two spiritual songs, Destination and Jah Love (I Know); both very classy and meditative tunes. No matter the mode, genre or emotional stage, Reggae Forever is 100% Etana, 100% Reggae, and 100% timeless.
---
Release details
Etana - Reggae Forever
DIGITAL RELEASE [Tad's Record]
Release date: 03/08/2018
Tracks
01. Free Pt 2
02. Fighting for Nothing
03. Spread Love
04. Carry You
05. You're The One
06. Sprung
07. My Man
08. Soldier
09. Good Enough
10. Burned
11. No Money, No Love
12. 6 MINS : 21 SECS
13. Destination
14. Yes I Know