Review
Album Review: Etana - Pamoja
06/26/2021
by Steve Topple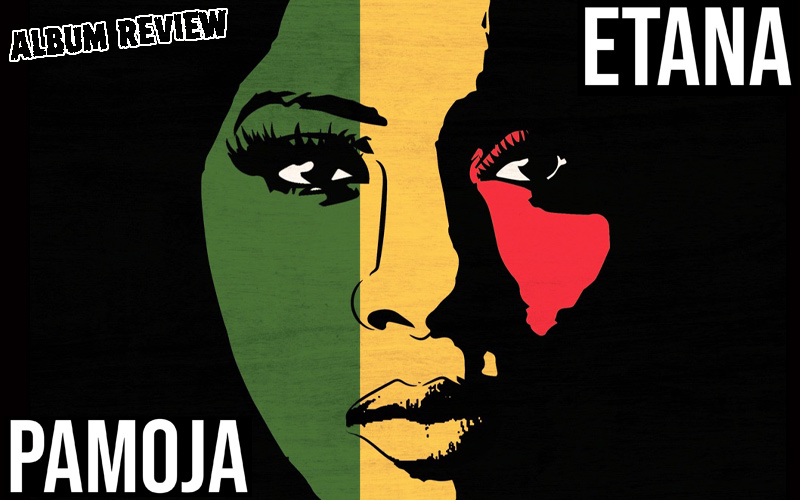 It only seems five minutes since Etana's 2020 album Gemini. But she's back, showing time has no meaning when it comes to searingly good projects.
Pamoja, released via Freemind Music, is simply glorious. Like its namesake, the album brings together the worlds and cultures of Africa and Jamaica in both musical and lyrical form. Etana and Freemind's Andre Morris (her husband) are responsible for much of the writing (the synergy shines through), along with a plethora of other talents. Chris Scott's mastering is stellar, giving Pamoja a sympathetic, warm and rich feel. Overall, the album sweeps across genres and the globe.
Legacy featuring Kenya's Naiboi winds across smooth AfroDancehall that's interspersed with elements of Soul. Melanin sees Etana join forces with Tanzanian singer Nandy across a forthright Afrobeats path. Not 4 Sale with Zambian songstress Wezi is a fusion of Roots, Dub engineering and some Dancehall/Trap vibes via hi-hat buzz rolls. Walking Away pares things back to Roots-Soul sensibilities, and Malaika expands on this beautifully.
Back to Jamaica. Baby O sees Vybz Kartel and Etana create an almost Lover's AfroDancehall track. A stop in Ghana with Stonebwoy follows on the stuttering AfroDancehall Proppa. Fly takes us to Polynesia as Fiji helps cement a Roots-Soul fusion with both artists giving absolutely stunning vocal performances (check out his soaring falsetto). Clap is gloriously ambiguous: really Neo Soul, incorporating elements of Ambient RnB, Dancehall and Afrobeats.
We stop in Kenya again with Wyre helping deliver The One - a smooth, 21st century RnB Lover's Rock track. Damian "Jr Gong" Marley and Etana Turn Up Di Sound with a Revival Reggae-Hip Hop fusion. Natural Beauty takes Not 4 Sale's riddim and expands it, with Sierra Leonian-German artist Patrice giving a conscious man's perspective. Europe isn't missed out either as Turn Up Di Sound's riddim is reimagined with Italian star Alborosie across Jamrock Vibez.
Thematically, aside from the positive relationship messages from Pamoja's love songs, the album feels like a response to world events since 2020's Gemini. Etana gives a powerful cry of black pride with Melanin. Across both Not 4 Sale and Natural Beauty, she smashes the system's toxic notion of femininity. Malaika ('Angel') sees Etana provide both a positive message of love without the need for riches – and a powerful sermon on the need for humanity to collectively love each other over material things and power.
Overall, the title track encapsulates Etana's vision for Pamoja perfectly and beautifully. Essentially AfroDancehall, but with leanings more towards the Afrobeats side, it features Jamaica's Yahsha (who also co-wrote several other tracks) and Kenya's Michael Bundi – as the three deliver a cry for unity across both the Motherland and world more broadly.
Pamoja is stunning from Etana: musically extremely detailed; the production first rate; vocally she and her collaborators at the top of their game; lyrically delivering a plethora of messages and overall, it's an inspired project with a cry for common humanity and unity at its heart. Powerful, and one of the strongest releases of 2021.
---
Release details
Etana - Pamoja
ALBUM DIGITAL / CD / VINYL [Freemind Music]
Release date: 06/25/2021
Tracks
01. Intro
02. Legacy feat. Naiboi
03. Melanin feat. Nandy
04. Not 4 Sale feat. Wezi
05. Baby O feat. Vybz Kartel
06. Proppa feat. Stonebwoy
07. Clap
08. Walking Away
09. Fly feat. Fiji
10. The One feat. Wyre
11. Turn Up Di Sound feat. Damian Jr Gong Marley
12. Pamoja feat. Yahsha & Michael Bundi
13. Malaika
14. Natural Beauty feat. Patrice
15. Jamrock Vibez feat. Alborosie
16. Outro
Featured artists
Damian Marley
/
Alborosie
/
Vybz Kartel
/
Stonebwoy
/
Patrice