Review
Album Review: Etana -Gemini
06/19/2020
by Gardy Stein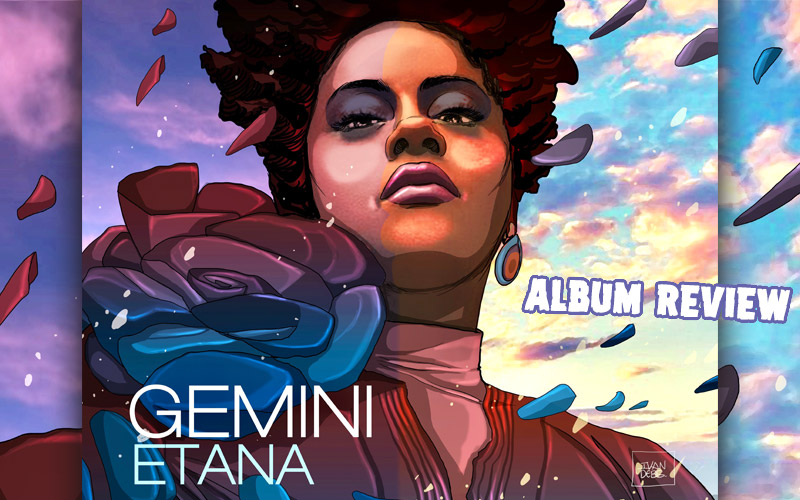 Being a Gemini myself, it feels like destiny writing the review for an album called Gemini - in the middle of the Gemini season at that! The reason why Shauna McKenzie aka Etana aka The Strong One has given her new release this title is, of course, that she is a Gemini as well, but also because she values the characteristics attributed to that air sign: creativity, spontaneity, adaptability and sociability.
Her album sure is a representation of these, the 12 tracks included covering such a wide range of topics and styles that they conjure up the image of a glittering, iridescent butterfly. In part, this impression is evoked by the different producers responsible for the music. Young Veterans (Party & Smoke), Cashflow Records (Talk About It) and TJ Records (Bubble) contribute one track each, Barbwiya Music has three (Truly, Secret Lovers and Love), while the lion's share of six tracks was shouldered by Etana's own label, Freemind Music.
They are the ones who composed the pacy 100 On The Highway kicking off the release, an affirmation of the determination Etana displays when it comes to her music. Straight ahead! More laid-back, the subsequent Truly is a rootsy love ballad with beautiful bass and brass lines, provided and mixed by Dwain "Wiya" Campbell-Fletcher. If you are in the mood, check out the atmospheric video that shows Kingston's Tower Band in full effect.
Bubble, now, is another love song as well as an irresistible invitation to dance. Etana's voice is at its best here, shining in the versatility of both powerful belting and tender harmonising that is her speciality. More of these abilities can be heard in Deception, which is one of the more up-tempo pieces, and Easy To Let Go, a track that will automatically make your head bounce and your fingers snap.
While Anything For You and Love are a matter of personal taste, the features add exciting highlights. Wiya joins Etana in a yearning, almost desperate description of how it feels to be Secret Lovers, and Kabaka Pyramid flows with her on the reggaeton-ish riddim of Tight Space. By far the most interesting combination is heard on Jamaica. Bugle, The No-Maddz and newcomer Yahsha share lines with Etana, who doesn't mince matters in a criticism of Jamaica selling out land and resources to foreign states and companies.
In fact, it is this seriousness that is the greatest strength of the album Gemini – love and relationships are important and sweet to sing about, yes, but the world right now has issues that are of crucial relevance and should be brought to the listener's attention to spark meditation. Thus, Party & Smoke intends to shake up those who invest time, money and energy in the fleeting pleasures of a grand night out instead of focusing on building a stable future, and Talk About It is a plea to all those struggling with a tough situation, a plea to talk about what's hurting you instead of harming yourself.
Together with her partner-in-crime Andre Morris and everyone else involved, Etana has created yet another powerful testimony of her artistry. Well presented by the stunning cover-artwork of Ivan Debs, Gemini is a treat for all the signs of the zodiac (although it would be interesting to know if Geminis purchase it more often than others).
---
Release details
Etana - Gemini
DIGITAL RELEASE [Freemind Music]
Release date: 06/19/2020
Tracks
01. On The Highway
02. Truly
03. Bubble
04. Secret Lovers feat. Wiya
05. Tight Space feat. Kabaka Pyramid
06. Deception
07. Anything For You
08. Easy To Let Go
09. Love
10. Talk About It
11. Jamaica feat. Bugle, No-Maddz & Yasha
12. Party & Smoke
Featured artists
Kabaka Pyramid
/
Bugle
/
The No-Maddz