Interview: Etana
07/28/2011 by Angus Taylor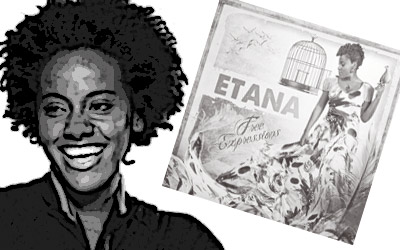 It's been a busy year for Etana - the August Town songstress with the gigantic voice. Since the release of her second album Free Expressions she's been touring hard, taking her soul-reggae vibes around the USA before hitting the European Festival circuit. Reggaeville spoke to her during a spot of downtime after the Oland festival in Sweden - where she had a surprise encounter with Curtis Lynch, producer of her hit August Town...


How's Europe treating you so far?
Really well. So far we only did two shows but people were just singing and vibing to the music. After I left the second show I could hear them saying "One more!" but I knew I couldn't go back because of the time.

Different countries have different curfews. Do you prefer to play to a strict timeline or just play for as long as the mood takes you?
Actually I like to follow the time that is on the contract or is asked by the promoter. I don't like to go over the time because it goes into everybody else's time so I'm conscious of that.

How do you cope with such heavy touring schedules?
I've been all around America on California side to Washington State to the Caribbean so it's been a lot, but I'm grateful because it's better than just sitting at home looking through the window! I would say just talk less, sleep as much as you can. Patience is needed a lot! And relax.

How do you prepare to go on stage?
Maybe with just a little meditation in my mind. Staying quiet. Saying a little prayer in my mind automatically becomes like second nature to me. I don't even think about it - it just comes. Then I go on stage, so nothing major.

What do you think of the reaction to your second album Free Expressions?
It's been mixed. Some say, in fact most of the opinions I've gotten have been, that it's better than the first one because the first one had more acoustic slow paced songs on there. A lot of people liked the dubwise. But then you have people saying the first album was better so it's been mixed. But I think it's a good thing at least to have opinions on Etana the strong one.

Do you ever read what critics write?
Maybe just on Youtube or if I see a write up pop up and my name is in it I'll go through it. Otherwise I don't go digging for stuff, no.

You're also on the new Alborosie album - your second track together. What do you like about working with him?
I love that song. The first time I heard it I was in South America speaking on the public radio there when the guy started playing the track and my mouth fell wide open! Because it was the first time I'd listened back to it after it was recorded and I fell in love with the song. Alborosie is cool. He's very soft-spoken, very funny. At time's he's also very free spirited too in his ideas. Even if he gives me an idea it's not like he's forcing me or telling me "You must do it this way" - he comes across very subtle. Very kind in everything he does. And he's super-talented - he plays every instrument and does his own production and mastering by himself. I just think he's talented.


You are playing at the One Love Peace festival on Sunday 31st July. It's got US and Jamaican artists appearing - are you going to be the missing link between the two with your soul-roots? The glue that holds it together?
(laughs) Maybe! It could be!

How does it feel to be part of such a historic festival making its return to London?
Amazing. I mean at first your reaction is just "According to my schedule I have a show here" but when I started thinking about a reggae show in Wembley Arena I thought "It's never been done before like this" and I'm seriously excited as I have been every since I figured out what it was about.

Will you be linking up with Curtis Lynch when you come to London?
What was so funny was I was sitting on the train to a festival in Sweden and I was almost asleep when I saw someone walk over and they said "Gotcha!" I turned around and it was Curtis! We chatted the whole time to the hotel and then funnily enough I bigged him up on stage after doing August Town but when I came off stage I saw him and he said, "Where's August Town? You did August Town already?" I said, "Oh God where were you?" and he said he left to go and change his clothes just before I was called to go on so he was trying to rush over. But yeah I saw him and it was a good vibes, so yes we have more recording to do and he's getting ready for me with another track as soon as I get there.

You're coming back to Europe again later in the year - is that right?
I don't plan to be away from here for too long. I'm not going to overdo it but I think I have a lot of growing to do in Europe. Though I may be known in some places there are still a lot of places where I'm not so known so I'm taking the time to go. For starters with Sweden I had been to Uppsala maybe two or three years ago, then a club show last year and then this festival. So at this festival you still had some people who were seeing me for the first time.

Will your tour take you to Africa?
We got some enquiries but what happened was by August 11 or 12th I have to be out of here and go to Ohio and Connecticut. In between those Ohio and Connecticut dates was the enquiry for the show in Zimbabwe and so we couldn't do it. It's unfortunate but I think it will come around again.

What do you think of the terrible drought that is going on in East Africa right now? I know you've tried to make more people aware of it on your twitter.
It's a really sad case because on a personal note in the morning I would stand there brushing my teeth and would let the water run. Now around the world people are having adverse weather conditions that are affecting them in different ways but I think the worst I have seen is when it is not raining. Not even having water for animals to drink and killing the animals while kids are dying from dehydration. And because there is no rain there's no food so I said "If I could cry and let the rain fall I would just cry" - you know?


We've spoken before about the state of the music in Jamaica. What do you think of Bunny Wailer's Jamaica 50 movement? Where do you see reggae in 50 years time?
I think the music is going to go forward regardless. People are trying to stay in control of whatever monopoly they've had over the past few years but I think the internet has crashed all of that monopoly and changed that whole system. It hasn't taken away the music but it has taken the music in another direction.


Does that mean good things for you?
(laughs) Well, it's a good thing for artists in general because it gives you more control as an artist over your own work. To me the people who suffer the most are record labels who are not willing to find new ways and systems to run their business. Some of them choose to stick to the old ways and they cannot let go of the monopoly they've built - that is what is hurting them the most. So I think they should either get with it or lose out.


Would you want your children to follow you into the music business? Or do you have different ambitions for them?
No! (laughs) Funnily enough I bought my son an Apple computer the other day because he kept bugging me about it and I said "If your grades come up" and his grades did come up. He did extremely well in fact so I bought him the computer. Then I came in the house one day from the store and I saw him sitting there rapping on the computer and I flipped! I lost it and said "Do you think life will be easy in the music industry if you don't at least go through school getting the basic knowledge that you need to even begin to understand the business of music? It's not just what you see on TV and on stage. It's like a spider web and you have to know how to put it together like a puzzle." And he said he understood. So it's not an easy industry and I just figure going through school and having a degree and all these things comes first.


You've said in the past that your grandmother was a big role model for you - what have you learned from her?
Never to give up no matter how hard things are. And that out of just a little you can gain a lot. And one of the biggest things she would always say is "Even if just a handful comes that is enough." So I am always satisfied even though I'm not always comfortable. I'm never laidback, I'm always hardworking because I believe that is the only way that you can win is to believe and to work hard but I am always satisfied with my achievements and accomplishments.