Festiville 2021 - New Magazine Out Now
07/02/2021 by Gardy Stein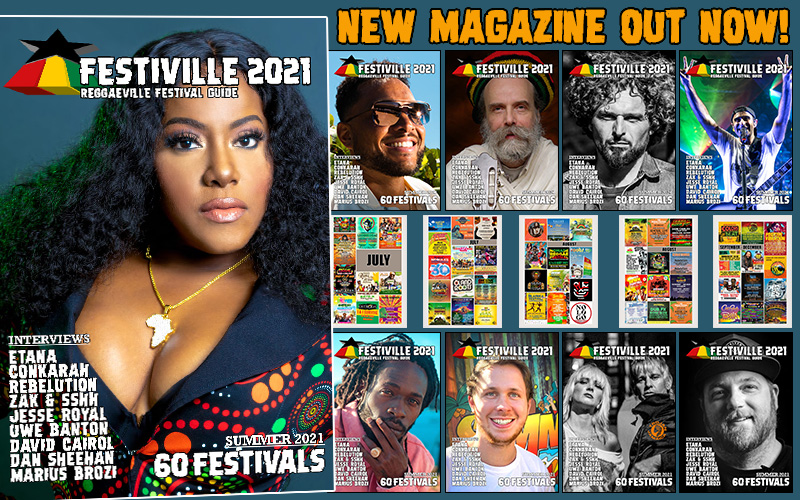 Count your blessings! That's always good advice, and much more so in these challenging times. So, let's start this year's edition of the FESTIVILLE by being grateful for the summer sunshine warming our locked-down hearts. If you read these lines, it means you are alive (in fact, it means that your ancestors have managed to survive in an unbroken line from the first days of creation until now!), you are literate, having enjoyed formal or informal education, and you command both enough leisure time and the means to obtain internet access.
The latter is an important prerequisite to enjoy these pages, as, unfortunately, it will be yet another digital edition of FESTIVILLE Magazine, since our main outlet for the print versions, SummerJam, had to be postponed yet again to next year.
And they are not the only ones forced to do so – most European Reggae festivals and some of the US-American ones suffer that same fate. What this means for the parties concerned; for organisers, bookers, vendors and technicians; is vividly illustrated by two extensive Reggaeville interviews with Marius Brozi (SummerJam) and Dan Sheehan (California Roots).
To present the artists' point of view as well, we interviewed Etana, David Cairol, Zak & Sshh (representing for the late U-Roy and his new posthumously album), Rebelution, Conkarah, Uwe Banton and Jesse Royal, who talk about how they've handled the pandemic and what musical beauty they created in the past months of social distance. And beauty indeed it is – albums such as Pamoja, Solid Gold, Vers(e), Free Your Mind, In The Moment, and Royal, respectively, bring us a refreshing diversity of songs and sounds to groove, sing and dance along to, all reviewed on the following pages. Additionally, you'll find reviews of Zagga, King Of The Dub Rock 3, UB40 and Alborosie.

Of course, Festiville wouldn't be what it is without just a tiny glimpse of live action. We have included a compact little festival calendar, including the available information on the scheduled festivals. Since these plans are in an ever-changing state, however, we urge you to check regularly our FESTIVAL AGENDA for updates and line-up additions.
Yes, this is another tough year with few chances to meet and jam to our favourite music together, but things are improving slowly, and we have each other to turn to, even if that still means to join a live stream or videochat with friends and fam. Stay strong, enjoy the simple pleasures every new day brings, and always remember to count your blessings!
READ & DOWNLOAD FESTIVILLE 2021 HERE