Festival Report: Sierra Nevada World Music Festival 2016
06/30/2016 by Justine Amadori Ketola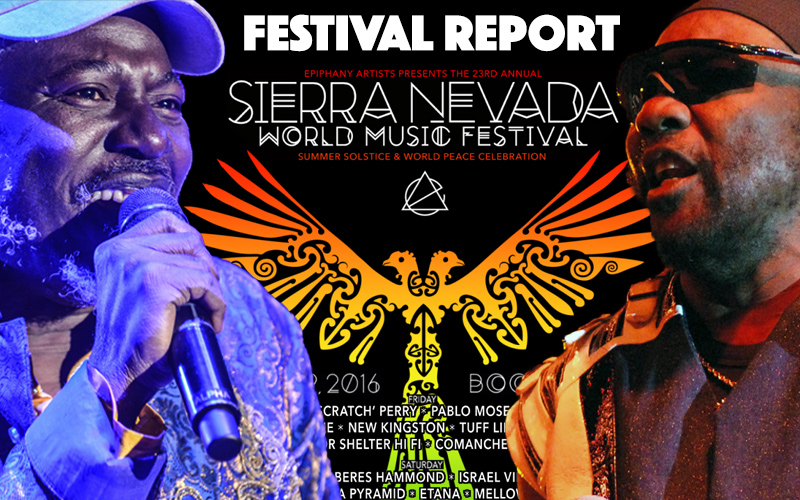 DAY 1: FRIDAY - JUNE 17th
New Kingston kicked off the Valley stage at 6:15 on Friday, there had been a light rain falling the day before, but the cloud cover was the only foreboding indication of what was to come to the Anderson Valley of Mendocino County. This four piece band plays a form of reggae that combines both the authenticity of Jamaica's original art form, and the sophistication of the band's native New Yorker vibe with all its polish, larger than life appeal and genuine taste for quality music.
New Kingston are Jamaican-Americans and three brothers, their father is Courtney Panton the legendary bassist who also performs with the band. As they take command of the stage, their songs take on a rock feel combined with a red, green and gold brushstroke of roots. As one of the tunes interpolated the bass line to Pass the Kutchie, made famous by some other Jamerican New Yorkers, Musical Youth, the band sings "Pass the Kutchie and bring a pound of it to New York City." As their song Live It Up gets going with its refrain, "Live it up right while Babylon try give we a fight", the sound hits its peak sweetspot as was maintained for this set by noted engineer Fabian Cooke who has mixed for many of reggae's greatest and also engineered the soundtrack to the Disney film the Lion King amongst others. Courtney Panton was visibly elated by the sound that was emanating from behind the console by his bredren. By the time their boom tune Mystery Babylon comes in, they have the early believer crowd with hands and lighters in the air feeling the mix. As the raindrops start to fall, they continue to bring the party vibes bring Jamaica via New York. The band's Honorebel was the closing tune, its a great anthem with catchy bars that include lyrics inspired by Bob Marley and the Wailers' Babylon System: "We refuse to be who you want us to be, we are what we are Honor-rebel."
One constant throughout the 23rd annual Sierra Nevada World Music Festival was the concept of family, when Reggaeville caught up with New Kingston after their set the conversation centered on this theme, "Big up Sierra Nevada, the sound was hopefully amazing, its hard for us to really tell, we have faith in Fabian (Cooke) he's like our father which is our bass player as well, its like they are brothers, he has our back we're family. Like you were saying, the sound sounded amazing, so give thanks for that." As far as what the future holds for New Kingston, they noted "We've got a lot of things coming, we've got some surprises, look out for New Kingston, stay in tune with us, we have a few shows coming up with Tribal Seeds, that's definitely one of the bands we love and look forward to playing with, its going to be good to see them again. We're going to play at Red Rocks so its kind of big for us, you know, thats a big venue and its gonna be a good vibe."
Up next on the Valley stage was Southern California style reggae group Fortunate Youth a band whose shows have a great family, ensemble feel, with each player getting the opportunity to shine in their own right, and all supporting one other and the powerful vocals of lead singer Dan Kelly.

The band is moving the genre forward into the future, using ska and rocksteady tempos combined with deep bass that slides into a funk effect on occasion as rock style vocals ride the mic and draw the listener in. When the group gave a press conference, they were asked with whom they'd like to play in terms of other artists, reggae or other genres, one member replied, "I would love to back Sugar Minott to tell you the truth, that's just soulful music, that singing, even nowadays, the new artists like Bitty McLean with the Taxi Gang and Sly and Robbie behind them, Bitty or Sugar probably….if it came to roots music, I go to Van Morrison I go to anybody, Smoky Robinson." Another player says, 'I'd have to say it would be really rad to jam with Jerry Garcia, it would be super rad or Bill Withers, that would be a good one too, or Bradley Nowell. Another player notes "We were hanging out with Miguel the other day and Bradley just came to my mind too. If you've got friends that need help go help them, god bless them." This is in reference to the late Mr. Nowell from Sublime who died from an overdose back in 1996.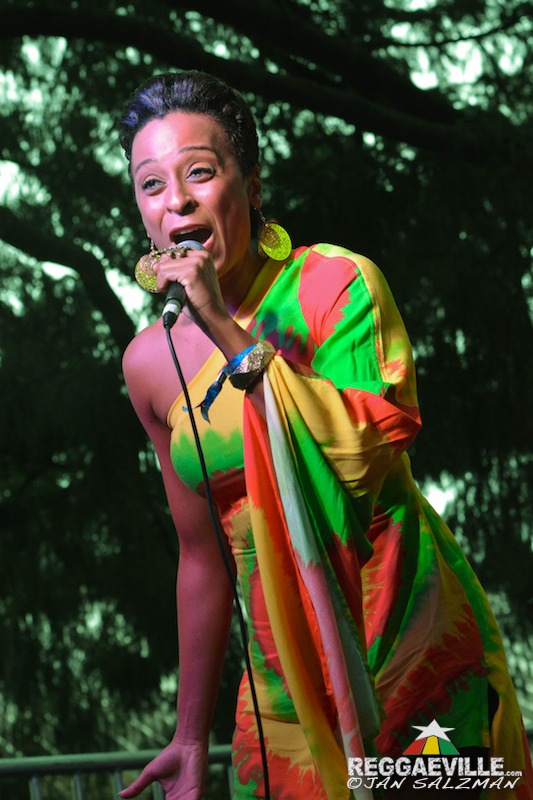 As the rare monsoon rain settled in, not before Alaine performed a well-received set at the Village stage as were sets there by No-Maddz and Pablo Moses, all of whom were fortunate to be somewhat sheltered from the storm by the tall pines that surround that area. Meanwhile on the Valley stage, the first ever SNWMF appearance by the enigmatic Lee "Scratch" Perry was set to happen along with Don Carlos who was to close the stage. Gear was placed on the stage for Lee Perry, whose band consisted of a sequencer/selector person and a guitarist performing as the Subatomic Sound System. As the storm seemed to let up, a rainbow appeared over Lee Perry's dressing room area and the western sky turned a shade of pink that resembled one of Lee's hair colors choice of late. The SWNMF production team remained hopeful that he could ultimately take the stage, once a delay in his set became apparent, Lee seemed to become anxious, like a thoroughbred horse ready to leave the starting gate. Rumors started to circulate that there could be a possible appearance in the shelter of the dancehall staged in one of the location's fairgrounds exhibition buildings.
But alas, the equipment had already faced peril with the rain showers, and this exodus of gear was not to be. As the storm became socked in over the Valley stage, a microclimate of cosmic energy was building in the 80 year old Lee "Scratch" Perry the Upsetter's green room. Reggaeville ducked into his chambers to witness Scratch recite an oratory of rhyme and rumination, full of innuendo, Biblical references and metaphors both related to his fellow Jamaican people in the industry and his proclivities towards the profane. He proclaimed "angels" two female DJ's that had come for a personal audience, a team of radio hosts from the Western US, his sermon directed at them as they flanked him like two archangels from a fresco along with a few of us besides the band and crew that took shelter aboard the Black Ark. His most printable soundbite? "I did not come to play for the President, I came to play for the people." Although the potential to reschedule for the next day was offered, he and his crew were headed to Trinity, the next county over, to perform in Hayfork, a remote town of rootsy people. As the oration began to wind down, Lee Perry who had stood in front of the small congregation for several minutes speaking his truth finally asked, "Where is my Champagne?" This writer happened to be positioned next to the open bottle on the hospitality table, and with a glance toward the tour manager who gave an approving nod, the cup was refilled like a chalice as the Subatomic crew took the cue to announce, "Ladies and Gentleman Lee Scratch Perry", we then clapped politely.
Lee Perry seemed interested in debunking the assertion that he was perhaps an alien, and challenged us to determine the state of his mental health asking "Do you think I am crazy?" while making the claim that he was definitely born from his mother's womb.

DAY 2: SATURDAY - JUNE 18th
We woke up on day two of SNWMF to sunny skies and comfortable temperatures. What a joy to have one of Europe's most well loved bands Mellow Mood perform the first of three sets they would mash up over the next two days, this one on the Village stage. These twins from just outside Venice in Italy have been influenced by the roots of the past, including dancehall, with a laser focus on the issues of the poor and vulnerable.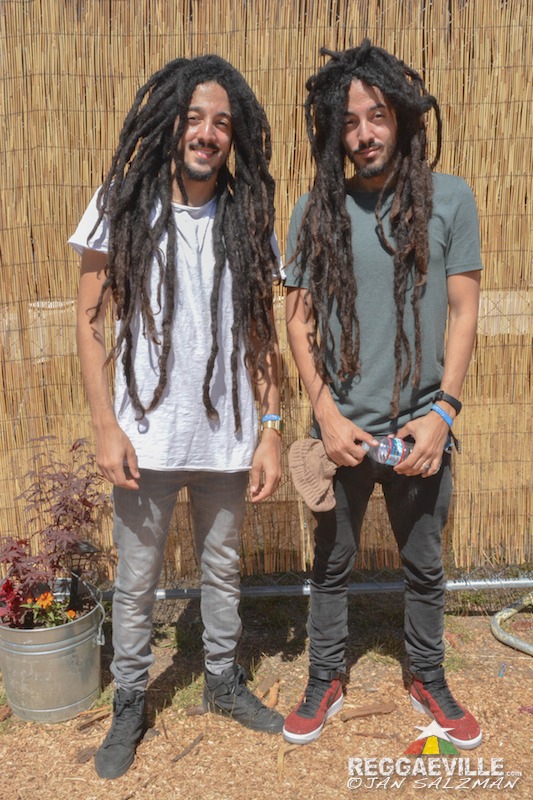 The song Sufferation with its Eek A Mouse influence (Ganja Smuggling) on the hook and then Criminal with its echoes from Black Uhuru (General Penitentiary) exhibit Mellow Mood's identity as a roots reggae band and the influence these artists have on their vocal delivery. As the set progressed, a few lover's/gal tunes ran including Closed Doors which wowed the audience with mournful vibe and lyrics "Loving you is like a bird flying with no direction." The duo both front the band and then at a certain point in the set, one of the twins switches to guitar. They have a command of the patois, and it shows in their song Inna Jamaica a love letter to their adopted country with its punchline "We wan fi spend more time inna Jamaica" with its melancholy bassline like that of a Midnite tune. To end their first set, Mellow Mood performed the slow tempo Bun Mi Heart with its infectious chorus, which found the SNWMF massive with hands in the air.
After the set, Mellow Mood gave Reggaeville their impressions of the experience noting, "This is the first time ever in US for Mellow Mood, and to perform in this festival and in California which is …from what we've heard, the reggae spot in USA, its very great, even greater because we have two shows now we have three shows, today we perform with Mellow Mood, tomorrow we perform with Mellow Mood on the Valley stage, then we have Dub Files with Paolo Baldini. So its great for now everything is all right."
Performing their second set of the weekend, this time on the Valley stage was No-Maddz from Jamaica, returning to SNWMF after their 2015 debut. This group has a stage presence like musical theatre, with members taking turns on lead vocals and lyrics so vivid they transport the listener to the streets of the "inner city slums". For Romance the group interpolated other soulful songs by Marvin Gaye Let's Get It On and the Chi-Lites Shining Star. The mento influence from Jamaican folk music carries through the guitar skank that dominates their sound. For the call and response from the audience, they drew for a chant originated by Tappa Zukie- "People are you ready? Blow!" from the classic 1970's tune Oh Lord. Choosing this opportunity to perform a freestyle for the people inspired by the tune from Zukie, No Maddz shouted out the hot ladies, the puffing of the marijuana as dub poet and No-Maddz member Sheldon Stuart sealed it up with a political commentary to the so called leaders. All this is happening to the groove of Pukapoo including a diversion towards Peter Tosh Bumbaclot which is quickly extinguished after one exclamation. When the song ends or perhaps its the act that ends as in a stage play, they announce, "We love this place." No Maddz then launch into Life of the Party with its skanking riddim, on top of which another freestyle is flaunted along with high kicking ska steps, harmonies and hops. Another countryman, Henry Belafonte is covered with his iconic mento chorus "Day Yo, Daylight come and…." as the No-Maddz adapt it "we nah go home." A gospel chorus is thrown in there, with its own call and refrain of Alleluia as the tempo starts to ease off, the time is coming to an end…which leads vocalist and guitarist Oneil Peart to belt out the chorus Time Will Tell from Bob Marley with its heaven or hell verse to end the set.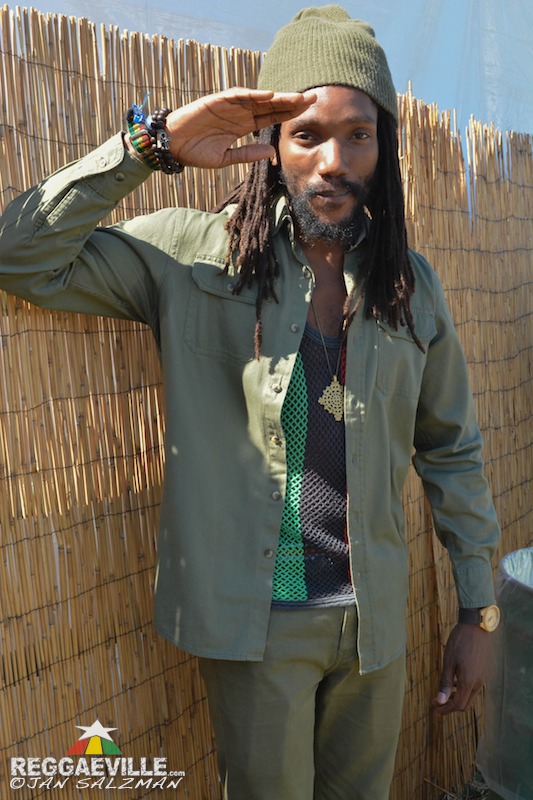 Kabaka Pyramid returned after his 2013 appearance to perform on the Valley stage with the mighty Bebble Rockers band. A true ensemble, they were able to move seamlessly from Kabaka's extensive catalog and naturally allow for the artist to freestyle, address the audience, jump onto the low end monitors in front of the stage where he remained for the entire set claiming his preference for the front of house audio. Because of the extensive catalog and the limited stage time, some songs were edited and performed as a medley, in particular Never Gonna Be A Slave morphed into No Capitalist as a systemic rant took hold. Then Kabaka cited the great Peter Tosh noting "Peter Tosh is a man that was never afraid to sing his mind," moving the medley into Coming In Hot, then returning to No Capitalist and progressing into Foundation that was originally recorded as a duet with Jah Sun. The crowd gets involved for the tune Weeping Dub which goes into a dubwise call and response for the chant "weeping and a moaning, Babylon a go get what they deserve". For Mi Allright Kabaka's combination with Chronixx, the crowd resonated with the lyrics, so rooted in grateful, positive, progressive vibes.
As the set comes to a close, Kabaka goes into Warrior, and before the verse starts, he cites that after his 2014 performance it was suggested that he should be on the bigger Valley stage. Kabaka thanks this individual who made the suggestion stating, "We give thanks for you because you of you we are on this stage you said to us, 'you need to be on this stage.'" This person turned out to be Bay Area DJ and festival MC Spliff Skankin' who happened to be located on stage right near the monitor mix and confirmed the Reggaeville writer's assumption that he had something to do with getting the band to perform on the big stage. Then the Bebble Rockers move into Worldwide Love and Kabaka takes another opportunity to address the audience regarding the mass shooting in Orlando stating, "We have to be conscious and wake up, why do you think so much war on the continent?" He then notes that the song he's going into Wake Up & See is being performed live for the first time, and to give "more guitar in my monitor, I want to get it right."
Between bands on both stages, DJ's play sets tailored to their audience or preferences. On Saturday afternoon, Green B dropped conscious tunes from behind the backstage barrier, the selector's booth located there for the second year after it was relocated from the soundboard in the front of the house. As Green B got started with her mix, she could be heard bigging up her "reggae family" as she went into a tune from Jah 9. SNWMF is always an annual groundation for people to come together as a family and enjoy the conscious vibes and crucial roster of talent from near and far.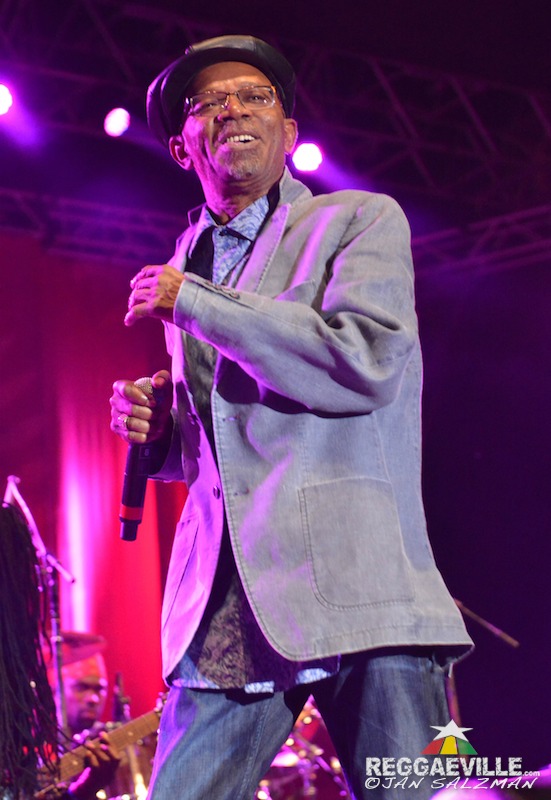 Beres Hammond made his first appearance at the legendary SNWMF in several years for many that came specifically because he was on the 2016 lineup. With a stage presence and command of his original music like no other in reggae, he proved why he is considered the "Voice of Jamaica" as the sun went down on day two of the festival. Taking the band down low at several points during the set, it seemed he wanted to be unobstructed by excessive noise, almost like a Jazz singer, focused on the space between the notes, making sure the audience was getting the meatiest part of the song, the vocals. Reports of Mr. Hammond's ill health had surfaced with minimal performances taking place over the past few years, but this evening he was in top form. Dashing back and forth on the Valley stage, at a few points actually jumping in the air kicking his heels with a wide grin, Beres was full of energy. He led the crowd, who sang along word for word, accapella, with no band accompaniment to close the classic Falling In Love as Beres blew kisses. By the time "Can You Play Some More" started, Beres sang a blessing, "Family! Can I see your hands up, what a beautiful scene" as the song progressed, he placed special emphasis on the lyric, "Everyone inside is like family…" and the tune erupted into a massive singalong. For Come Back Home he took the band down low to sing a few lines from the Barbara Streisand classic The Way We Were. The incredible Harmony House band transitioned elegantly from this to Step Aside as Beres called out Family to the massive, who responded with airhorns blaring as his footwork bounced to the groove. As the set moved to They Gonna Talk the audience participation crescendoed. Closing this unforgettable running order with Rockaway Beres took it down low, the nostalgia for those days from the past as his final message to the reggae massive.
Toots and the Maytals closed out the Valley stage Saturday, performing for the first time since a bottle throwing incident injured Toots Hibbert during a a concert in Richmond, Virginia in 2013. Festival talent buyer and promoter, Warren Smith personally introduced Mr. Hibbert to the audience, then his guitarist continued the introduction making the comparison to Muhummad Ali in that people said that Ali would not come back, also noting that Toots loves boxing. The set began with Pressure Drop and moved into Time Tough which seemed to both allude to the recent tribulations he and the band had faced. Toots also seemed to take songs down, directing the band to play low to allow him to connect with the audience, to audit the surroundings, take in the experience after such a hiatus. In particular he asked the audience to take heed for the gospel-tinged Peace, Perfect Peace stating "This song means a lot to me." The band showcased the '70's soul that is a potent ingredient in every Toots and the Maytals composition. Performing Sweet and Dandy, the tune that first introduced Toots to the world through The Harder They Come Soundtrack, the artist said "Big up my friend Beres Hammond and Doctor Dread", the latter of which is the founder of RAS Records who was also present throughout the festival weekend. Considered the James Brown of Reggae, a song with no recognizable reggae riddim like Funky Kingston turned into a rocking' megajam, again with the audience participation at its peak, as many came to SNWMF 2016 to witness the first-ever performance after 3 years.
The dancehall session on Saturday night was headlined by Rorystonelove Black Dub who had Warren Smith visit the DJ platform. Spinning crucial tunes mostly from reggae's past for this SNWMF dancehall tradition, returning annually as the promoter's choice soundystem. Dennis Brown, Horace Andy, Frankie Paul dub plates were flying through the mix. Rory bigged up fellow selector Jah Shaka who had headlined the dancehall the night before in a Warriors style weaving versions of strictly conscious tunes, dubs, remixes in and out like a red gold and green tapestry. The great Mike Cacia, reggae industry powerhouse, manager for Toots and the Maytals and close friend of Mr. Smith would often be positioned up on the platform also checking out Rory's mix in year's past. Mr. Cacia was not in attendance this year, as he'd moved to Jamaica some time ago. He was to pass away in Jamaica on Monday, June 20th after fighting a lengthy illness.
DAY 3: SUNDAY - JUNE 19th
Sunday turned out to be the warmest day of the weekend, but not unbearably hot. Jamaica's Earthkry performed on the Village stage, making their US debut. Their message, centered on issues of environmental awareness and concerns for the less fortunate in society. Their calling card tune Mother Earth rang true as the young lions performed under the pine tree shade of the Village stage nestled in the redwood tree forested Anderson Valley. The music is fueled by guitar fretwork and bass-heavy compositions from this four man unit.
Also appearing for the first time in the US was Ras Muhamad from Indonesia performing on the Valley stage with a US band he'd had just a few rehearsals with before SNWMF. He shined with a glow that was two years in the making, his 2015 performance was postponed due to a glitch in the US Homeland Security system worldwide that prevented the artist's work permit to be completed in time for last year's festival. Ras Muhamad has an electric energy on stage, a confidence and sense of showmanship that are proof positive as to why he maintains a vigorous tour schedule throughout South East Asia. His catalog of songs includes Salam, the title of his last album, which he instructs through the song that this greeting is part of the Abrahamic traditions, Christian, Jewish and Muslim and that it means "peace".
Ras Muhammad gave Reggaeville his impressions of the first ever appearance, "It is a fulljoy and a grateful experience to be a part of Sierra Nevada World Music Festival this year. I was supposed to be a part of this annual event since last year. But due to technical difficulties that's beyond our reach and beyond our control that I couldn't make it last year. But everything happens for a reason because I was slated last year to play at the Village stage and now I get to play the main Valley stage this year, for 2016 and it was really lovely and it was really exhilarating and also taking a big long exhale. After the long works that we prepared for a year and a half, when Ras Danny of Higher Reasoning Reggae Time contacted me to tell me that Sierra Nevada World Music Festival wanted me to perform there. We finally get our work into reality from 2015. Its also being a part of the event, its actually my first time being in a reggae festival at that big scale. I felt like a boy in a candy store. So I can learn from this experience and somehow mirror that for the ideas I have for Indonesia for reggae events and for festivals. Its lovely to see all kinds of people from different parts of life, linking and meeting and them bigging up my performance and them telling me that they've been waiting and anticipating since last year and they say that it was well worth it and it is. It is well-worth it the journey to join Sierra Nevada for this year, so many lovely people I did get to meet. The only downside is that we were rehearsing for so long that our Saturday we had to rehearse for the whole day and I couldn't soak in the vibes. But I did get to see Alpha Blondy who is a big influence on my music and my mindset and my world view. Also Toots and the Maytals and Beres Hammond and also seeing my friends Mellow Mood again and Sara Lugo. Its not the first time I got to work with her onstage, usually we work in Costa Rica, and now we get to perform in California. I hope to see the massive in Eastern Europe, I'll be playing at Ostroda in Poland, also in Bratislava at Uprising Reggae Fest."
Mellow Mood performed their second band set on the Valley stage and then reminded the audience that they would be along with their front of house engineer, Paolo Baldini, performing a Dub session. From Italy, Mr. Baldini is one of Europe's most well-regraded engineers and his dub session, the Dub Files, which took place around the sound board in the middle of the Village stage bowl, was one of SNWMF's most epic moments in 23 years. Besides Mellow Mood, the guitarist for the band also joined the session chanting on the mic and flowing with the dub vibes. The crew were feeling the vibes and were heard saying to the massive "Warren Smith if you are here, we want to come back every year and do the dub session on Sunday afternoon!"
Up next on the Village stage was Sara Lugo from Germany whose style includes influences from vintage soul and Jazz and whose agile, velvety smooth soprano and strong pipes had fans, both old and new singing along with her well-written hooks. Songs like And Then Cry with its deep concern for the less fortunate showcased the diverse material of Ms. Lugo. She'd had just a few rehearsals with her US band, although they were so well-prepared for her they worked the stage like veterans with her set. She announced to the crowd it was their first time playing together. This artist is like a pixie, small in stature, friendly, with a positive spirit that stays in the zone and engages with the audience throughout her set. Like many non-Jamaican and non-native English speakers, she speaks English with a bit of patois thrown in. She asked the crowd, "Do you love roots reggae? Do you love dub music?" as the set progressed. Ras Muhamad joined Sara Lugo to perform their duet Learn & Grow from her Oneness Records album Hit Me With Music.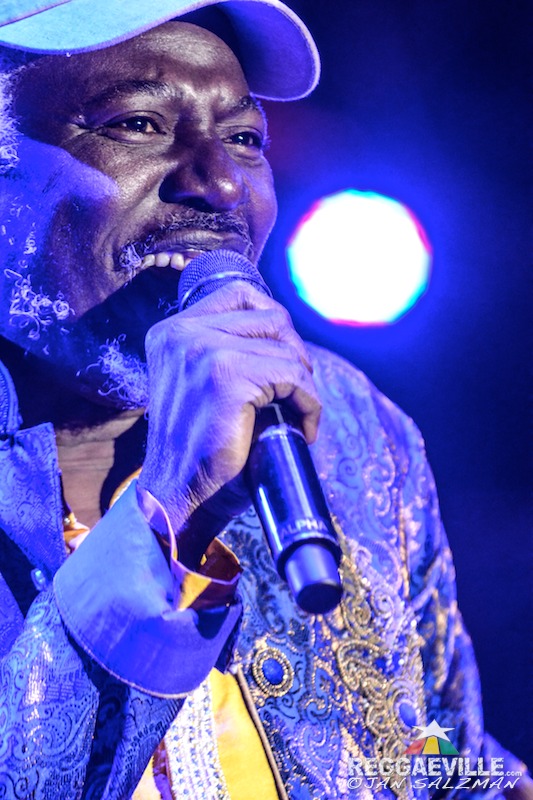 Reggaeville asked Sara Lugo what her impressions were of the set to which she replied, "It was great, a great concert. It was super fun to play here, really nice, nice energy, nice people and it felt really good to play." As for her US band, she noted, that she had with "New Constellation, one rehearsal only, so that was pretty cool. Big up everybody, to the Reggaeville massive, greetings from California and send the love, loads of it, vibes are nice. Next time you haffi come. Brap!"
As evening came to the final day of SNWMF 2016, it was Alpha Blondy from Cote D'Ivoire that would deliver the final messages up to the 10pm curfew. His form of reggae is heavily influenced by Afro-beat thus the way it is mixed and performed live has Jazz type sensibilities, its bass driven with horn charged grooves that funk and roll. The set begins with the great world unification tune Jerusalem with Alpha Blondy singing the chant intro as a solo vocal with the powerhouse band joining in on a reggae one drop groove. For Peace in Liberia the artist took the opportunity to cite all of the other locations where peace is needed, taking the band down low to emphatically shout the line We want peace in…. many countries, Syria, Libya, Uganda, Congo. He stated that the world is need of peace.
Big up Sierra Nevada World Music Festival, the sound, the vibes, the attention to music from all parts of the world, including non-reggae artists like the incredible La Santa Cecilia from Los Angeles, performing Mexican rock-folk music, and so many more throughout the past 23 years have meant that you represent oneness and an appreciation and acceptance for music from all cultures as a way to break barriers and unify us as one human family.

VIEW ALL PHOTOS HERE!