Etana - The Reggae Forever Interview
03/06/2018 by Angus Taylor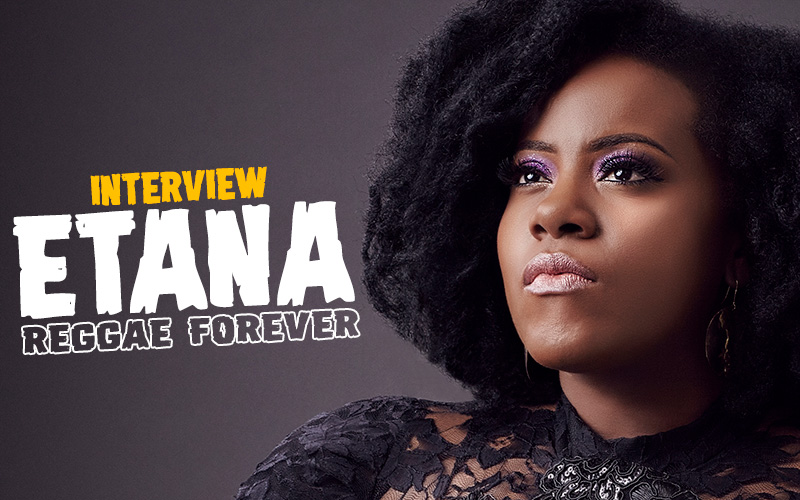 Soulful reggae power-voice Etana releases fifth album Reggae Forever on March 8th - distributed by Tad's International.
Her first full length independent project since she left VP Records, executive produced by herself and husband Andre Morris, it features a wider range of topics and rhythmic styles - some of which you wouldn't associate with her conscious roots image.
This, Etana tells Reggaeville during the below interview, is completely by design. She explains she's deliberately less careful in her musical and lyrical choices but – following 2016's controversy over her statement of support for Donald Trump - she's more cautious with her words in public …
Last year you decided to move back from the USA to Jamaica – how was that?
For almost a year, we moved back and forth, back and forth until I just decided "Okay I'm not going to do this anymore. It's too much". Every other weekend was in Jamaica. It's now easier for me because I don't have to run up and down.
When I saw you in London you were on tour with Morgan Heritage. This February you put out the album Live in London on your own Freemind Music label.
We were going on tour and the new album was not going to be ready until March 8th. The people already have the I Rise album and we had nothing new for them - because people come to the shows to see you perform and to buy your music and to get to know you a little bit more. A lot of people would probably say "Oh we already have I Rise, we already have Better Tomorrow…" We had had that live show for almost 2 years now. So getting the live show is something they can have to treasure.
When we spoke before you were getting ready to release your Reggae Forever taster EP. You were going back into the studio to rework it based on advice from veteran producer Clive Hunt.
Yeah. He listened to the songs we created and said "Okay you have to call this person to do this and you have to call this person to do that". He made some changes on some songs that were already produced, so there wasn't much for him to do more than just correct. Me and him are like family now. He is part of my team and I'm part of his team, so we depend on each other somewhat for creativity and to hear new stuff. When he has new artists or music he'll say "Yo Etana, I've something for you to hear" and then when I have something I'll say "I have something for you". So we kind of back and forth.
Clive produced your I Rise album for VP. He's not mentioned in the credits of this one but he is overseeing the project.
That's because he said he didn't produce, so he doesn't want to take credit or overshadow the young musicians who actually created the stuff from the beginning. But we've already discussed that for my next album I definitely want to do some work with him from scratch. It's good to work with the new musicians but it's also great to work with Clive Hunt from scratch.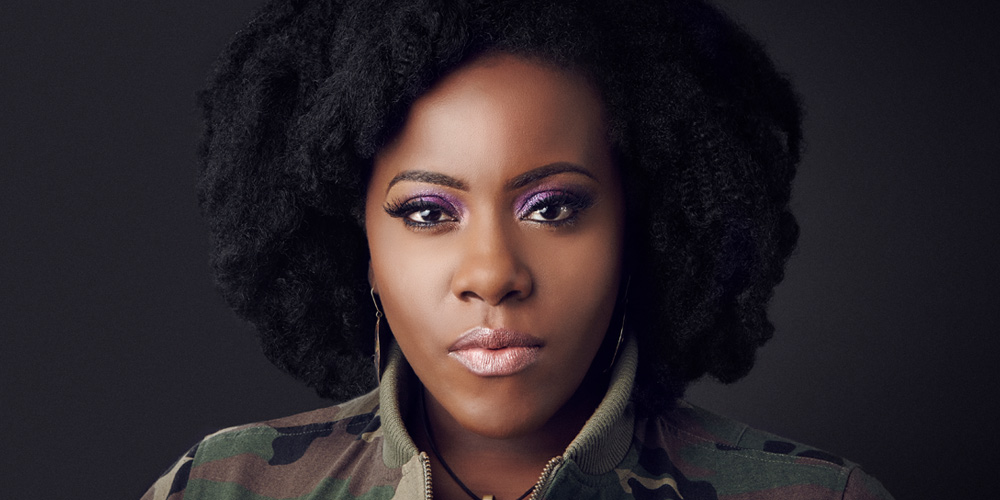 Tell me about the different studios and producers you used to make this project in Florida and Jamaica. You've worked with Dean Pond, Jason Farmer, Wiya Campbell from C-Sharp, Tads and Clive of course. One musician who seems to be involved in almost all songs is guitarist Monty Savory.
I worked with Rymshot, a young producer and J-Vibe, who is also a young producer. Both of them have house studios but if you walked in the studio you wouldn't even realise you were in a house. I worked at Jimmy Cliff's studio and I worked with Barbwiya. And Monty is a general. I call him magic fingers you know? I always say to him "Monty if I wanted to do anything, can I just borrow your fingers for a minute?" (Laughs) Monty is the boss.
How's being independent treating you? Leaving VP was a new thing when we spoke before…
It's exciting! I get to do some things I did before, including promotion, travelling and touring but also I did a co-production that I didn't have to fight with anybody on. It was much easier to just put it together. And I love Neil Diamond, who was the A&R for the last two albums after Joel passed away. And Joel meant a lot to me, he was a friend of mine. So I've had some good people in my life that I've worked with. Amazing people. But it's also exciting to do it on my own.
You work with a few different songwriters - Khambrel McPherson, Jesse Adelman and Jerome Campbell. What's your writing process together?
We discussed certain things like "What's people's view of Etana and what have they already heard? What can we give them that's a little different?" One of the talks was that I was a little bit too careful and I'm always too considerate of the younger ones, the innocent minds. Khambrel McPherson especially said "You need to just sing like you're grown now!" And I said "Yeah but some things grown folks do, we do by ourselves you know? The kids just kind of have to find out as they get older!" (Laughs) So those were some of the talks that we had.
I can hear that in the EP and the album. In the lyrics to Sprung which you've described as a "rude boy love song". And Carry You, where you use a four letter word. You're kind of pushing the line a bit in terms of your lyrical content.
(Laughs) Yeah, I guess they were saying "Just be real. Talk to people as they have conversations on a daily. Don't always be so careful". But even then after doing the album I still think "Oh my God, I said that thing! Is a four-year-old going to say "She said that mummy, what does that mean?"" I think continuous growth is a good thing. Experiencing different things is a good thing. But I don't think I'm ever going to change. If it makes me uncomfortable I just don't want to do it, period. And I'm always going to be considerate of the little ones.
What's it like writing a song with your husband? He's a co-writer on a few tracks…


(Laughs) It's cool. Sometimes I have to say "That line is corny, I'm not using that line!" He goes "See? You never like what I say!" But otherwise from that – it's fine.
There are also some interesting artist writing collabs. You decided to include your hit My Man produced by DJ Frass and written with Tarrus Riley.
Writing with Tarrus is always such a joy. He is super creative and full of melody. They should just call him "Melody Man" and done. I remember talking to him about the song. He called me to listen to his song and I drove over to Penthouse. He said "What would you say if you were on this track?" And I said "With all the things they talk about with the man them, celebrating the men who are so aggressive to the women, I'd like to big up all the good men". He said "So what would you say?" And I said "I want him to know that everything is his - like I'm giving him every part of me. Honour him and cherish him and say "All of my loving is for you."" It started from there and in 10 minutes the song was done.


You do almost a deejay thing on that song. Tarrus likes to deejay with his singing voice too.
Yeah because he says "You're always singing and I know you can do a lot more, so do something different". He just wants to switch it up a little bit so he's like "Let me throw you in this". It was cool, it was fun. Even on the session day I never thought he was going to be in the studio. Tarrus was right there in front of the glass telling me "No, no, no, no, no, don't sing it like that, sing it this way!" (Laughs)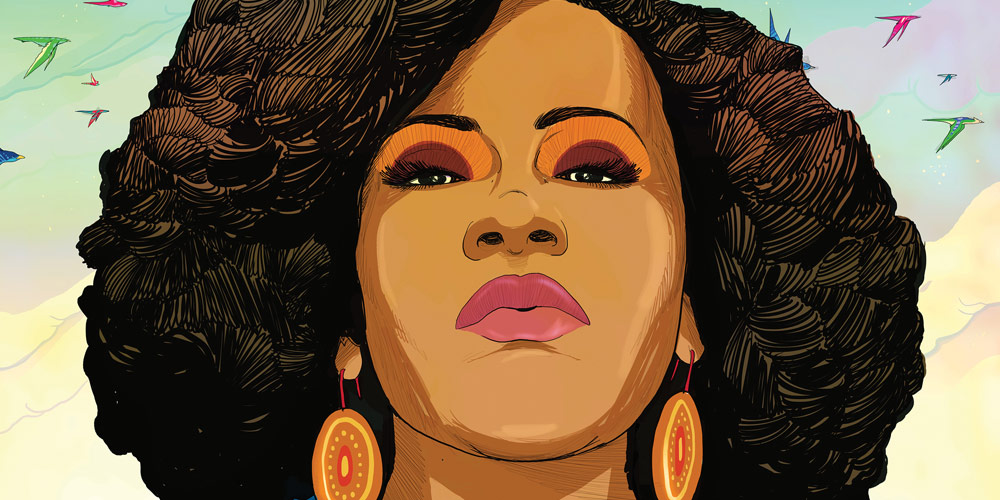 Tanya Stephens also contributed the song Spread Love which was on the EP and the album.


When I was going through the whole drama online when everybody had like a million opinions…
The Donald Trump thing?
The whole Trump thing. When that went off she said "If only these people knew who you were. You're just so full of love. I wrote a song and I want you to hear it". I said "You should be a part of the song. You should come sing with me". But she was like "No, this is your song - this is for you". I was like "Wicked, I love it. But I'm going to drop some things in it" and she said "No problem". She sent it over and as soon as I came off tour I called her and I said "Yo, mi deyah at Ochi". We drove to studio, recorded that song and she was there the whole time throughout the recording.
The song You're The One has a rhythm goes right back to the very beginning of Jamaican recorded music, when the rhythm and blues was just turning into the ska…
To the root! I wanted some ska. I wanted to remind everybody where the music started but I also wanted to make it fresh for now. Bhumeet is a young artist and producer from the UK. He is half Indian, half Jamaican. And he had some wicked sounds, so I said "I want to work with Bhumeet". We sent him the melody, and the track came back a little Indian, little reggae, a little dancehall. I said "No, that's not quite what I want" so I kind of revamped it, just dropped in some other things and it turned out exactly the way it is now. A little bit of him and a lot more where the music started.
At the other end of the spectrum are two songs - No Money No Love, an Afrobeats type of vibe - and 6 Mins: 21 Secs, which again push the line musically for you.
(Laughs) Yeah! I did a song with this African youth Nutty O named Do It Alone. That's the song I really wanted for the album but Andre and the whole team were like "Yo, there's too much we have to deal with on the business end with that track. You should just do your own song. I think it should be Afrobeats because you've been to Africa a couple of times and they're so into you".
It turned out to be No Money No Love, talking about the mentality of some women in this time who believe that if you don't have money they shouldn't get with you at all. It's just the reality - just the way it is. I also feel like people who live a certain kind of lifestyle believe Etana might not be into them because Etana is, I guess, supposed to be holier than thou, as Jamaicans would say. But I am quite the opposite of that in my beliefs. I think we are all on a journey and I can't judge someone based on their own life, so I love everybody unconditionally. We are all experiencing life together.
So it sounds like when you're singing a song you're not necessarily reflecting your own views. Are you playing a different character?
I'd say I may be talking or singing about somebody else's life. Somebody else's experience. Definitely, because I think my music is everybody's story. We can all relate in some way, shape or form. It's life as a whole. There is no prejudice.
For example when you did the video to Burned last year some people said it was too violent. But what was depicted in the video wasn't necessarily you?
Right! But does it have to be? Does it have to be me? I think peace, love, togetherness, oneness, caring, sharing - that's me. Naturally. But is that necessarily the thought everybody else has? Isn't music supposed to be art and about us all and about life? Isn't music life? So I don't see how they could judge me based on a video that was not even created by me but was directed by a director. I'm the writer of the song and I have to give the director his room to be as creative as he wants to without disrespecting me, the person. And obviously if he's not telling me to be naked or making me tell anybody to kill themselves or anything then yeah, I'm cool with it. It's his creativity. His way of telling the story.
What inspired the lyrics to 6 Mins: 21 Secs - which is produced by another top Jamaican musician, Kirk Bennett?
You know what inspired the lyrics! (Laughs) 6 Mins: 21 Secs is about the drama. All the drama I've experienced in the past year, even up to now. With all the negatives that people talk about. It's like you spend years working hard, day in day out writing songs, touring, dealing with all the issues and negatives and positives that music comes with, and then in a split second someone who doesn't even sing or write a song tries to tear you down or tear down your character. It's just unbelievable how people are. It's just really weird to me.
You said to me before that what happened after the Donald Trump statement felt like a test - to give you the strength to go forward?
It was a learning experience for me. I think I needed to see a lot of people for who they were. My whole thought was, because I love and I care for people, and I share and I am always doing all the charity I can, is that everybody is for me. I needed to learn that it's not so! I needed to learn that especially in the time of chaos, it's a time to be still and watch the work of positive energy manifest itself. It was a learning process for me and yes, it's a test for me and a really good growth experience. It was wicked - it was sweet! (Laughs) A lot of people would say to me "So you didn't feel bad?" I did at first, in the very beginning, but after that I said "Hold up wait a minute, this is you - you're in control of this, you need to just be still and watch it work" and that's what I did.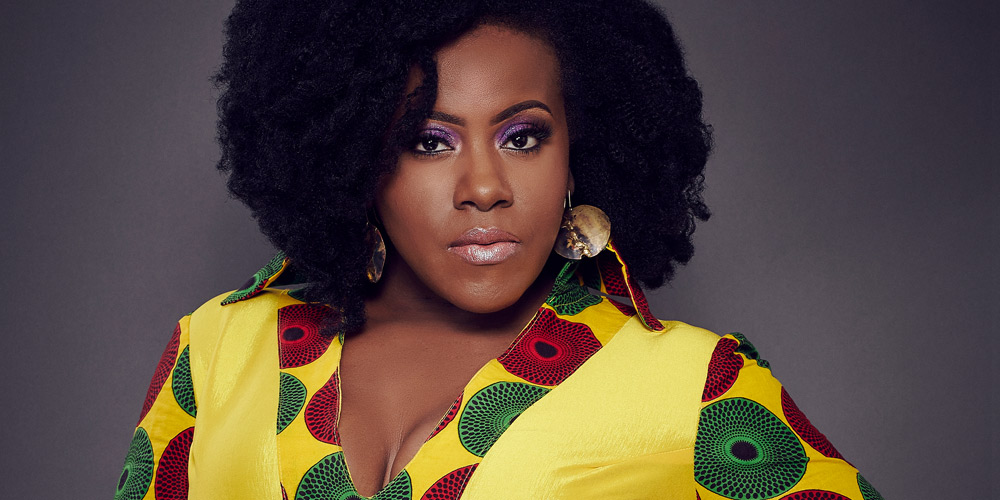 What would you say you've learned from that experience? In terms of how you interact with the world?
To not speak when you don't know everything that's happening. Like for example I didn't know that there was a black-and-white war going around on social media. I didn't know that. Can you imagine that? (Laughs) I didn't know there was an election about to happen in Jamaica at the time that I spoke. And the only thing that I knew was what was happening on TV with a lot of black people dying in America and President Obama saying that he was sending his condolences to everybody each time… There were a lot of things I didn't understand clearly or I didn't remember. And I feel like when I'm so passionate about something, passionate about the ills of the world, that's the time to not say anything. Because I think when you're angry and you speak, nothing good can come of it. You need to be conscious and totally aware of everything collectively that is the cause and possible effect. It's like you need to do a little scientific hypothesis. (Laughs) And it needs to be an informed, researched and proven hypothesis before speaking. You need to know for a fact before you speak and not out of anger and passion.
Recently there's been some controversy about you being awarded $5,000 US by the Jamaican government for your tour - more aimed at the government than yourself. It's interesting because people often say the government should do more for reggae music, yet now they have - people are not happy?
(Laughs) The funny thing is, this is not the first time they've done it. Many artists before me have gotten a lot more than I got. I think that it's important for the world to know that the Ministry of Entertainment and Sport, not the Ministry of Health and Education mind, have their own budget to do all the things that they require to be the Ministry of Entertainment. I think it's important for the world to see and know that the Ministry of Entertainment is making an effort to invest in music and invest in Jamaica. I think that is knowledge enough. I think the fact is, they don't understand the business of music, the business of marketing, they don't even know what the Ministry of Entertainment and Sports is. I think that's all it is. They don't know. And I think the same research I should've done at the time when I spoke is the same research they should've done before speaking .
So what's coming after this album? You talked about maybe doing an album with Clive Hunt from scratch?
There are a couple of producers in Jamaica I never worked with before like Sly and Robbie. I love Sly and I can't say I didn't work with him because he played on the first album, songs like Nuclear and I think he played on Roots. But I want to do some more work with him, and with other producers that I've never worked with in Jamaica. And then for sure, Clive Hunt has to be in the middle of it all because he created songs like I Rise and Love Song that are favourites of people all across the world. I definitely don't want to leave that part of the energy out.

PHOTOS BY JOEY CLAY