Review
Album Review: Elijah - Eat Ripe Fruit
08/28/2014
by Gardy Stein
The soundtrack for this year's thanksgiving is set!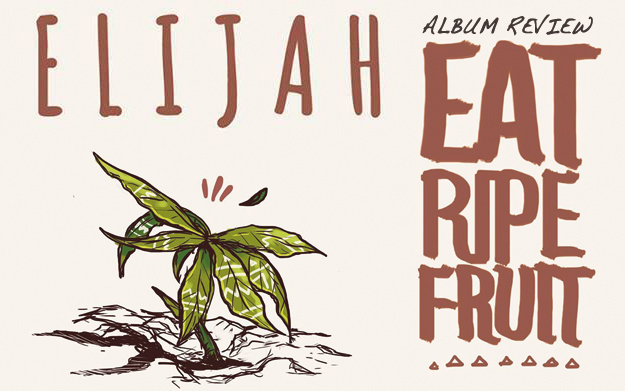 "A patient man will eat ripe fruit."

Wise words! Sometimes truth reveals itself best in its simplest form. Inspired by this African proverb, Eat Ripe Fruit is the title of a tasty discovery coming to us straight from the grand mountains of Switzerland, the lush valleys of Senegambia and the hot streets of Kingston. Planted and nurtured by a young man called Elijah, the tender seeds he has sown are now in full bloom, and the high grade harvest proves him to be a very capable grower.

Ever since his debut album Beweg Di (2007), he has been actively tilling the field of his musical career, winning the "Best European Newcomer Award" in 2008 and playing hundreds of concerts all over the world. The results of this diligence are 13 tracks on the freshly released album (16 if you purchase the vinyl edition that comes on a double LP), out on the artist's very own label One Camp.

Actually, there are few things that Elijah did NOT do himself on this. From writing the lyrics and composing the melodies to playing guitar and even taking most pictures found in the booklet, the all-rounder wasn't in need of much assistance. The support he did invite for the creation of his music is well-placed and adds to the overall quality of the songs. First to mention here are Raging Fyah, whose members lent their instrumental skills to ten tracks. Their playfulness and love of detail is clearly audible in Zeig Dis Gsicht, for instance, so much so that at the end of the song you will wish for extended solo-parts.

Another valuable contribution are Big Zay and Baye Bass in Love Is In Danger, a song that was recorded in Senegal and, according to Elijah, contains a special kind of magic. It certainly does, and it is also a prime example of the commendable diversity of the album. Linguistically diverse, as you'll hear English, Patois, Spanish, French, Wolof and a lot of Switzerdütsch – good thing the booklet offers an English translation of all these, and even though it's kinda cute to follow the singer's creaky idiom and try to guess what he's talking about, I strongly advise you to read through the conscious lyrics! Musically diverse as you'll not only discover traditional African instruments (like the speaking drum in track 2) along classical ones like violin and cello in Love Season, but also excursions into Bossa Nova as in Aellei in addition to the dominant Reggae sounds of Power To The People, S Grass Muess Cho or Eui Liste.

Special mention deserve the purely acoustic versions Waend Ois Nuem and Gun Cry. The latter can be seen as nucleus of the release, not only because the artist himself says that its genesis was a key moment in the conception of the album, but also because it will instantly hook you. Two chords, a haunting chorus line, a serious topic and, with Terry Lynn, a perfect duet partner is all that is needed to make this plain song extraordinary. As with the proverb above, it derives its strength through its simplicity and might teach us all a lesson: de-complication is the way to go in these over-hyped times! Just as a child can play happily for hours with the sand on a beach, we should rediscover the power of simplicity and be satisfied with less – calm conversations with friends over digital high-tech-entertainment, freshly baked bread with butter and cheese over elegantly seasoned hors d'oeuvres… you name it.
Another masterpiece with an uplifting message is Do Good In Life, probably the oldest track on here. It was first aired in 2010, outfitted with an equally uplifting video and available on 7'' by now (which comes with a highly recommendable B-side, the Glen Washington combination Jah Love Is Forever).

As you can see and will hopefully hear, the soundtrack for this year's thanksgiving is set. Although in tracks like Granit it becomes obvious that his voice still has potential to mature, Elijah is living up to the prophetic forecast his name inspires, impressing with musical skills, lyrical abilities as well as profound social and cultural knowledge. Eat Ripe Fruit is more than just another random collection of Reggae songs. It is an appeal to exhale, allow your world to slow down and wait for things to grow into whatever they are meant to be.


---
Release details
Elijah - Eat Ripe Fruit
DIGITAL RELEASE / 2LP [One Camp]
Release date: 08/29/2014
Tracks
01. Power To The People
02. Love Is In Danger feat. Big Zay & Baye Bass
03. Do Good In Life
04. Love Season
05. Eui Liste
06. Gun Cry feat. Terry Lynn
07. Zeig Dis Gesicht
08. Deeper
09. Granit
10. S Gras Muess Cho
11. Waend Ois Nuem
12. Granit Dub feat. Raging Fyah
13. Aellei
14. Jah Love Is Forever feat. Glen Washington*
15. Waend Ois Nuem (Dancehall Version)*
16. Je Pense A Toi feat. Big Zay*

*only 2LP VINYL edition
Featured artists
Raging Fyah
/
Terry Lynn
/
Glen Washington