Eddy Grant's Electric Avenue Used in Trump Campaign without Permission
08/14/2020 by Reggaeville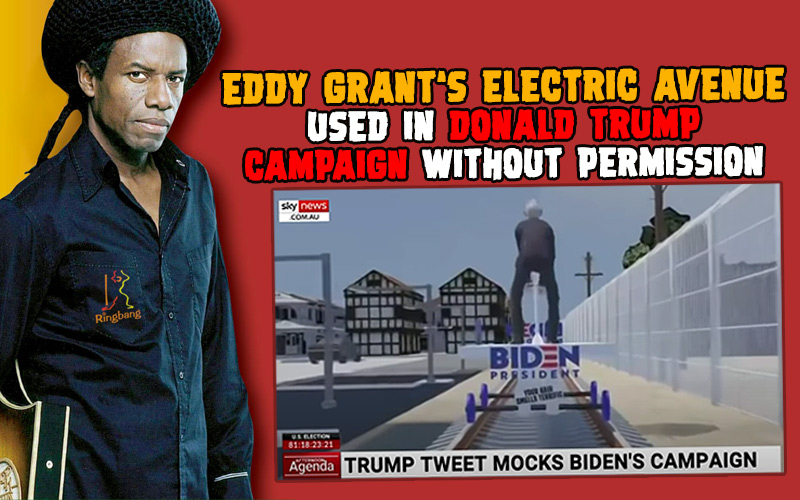 Donald Trump, the 45th President of the United States of America, tweeted a 54-second animated clip on August 13 to mock his opponent Joe Biden. Watch the clip at the bottom of this news and watch a Sky News Australia news report about it here.

The clip is still available on Twitter and has reached more than 12 million views till today. Trumps Twitter channel is currently followed by 85 million users!
The song used in the animated clip is Eddy Grant's massive hit Electric Avenue. It rocked the charts worldwide back in 1983 and got more fame in 1997, when the Refugee Camp All-Stars (John Forté and Pras) covered the song with Ky-Mani Marley as guest artist.

The use of the song in the recent Trump campaign was not authorized and today an official press release by Eddy Grant was published. See it below:

Donald Trump liable for in excess of US$100 million for copyright infringement of Eddy Grant's mega hit, Electric Avenue

Guyanese icon and musical superstar, Eddy Grant, accuses Donald Trump and his campaign of unauthorized use of Grant's chart topping hit, "Electric Avenue" which topped the US charts in 1983.
Eddy Grant's legal counsel, Wallace E.J. Collins, who is a leading copyright authority, sent a cease and desist letter to the Donald Trump campaign, which said that Grant is the songwriter and artist of the musical composition and sound recording of Electric Avenue.
"You have made an unauthorized use of our copyrighted work in connection with the political campaign of Donald Trump."
The letter continues, "As a result of your wrongful unauthorized Infringing Use in connection with your controversial political campaign, substantial damage and irreparable harm has occurred and will continue to occur to my client and his reputation as an artist when affiliated in any way with your campaign."
Attorney Collins said that his client has always had a reputation for standing for truth and justice for all. (This) will be seriously undermined by any affiliation with the name Trump in this political context. Such damage will extend to the value of my client's musical catalogue, Mr. Collins wrote to the Trump campaign.
He added that the Trump campaign's willful unauthorized use, makes the Trump campaign liable for statutory damages as set forth in the law.
The fact that such infringement has been knowing and intentional, subjects the Trump campaign to additional penalties under the copyright laws of the United States.
"My client will also seek injunctive relief and additional monetary damages and legal fees in connection with such an infringement."
The Guyanese musical great and superstar is just one in a line of musicians demanding that Trump and or his campaign, cease and desist using his words and music for political purposes.
The Trump campaign used the song in a video criticizing Democratic Presidential candidate, Joe Biden.
The animated video, posted to the personal Twitter account of White House Deputy Chief of Staff, Dan Scavino, plays unflattering audio quotes from Biden set to the tune of Electric Avenue, states Celebrity Access.
Attorney Collins, is demanding of the Trump campaign, that they immediately cease and desist from any further use "or exploitation" of Electric Avenue. He is also demanding, that the Trump campaign, "hold any monies arising out of or relating to your campaign" and attributable to the infringing use of "Electric Avenue", until "the matter is fully and fairly resolved."
"We prefer to resolve this dispute expeditiously, in order to avoid time-consuming and costly litigation and the negative publicity that can surround the unauthorized use of such an iconic musical composition especially where the use indicates a fundamental misunderstanding of the very meaning of the underlying work (Electric Avenue).
"If you know my client's reputation, then you know that this infringing use in connection with the name Trump in a political context is a serious transgression," Mr. Wallace Collins told the Trump campaign.
Speaking to Grant, he stated further, that it is his understanding, that all of the Trump campaigns' transgressions, with regard to the use of other people's music, have taken place during political meetings.

"In my particular case, they have sought to encapsulate my intellectual property into derogatory political rhetoric, further encapsulated in a video production that can only be construed, at best, as being wicked, thereby causing me considerable emotional distress.

I can understand the flagrant abuse of my rights being attributed to the worst Third World nation in the world, wherever that can be found; one that does not preach democracy on every available occasion.
I fail to understand however, that such an organisation, dedicated to the promotion of the President of the United States, could so seriously abuse my rights, as an artist, composer, arranger, producer and ultimately, the owner of these abused rights.
I call upon such arbiter, as is responsible for this sordid abuse, to come forward like a man and let's sort this thing out, in the way that America demands when such issues are to be sorted, especially when they are wrong.

Mr Trump, I am calling on you. You are the final arbiter and I await the word, from you."