Review
Album Review: Ziggi Recado - Therapeutic
05/20/2014
by Angus Taylor
Every hook, lyric and texture on point. Ziggi's most mature effort to date.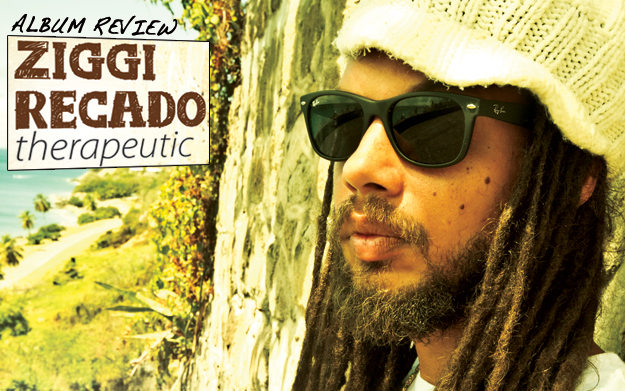 Statian deejay-singer Ziggi has long been the reggae pride of his adopted home of the Netherlands. His sugary yet gritty delivery combines the register and rhythmic/melodic versatility of Junior Kelly with the grainy vulnerability of Stephen Marley.

There's never been doubt about his songwriting talent. But across eight years, three albums and two EPs his work has ripened and developed. He left behind the exuberant vocal gimmicks and top 40 hungry hooks of his second, break-out longplayer In Transit - produced by then-manager Mr Rude - for a more serious tone and eclectic rhythm base on his self-titled third record. The result garnered critical praise (even though Ziggi has revealed that the project needed to be restarted due to a damaged hard-drive and the released version was a disappointment compared to what he had in mind).

So 2013 was the perfect occasion for him to pair up with US/VI soulful-roots production-house-du-jour Zion I Kings to make a fourth album issued by Florida's Zion High Productions. For the first time Ziggi voiced on his birth island and some of the concepts draw on how the Dutch colony has changed since he left. Like his part self-produced 2012 EP Liberation it's a return to reggae following Ziggi Recado's fusions and amidst the cool, never overly hard yet definitely rootical backings of the Kings he has found an ideal home.


There are strong reality tunes such as Masquerade with its melodica, filtered echo vocals and scathing depiction of Babylon as a circus. Ziggi stays on cutting form when it comes to everyday matters: a wayward, wanton hustler for Miss Out A Road; a soured relationship for Delete My Numba (although he can still be love positive on the catchy Got It Right Here). He also follows the likes of Linval Cooper, Twinkle Brothers and Sizzla in an attempt to create a reggae birthday song. During the unflinchingly mortality-conscious Earthstrong he's joined by another voice from a small island with a similar colonial history - Vaughn Benjamin of Midnite.


The Kings' rhythms are particularly tight - combining well-judged spells of sparing dubbiness and deft instrumental touches. Check the flourishing flute on the jaunty anti-gossip Talk About or the wicked organ lick on stalking, fast-chat cultural closer Nah Know Bout U. The peaceful nylon guitars on I'm Blaak recall the mood of Ziggi's 2008 romantic hit for Germany's Rootdown Records Need To Tell You This. Here though, the message is pan African – a broad illustration of Mr Recado's journey so far.


Therapeutic is a very different, subtler set than Ziggi Recado that takes a listen or two to tap in. No particular track stands out – but that's because they're all of such a high standard. Zion I Kings linkups with connoisseurs' vocalists have yielded so many good albums that to rank them would invite hot debate. That said, this is surely among their more successful pairings of artist and rhythms – with every hook, lyric and texture on point. Ziggi's most mature effort to date.
---
Release details
Ziggi Recado - Therapeutic
DIGITAL RELEASE [Zion High Productions]
Release date: 05/20/2014
Tracks
01. Masquerade
02. Got It Right Here
03. Miss Outta Road
04. Talk About
05. Luv Injection
06. I'm Blaak
07. Don't Disturb
08. Earthstrong feat. Midnite
09. Delete My Numba
10. Jah Mercy feat. Taranchyla & Earl 16
11. Ras Got Love
12. Guide Ova feat. Lutan Fyah
13. Nah Know Bout U
Featured artists
Midnite
/
Lutan Fyah
/
Earl Sixteen