Interview: Earl Sixteen - The Fittest
04/21/2011 by Angus Taylor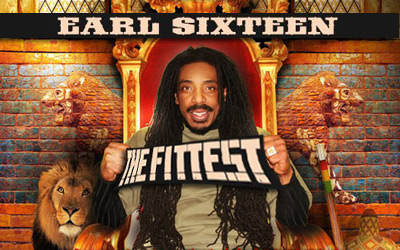 Legendary foundation singer Earl "Sixteen" Daley is frying fish when Reggaeville calls to have a chat about his life and forthcoming album The Fittest with Dutch producers of the moment JahSolidRock and NotEasyAtAll. "I love cooking" he says, "I got some olive oil from a friend in Italy so I'm testing it out". Unsurprisingly for a man who guesses he has voiced over 1,000 rhythms since his career began in Jamaica (singing Malcom X for Joe Gibbs and Derrick Harriott then joining the Boris Gardner Happening) he draws parallels between the care taken in making a good meal and making a tune. "When you're preparing a meal you want everyone to enjoy it and when you're recording you want to make sure it all sounds good, the engineer is happy because it probably goes to the sound system first before going on the street. So you have to be careful you don't burn everything up!"
Why did you choose the album title The Fittest?
That was one of the first tracks I did for NotEasyAtAll. They sent me four tracks and that song really came about because I was listening to some old recordings of mine. A friend came round with an old cassette and he was playing some really old school stuff from when we used to sing on sound systems back in Jamaica like King Stur Gav and Volcano. I heard a song on there that I was singing while also listening to the rhythm tracks the guys sent from Holland. The deejays - people like Josey Wales and Brigadier Jerry - used to sing, "You are fittest, you are fittest". So I just came up with some lyrics because I'm coming from the old school still.
You're following Apple Gabriel as well as new artists like Wildlife and Chezidek doing an album with this Dutch duo - how did it happen?
I've been networking a lot on the internet and also working with a sound system in Holland for a few years called King Shiloh. The guys came to a session that we did because Neil has a monthly thing in Holland where me and different artists pass through. They heard me on one of the sessions and then connected on Facebook and asked me if I'd be interested. I haven't had an album released since about Jah Messengers 2 years ago with Gussie P, so it came just at the right time.
What do you like most about this new album?
I like the whole context of the album. It's live recordings mostly - live drums, bass, guitars and lots of horns. Also the context is very conscious - it's a social awareness kind of thing it's dealing with. As well as Fittest Of The Fittest there's a track called Modern Slavery and a track called Children Rise Up. It's just an awareness of what's happening around me at the moment. That's the kind of message I want to put forward right now.
A lot of bad things are happening in the news right now. Does that inspire your work?
Yeah it does. I grew up around people like Bob Marley and Winston McAnuff and in Jamaica we used to write topics about what was happening in South Africa. We'd be singing about freeing up Mandela before Mandela was even free. I remember doing a song when I was 12 or 13 years old called Malcolm X and a lot of people didn't know what we were talking about. But as young vibrant youths from Jamaica we'd tend to check what was happening outside the Caribbean, not just the laid back attitude of smoke and stay on the beach and enjoy the sunshine. Some people like Capleton jump up and say, "Mi is a prophet" and I wouldn't say prophet, but Bob used to write tunes that would last for years like War where it's recurring all the time. You listen back to some of those tunes and think, "Man this guy was thinking ahead of the future". So I adapted that way of thinking and writing - I think about what's going to happen to my kids' kids.
It's the start of a new decade and there is war brewing just like the last decade. Is mankind going to keep repeating the same mistakes?
Man is just a man and mankind is always fighting and trying to take over the world and get as much oil or whatever. But there's still hope - that's why Rastafari came. There was a point in the Bible days when there was a city called Sodom and Gomorrah and this guy used to say, "Be careful because there's going to be a big Tsunami if people having incest and all these kinds of things". But they didn't believe him and they stoned him and said, "No way". In the days of Noah there was a flood that came and washed everything away and only a few people were saved. So there's hope for us but it's not looking good because man is intent on war war war all the time.What do you think of the two labels JahSolidRock and NotEasyAtAll working together? Is this the solution to the current uncertainty in the music industry?
It's an essential thing at the moment to have a united attitude towards the production, manufacturing and wellbeing of the product. Now you find a limited amount of pressing. You can't really find pressing plants any more for vinyl which isn't selling that much. So I think it is a good thing that both companies have come together as an independent label because there isn't a lot of money like you'd have from a big label like Virgin or Island to put behind it to make sure the product is nice. I'm happy with the way they've done the sleeves and making it all palatable for the masses. It's coming out at the end of April but we're just having some little hitches with the manufacturing right now. We've done jingles for most of the major reggae stations in Europe and it's getting a good buzz out there.
You've recorded with Derrick Harriott, Lee Perry, Joe Gibbs, Augustus, Augustus Pablo, Coxsone Dodd, Mikey Dread, Linval Thompson and Yabby You. How does working with these guys compare?
(laughs) There wasn't a lot of difference except that I recorded the songs here in London. They had the masters and sent me the tapes and I did the vocals on my own but I had my friend Gussie P help me produce the vocals along with Darren who owns the studio Jamtone Records. So it was laid back - we made sure I wasn't singing crap or too stoned while I was voicing! (laughs) But compared to working with the likes of Coxsone there's not a lot of difference. The thing about most of the producers I worked with back in the day was we had the kind of relationship where we were close friends so they'd allow me to do whatever I wanted around the microphone. They didn't pressure me and say, "Yunno, yuh cyaan sing that! Cho! Wha'ya deal with?" so you didn't have much stress. The NotEasyAtAll guys were real cool. I spent a couple of days with them in Holland finishing up some of the tracks and it was a good vibe.
You just mentioned your school friend Winston McAnuff who wrote Malcolm X - what do you think of the experimental music he had been making in France?
It's interesting because we've grown up with reggae and it's in our blood. I'm doing a lot of projects as well like working with a band called Leftfield and working with Dreadzone who do electro techtronic kinds of things. So we don't mind and the thing that Winston is doing is in a bigger league than where most of reggae is at the moment. The guys he works with like Baz Baz are like classical musicians who read and write music - they're always on the television in France. They're starting a big world tour soon. I suppose it's a different avenue, a different channel for people like us to do different things and have variety in our careers.
You are a big supporter of European reggae. Who do you like from Jamaica right now?
(laughs) I'm not really familiar with most of the stuff coming out of Jamaica! I think I like a youth called I Octane. He's a singjay that is coming through nice, he's got a nice vibe and I like his attitude as well. Obviously you have people like Luciano and Beres Hammond but to me at the moment I think there is a limited amount of talent coming through the media. I don't know if it's the media that's pushing the wrong people on to us or what? But we have people like Etana and Queen Ifrica so there's a couple of nice things happening.
Winston settled in France. Why did you choose to settle in England?
I left Jamaica in 1983 and at the time I was travelling things there were getting a bit monotonous. Bob Marley had just passed away and the music was kind of stagnant. The radio stations were starting to clamp down on playing certain reggae music like roots and culture and starting to play a lot of American and pop music from around the world. The reggae in Jamaica was a little bit below par and the sound system scene was a little bit scatty as well because of the election and the politics and stuff. A lot of people were dying like Peter Tosh died shortly after that. So I went to America with Mikey Campbell - Mikey Dread at the controls - and he took me to California where I was doing a lot of shows. I liked it but I didn't feel settled because "Tinsel Town" was a little bit too fast and false! Hollywood to me wasn't real in the early 80s.
So what happened?
Then Mikey came to England and put out an album for me called Reggae Sound and then invited me over. I came to England in 1985 I think and the people were receptive to my work. The thing that amazed me about the UK was the records that we weren't hearing on the radio in Jamaica but I would hear in England! All the pirate stations were playing some massive Jamaican reggae! The scene was bigger than it was in Jamaica. We were making it in Jamaica and it wasn't as popular as in the UK! So I started doing a couple of shows, we invited a brethren called Tenor Saw who was mashing up the place at the time and I started doing a few tours with him. I met this girl, then she had a baby and then my mum said "You have to get married" which I did in about 1987. I also liked the UK because I could get Jamaican food like yam, ackee, and get my fish! (laughs) The UK had a lot of energy at the time – the 80s was wicked. Barrington Levy and all those guys were having number ones in the charts – it was a good time.
The UK has had rough times in the music since but things are on the up surely with big festivals happening this summer again?
…Yeah (pauses) I think what happens is a lot of people in Europe look to the UK to see what's happening and then follow. That's how it's always been. But I think after the late 90s things went downhill for reggae in the UK. The violence had something to do with it, a few altercations. The venues refused to keep reggae shows and dances. But everything has its time and now ten years later things are coming back around again. A lot of the younger youths now are doing the dubstep thing – they're doing their thing but still working with us, the old school reggae artists. They're finding out who is who and who is the fittest of the fittest! (laughs) So the youths are building up the thing and a few venues are coming back around again and there are lots of sound systems back in the UK. That was the thing that used to mainly keep the dancehall alive. Sound systems and radio – people like David Rodigan and Tony Williams did a lot for reggae in the UK. Now with the radio stations everyone's gone commercial and you have to be in it to win it! But I really like what's happening in the UK with Channel One sound and all these guys coming back slowly getting into venues again to play. UK reggae is not as popular in Jamaica as it should be but there's some good things going on.
You've recorded a huge amount of music. Can you keep in your head how many riddims you voiced?
How many riddims I voiced? Oh crap, that's a difficult one Angus… (pauses) I swear to you… I think I've probably done about a thousand but that's just off the top of my head. Scary man.
Earl Zero got his name because his father was nicknamed Fisherman Zero. How did you get the name Earl Sixteen?
When I started singing professionally with Boris Gardner's band – he used to play bass for Lee Perry and stuff. He literally took me out of school to start working with the band so I started working touring and doing my first recordings at the age of 16. The guys in the band said, "Bwoy, you act like a big man! But you're only 16 so we're going to call you Earl Sixteen so you remember to act like a boy!"
The album The Fittest will be released in May 26th (UK) and first week of June (rest of Europe)