Interview with Earl Chinna Smith in Jamaica [Part I]
12/06/2013 by Angus Taylor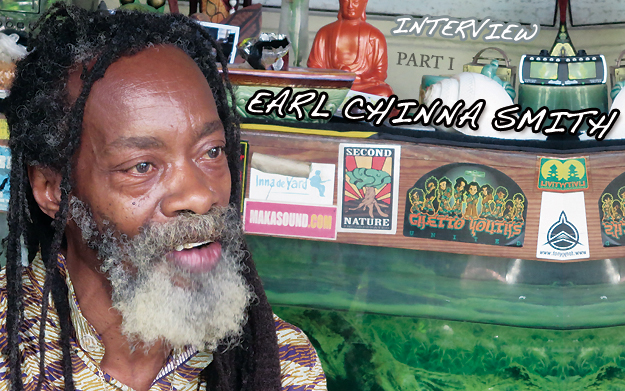 The lead guitar is not considered to be one of the core instruments of reggae. It rests gently like a garnish on top of the foundation of the drum and the bass. Yet guitarist Earl Chinna Smith is among the core musicians of Jamaican music's canon - one of those pivotal historic figures connected in some way to almost everyone and everything.

Born in Kingston 13 and raised within earshot of not one but two family sound systems, Smith rose to prominence as chief fret-runner with Greenwich Town's heavily in demand session group Soul Syndicate. Throughout the 1970s they were the often uncredited rhythm makers for an elite roll call of studios and producers. The records they played on were given a distinctive serrated sound that was fiery, loose and dangerous.

Outside of the band Smith's skills were sought by Bob Marley, Jimmy Cliff and in later years even Lauryn Hill and Amy Winehouse. Such was Smith's gravitational pull that he was able to create an acoustic roots reggae movement around him – Inna De Yard – just by staying at home and playing the guitar.

On October 16th 2013 Chinna received the historic Silver Musgrave Medal for success in the Jamaican arts. Angus Taylor interviewed him on location at his abode and musical hub in St Andrew Park while he was rehearsing and reasoning with an assembly of singers and players of instruments that included Sangie Davis, Kiddus I, Beres Hammond's keyboardist and Jah9's mentor Sheldon Bernard, and many more. Chinna's guitar is often described by his colleagues as a physical extension of his body - so much so that he and the musicians preferred to answer several of the questions in song. You can listen to the audio from this two part sonic history lesson interspersed with the text below.

Bunny Lee celebrated 49 years as a producer this year – but you've known him a lot longer…
Bunny Lee held me as a baby. Bunny Lee was also a DJ for one of my father's sounds. Because I had two fathers and two mothers. Bunny Lee and me is like family naturally.

Your father had a sound and your godfather had a sound. How come you grew up with your godparents?
I can give you my mother's address and she can tell you that! (laughs) You want to be accurate with that! But it's a good thing. She is alive and she'd love to talk to you!

How did you first pick up the guitar?
Nice one. How I first picked up the guitar has a kind of history because you couldn't pick up the guitar just like that. We'd have to go back to the first time I actually saw a physical guitar and the attraction. My old man owned a sound system back in the late 50s, early 60s. Each sound system used to have a DJ but back then a DJ was a disc jockey that span the discs. He came to the house one time with a guitar – and that was it. I remember seeing this guitar out lying down there like that and I said "Wooooaaaaah". Have you ever been in love? Well it was like that. I can't have been more than about seven or eight. It was love at first sight. Tempted to touch but we were brought up a certain way where you don't touch thing you are not given the authorisation to. And you trip on that look, that beauty, so even it was gone it would still remain in your mind. So the only thing I could do was try to emulate something like that by getting a sardine pan and for a while just be miming – you might not be getting the sound but at least you're getting the profile of the thing. So I did that for a while. Actually in the area where I came from as a youth I was more into the singing. We had a little singing group.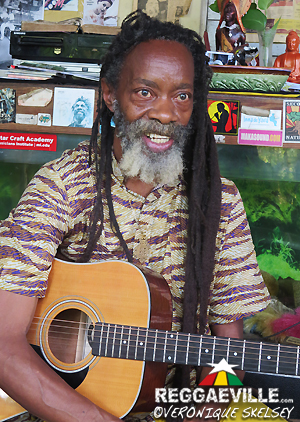 Was this the group you were in with Earl Zero?
Alright, nice, you know what go on. We'd sing with this little image of a guitar until one of the guys in the group was able to buy a guitar. So we had this guitar and none of us could play it but we could profile with it. We would get together and do this every day – only to find out that there is a band uptown above the train line called Soul Syndicate. So I went to the rehearsal one night with the guitar and I was observing the bass player, the keyboard player and the drummer but I was more attracted to the guitarist because I had a guitar. So the guitarist would hold a major shape and I would go "Hmmm, three frets and him finger hold the first and the second and the third string" so I got all the shapes down. I went there every day they had a rehearsal and I learned all the songs just by the image, the shapes and the movements. Until one night the guitarist said "Come here lickle youth. Can I check you guitar?" and said "Hmmm, but you guitar no tune". And I said "Huh?" Like next thing in music, you don't just play this thing you have to tune it! Then I realized that tuning is a very important part of the thing. So he went ding ding ding dung dung dung and my instrument was in tune. So once I was in tune I knew how to play all the songs because I had the shapes already. So I continued like that until one day, luckily upon my part, the guitarist had to migrate.

This was Cleon Douglas.
Ah! Yes man! So they needed a guitarist to bridge the gap there. It was me that came in and from there it just lifted off and the guitar became a different thing now! I practised every day until in no time I was like the bandleader and we were doing crazy sessions and were the top band for ages.

A lot of people have claimed to the first ones that brought Soul Syndicate band to the spotlight.
You'd have to ask George Fullwood about that because I came there later as a little youth so I couldn't really answer a question like that but I know I know there is answer so George Fullwood could tell you because he formed the band.

Niney has said that he was one of the first one to use you.
No man, because Bunny Lee recorded Soul Syndicate before Niney and other producers too. Fully did a whole heap of sessions even before I joined the band. You had Max Edwards and you had Santa and different keyboard players like Keith Stirling who passed through. So Niney cannot say that. But he can say that we started his project Blood and Fire because he came down Ninth Street one night and, I don't know if he had some problems with some people, but he came down there crying for revenge "Blood and Fire!" So we never got into the blood thing but we did put some fire in his thing! (laughs)

And that was the song that Bob Marley wasn't happy about.
Well there was a whole thing. This thing went deeper than that but it's just that sometimes you don't want to talk certain things on the mic you know? But if you talk to Bunny Lee you will know he has a song – the original version of Mr Talkative and you must listen to that intro. If you listen to that intro you will know all about it! (laughs)

LISTEN TO THE AUDIO SNIPPET AT THE END OF THE INTERVIEW!

I didn't want to talk certain things on the tape but "Biff baff boff those are the blows you're going to get". Mr Talkative and then, you know, look who's talking!

The other thing Niney has claimed is that the flying cymbals sound was first invented when you did the session for Cassandra with Dennis Brown.
No, the flying cymbals came from Lloyd Knibbs, if you listen to this tune.

They play Moonlight Lover.
That was the Flying Cymbals!

LISTEN TO THE AUDIO SNIPPET AT THE END OF THE INTERVIEW!
But in any case those songs you did with Niney and Dennis Brown from 1973 really helped them both get big. What was the secret to the success?
Well the whole thing with Dennis Brown and Niney was Niney had a creative idea in the early 70s when Al Green a mash. We had this idea because all songs were introduced by the drum. So in the 70s Al Green came with this mad thing.

Plays the guitar intro to Al Green Love and Happiness.

And the guitar brought in the thing! So we used that and we got Westbound Train out of that. That hit and then Niney said we had to have the next thing like that. Dennis was sick in the hospital but we just made the rhythm like this

Plays guitar intro to Cassandra

Same thing again. That was Cassandra. Then it was the same with the next one.

Plays guitar intro to No More Will I Roam

So a whole heap of tunes we just made with a guitar introduction! That was kind of Niney's idea and it worked. It was a nice little thing.
LISTEN TO THE AUDIO SNIPPET AT THE END OF THE INTERVIEW!
You and the band were on Gregory Isaacs' 1975 album for Alvin GG Ranglin – In Person – which included his big hit Love Overdue.
This is a different thing! Now, GG used to come with the little sistren that used to record in the Randy's days named Barbara Jones. We did some big tunes for GG with Barbara Jones and then he got up Gregory so we went to Duke Reid and did Love Is Overdue. It was a mad tune for Gregory. Gregory's first number one was I think for Phil Pratt, Sunshot.

LISTEN TO THE AUDIO SNIPPET AT THE END OF THE INTERVIEW!

But in those days you used to find enough of the things got lost. If you have a producer and you have a group of musicians then you understand how the thing goes. If their name was "Angus" they'd say "Angus and the Professionals" so when the money came in then Angus would just hold that. Because Angus is the Professionals! That's why I have to respect Bunny Lee because all the time if Spread played the bass Bunny Lee would say "Spread played the bass", "Sheldon played the keyboards", "Reuben draw the chalice and he played the drums", so that later on we were able to get some work because people said "Sheldon, a you do that? Alright come". Survival. Because enough other man try to claim the thing which is why we need people like you to come and find out the real truth. Did Joe Gibbs really play the thing there? How did he do it? But you can't ask him because he is not there! (laughs) But someone must be around to say "No man, Joe wasn't even there in the studio when the thing record". You understand that's why I deal with the real story so it's good to have people there like the I that want to dig a little deeper and find out the real truth.

No one really talks about Phil Pratt enough.
Great! Mad mad mad! Phil Pratt, Bunny Lee can talk about that man because Bunny Lee brought that man and told us as young musicians to play music for that man even without money. Phil Pratt's first number one was John Holt singing a big Ken Boothe tune.

Plays My Heart is Gone

His next big tune was

Plays Strange Things

I remember one day in the studio it was actually Horace Andy who came with that tune. But when I heard John Holt voicing upon it I didn't know why! Fully played the bass. But when they [Irie Ites] remade it with Mafia and Fluxy the chords sounded funny. Because when Fully played the bass over the c minor it became like a minor sixth but it's really a c minor. So I said "No problem if you want to play it a new way, you can do that". Like when you listen to the original version of Sun Is Shining it's mad how Fully played the bass compared to how Family Man played it. Fully is a sick bass player. How the man hears things. And it's nice because it's not so much musical as how they hear it and feel it. They break the rules man.

LISTEN TO THE AUDIO SNIPPET AT THE END OF THE INTERVIEW!

At the start of the 70s Soul Syndicate played one some tunes for Lee Scratch Perry and the Wailers. But later you played on Bob's music when he was an established international star.
Well with Scratch and the Wailers mad mad things a go on in those times. Because when the great Bob came in Jamaica some different things were going on. Wailers music didn't play in the dance. You'd come into Jah Love and those certain sounds you'd have mad artists like Dennis Brown, you'd have the next artist Delroy Wilson, you'd have Johnny Clarke with the flying cymbals. Bob was creative and he wanted to get in the original thing, so we wanted to know who played the bass there on this big tune and who played the guitar and who played the percussion. So we are session musicians who played on most the hit things with Scratch as producer and Bunny Lee, Joe Gibbs, Niney and enough man.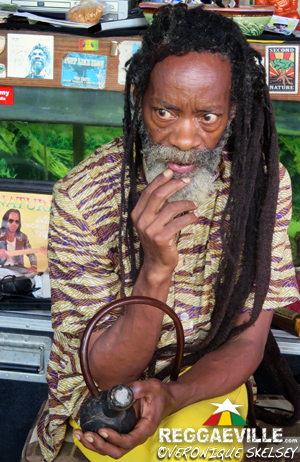 So we came in and some projects started round at Black Ark studio. Crazy heat went on round there. Everybody wanted to come in there. We were down there and Scratch and them would do certain tunes. Skill [Cole] who at the time was kind of Bob's manager would say "This little youth can do certain things too". He would encourage him to go to a dance. Bob was kind of an introvert. He wanted to stay in but he also wanted to know what went on out there too. He never had to bother to read a newspaper. A man would come and tell him "This bredda play the bass there", "This bredda play the keyboard there" and he'd say "I want to see the man there. Try the new bass player". So that's how the thing went.

I remember Martha Velez came down and Bob helped produce the album, and then I did Rastaman Vibration. It was a serious time too because a whole heap of things happened in that time. Contracts changed up and new movements were going on for Rastaman Vibration. I went to Harry J and did Rastaman Vibration where they recorded me on about over 20 odd tracks. For example, Three Little Birds, The Heathen and One Love were tracks recorded for the Rastaman Vibration album but never made it there. Can you believe those tunes couldn't make the Rastaman Vibration but came upon Exodus? (laughs) Leftover tunes got million thing!

Let's talk about the work that you did at the various Greenwich Farm labels like Freedom Sounds.
Freedom Sounds and all those things were birthed out of the whole Bunny Lee movements and Soul Syndicate movements. Because the kids got inspired into doing things and when Mr [Bertram] Brown grew up through that he formed Freedom Sounds label. Later on from that we were able to get together me and him and a guy called Teddy Reynolds and we put together the High Times label and we have been doing things for years.

Why did Soul Syndicate stop functioning and Fully migrate away to California?
The politics thing kind of got crazy. And they did have access to movements because I went on the road with Inner Circle the first time and I told them I still had my little band named Soul Syndicate. Warren Smith came in on the thing because my brethren controlled a store named Kingston Records in San Francisco – he was the man who put up the money to kind of start the whole movements in California. So I had the link. I did Inner Circle and I did Bob and then I told them I had a group. So when I carried them up there you will notice that all them are up there still and I stayed down here! (laughs) I mean you go to California and the place is nice – like Heaven – and when a man comes to down Jamaica and they fire shot off you say no… (laughs) most man just went up there and got married and got comfortable.

So why did you stay here?
Ah! Good question. I never felt it. Here's why I couldn't feel it. I went up there as a musician and California is a mad place. It's nice but when you get a girl from California and then say, Sheldon, comes in with a new band, she would say "Chinna you must stay home and babysit" and I'd say "Baby, no, my brethren come in. I can't do that". She would go home and you can't stop the woman because the women rule America. Then she'd check my brethren because I've got stale now "he's not a fresh man who come from Jamaica" so I realize that to be in Jamaica is the thing! It's like if you're not the new band coming into the states from Jamaica then you become, you know, local. So even if a man might make it look like it is more commercial, Jamaica was the thing. So I remained here. Jamaica land I love. (laughs)
PHOTOS BY VERONIQUE SKELSEY
LISTEN TO ALL AUDIO SNIPPETS: