Review
Album Review: Dub FX - Thinking Clear
08/28/2016
by Gardy Stein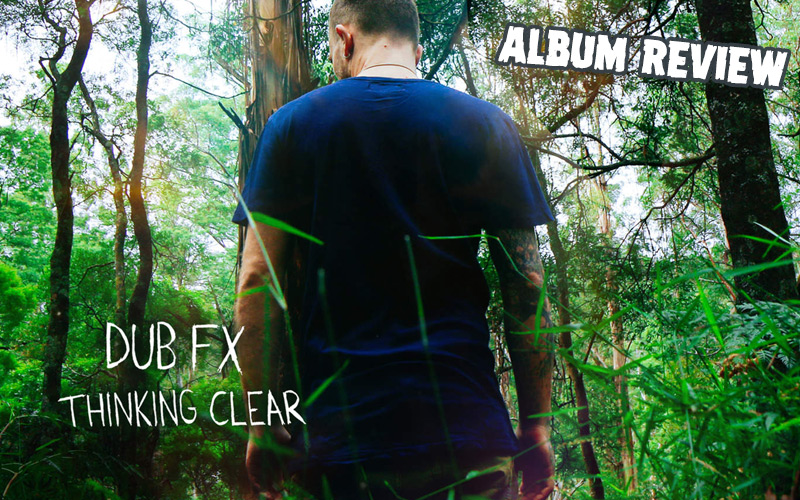 Yes, our world is confusing. Therefore, at times, it is important to forget about our daily routines, material issues and worries and start Thinking Clear. This is exactly what Dub FX has done in his new album. The visionary artist who started his career on the streets of Australia created a thrilling mix of Urban Beats, Soul, Dubstep, Reggae, Jungle and Nature. His fifth studio album, recorded in his very own Treetop Studios and released under the Convoy Unlimited label, contains eleven tracks that are introduced by sounds that suggest moments of clarity - in the early morining forest, sunset at the ocean, falling rain and singing birds.

As a loop-station pioneer, of course this device is widely used to provide the basis of the tracks, beatbox and bass loops and all, but Benjamin Stanford also invited live musicians to add some instrumental niceness. His lyrics center around his own life experiences, are sometimes pensive, but always positive and easily relatable. The hookline for the first song Birds And The Bees, for example, was conceived when the sun rose after a night of music and celebration in the woods. A harder pace is set in Road To Babylon, a track dominated by Breakbeats and Dancehall-vibes, intro-ed and extro-ed by the sound of rolling waves. These also wash to the shores of the much more relaxed Heat Wave, a wonderful sound mix of warm bass-lines, melodic brass and soulful vocals.

Where I Belong is the tale of a relationship, while Unwind (and, to a lesser degree, Beaming Light) is an almost autobiographic account of how life as a busy artist looks like. "We keep on moving at a rocksteady pace" sings Dub FX in So Are You, and actually this is a perfect description of what this track sounds like, and his call for more physical and less digital activity is thus easy to heed.

Fake Paradise, my personal favourite, bears proof of the artist's ability to create a soundscape by use of his voice and minimal beats alone, combining laid-back Reggae with conscious and reflective words. Listen to your soul! Searching is simpler in lyrics and less elaborate in music, but Get Down and That's The Game are again fine examples of what Stanford is capable of, both in constructing music and evoking listener's response to it.
 
So, in case you are in for some genre-transcending experiences, check out this album or the up and coming Dub FX tour schedule - and start Thinking Clear!


---
Release details
Dub FX - Thinking Clear
DIGITAL RELEASE [Convoy Unltd]
Release date: 08/26/2016
Tracks
01. Birds And The Bees
02. Road To Babylon
03. Heat Wave
04. Where I Belong
05. Unwind
06. So Are You
07. Beaming Light 
08. Fake Paradise
09. Searching
10. Get Down
11. That's The Game