Review
Album Review: Dub FX - Roots
02/07/2020
by Steve Topple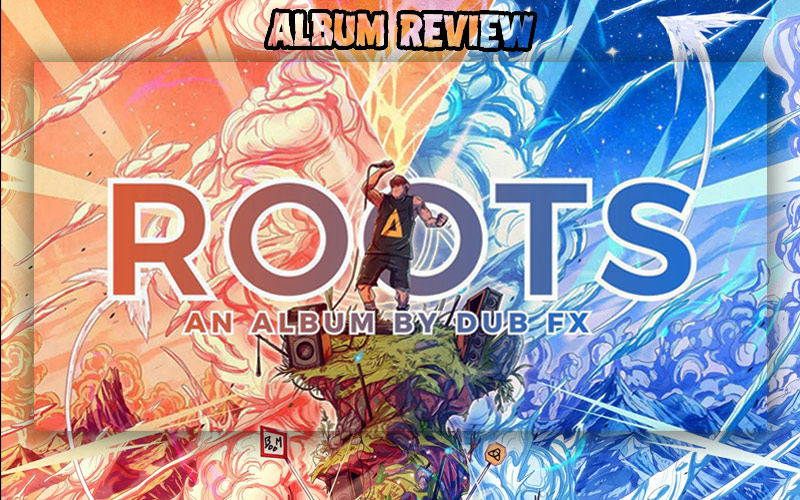 If you're looking for the most eclectic release of 2020 so far, then look no further than Dub FX and Roots. Because this truly gifted artist has created an absolute smorgasbord of delights to please everyone's taste buds.
Roots is released by Convoy Music Unltd/DubShot. It's one of those albums where it's hard to know where to begin. Dub FX crosses musical and geographical boundaries in his pursuit of the 'roots' of his music. Along the way, he makes stops at Hip Hop, Soca, Dub and, obviously, Roots. And moreover, the whole journey has been written and produced by the man himself.
The album can be neatly divided up into its component genres.
The record opens with Fire Every Day. It's an urgent, unsettling Roots/Dub track, largely driven by a heavy 808 on an embellished five-beat clave. The melody centres around a frantic semiquaver riff, which is repeated throughout the track. The keys are especially interesting, playing the dual role of a relentless bubble rhythm but also echoing Dub FX's melody several octaves higher. He brings in elements of Dub, with heavy use of reverb and synths, and also makes good use of a vocoder, which adds to the brooding nature of the track. There's a gorgeous, brass and sax-led bridge from the talents of Woodnote, Astro Perger, Jimi Orr and Benny G. But it's Dub FX's vocal which really stands out. Angry, relentless and barely stopping for breath, it's a stirring performance on an equally stirring, yet disconcerting, track.
The closing cut Blessings is also in this vein. But, as is testament to Dub FX's talents, it's a full 10-minute composition. To call this a 'track' would not be doing it justice. The breadth of his composition and arrangement is remarkable. To fully immerse yourself in it is to fully appreciate it. Go on. Dive in.
Two tracks bring us straight into Soca/Calypso territory, which in the current Roots/Revival scene is not utilised as often as it should be. On Spark, Dub FX has taken elements from both genres. The intensely intricate percussion, while overly Soca, uses a two-beat, triple time kick on every beat – which in part is more Calypso. The live brass section is again more of the latter (with another fine bridge and superb sax solo from Woodnote). But the Funky Soul use of an electronic organ drives the track back to Soca.
Then, Rising Up is more of a modern take on the genre than Spark. The kick does a full 'one-two-and…' rhythm. The use of synths is heavy, but it's contrasted by an impressively intricate percussion line, utilising a rainbow of instruments. Justin Stanford's percussive skills on both Spark and Rising Up are quite something to behold. The brasses' harmonic improvisation draws on the Jazz influences of the genre (as does Dub FX's skat singing). A four beat, clave-like Dancehall rhythm is also the centrepiece for the whole track, being used by different instruments at different points. It's one of the cleverest, fullest compositions on Roots – almost putting you in mind of a properly scored, orchestral piece.
Pull Up heads into the realms of heavily synthed Dub. Melodically it's one of the more interesting tracks of the album, with an unexpected use of a minor key at one point. A synth kick drives the one drop, while the bass also accentuates this by only cutting in on the second and third beats. Sahida Apsara delivers a finely tuned vocal/singjay, complimenting Dub FX perfectly. It's a slick, winding Dub experience.
Transmission is more Revival than Roots. Yes, there's a bubble rhythm; a one drop; a kind-of Rocksteady bass mimicking the vocal, and the brass lines are all a bit Funky Soul-Ska. But the use of just one key (except for the bridge) means the focus is entirely on Dub FX's vocal; a device often used in Hip Hop. This, plus his skilful, rhythmically fluid rap, give that kind of genre-smashing the Revival movement is known for. The added use of synths, reverb and musical breaks just hammer this home. Teach continues the Revival-inspired musical gymnastics. I love it when artists use the ghostly synth version of a theremin. And Dub FX employs it well on this track, along with some skanking guitars for added Roots. Protoje I'm sure would be proud.
Moving into the Roots genre is There With Me. For my money, it's actually the weakest track. Not because there's anything wrong with it. But because Dub FX has set the bar of complex composition so high on the album, that this straight-ish Roots track is somewhat lost amid the eclecticism. It's still a classy affair, mind – which also serves as a useful showcase for his skilled production and engineering.
Then, just to throw you off kilter, Dub FX drops Shotgun. It's almost impossible to box in; drawing inspiration from EDM, Soca, Roots and Dub. There's a clever use of Two Step via the percussion. It gives the feeling of a Roots' bubble rhythm. But then, the 808 is on a rapid double time, which takes Shotgun into almost Ambient Trance; making it feel quicker than it really is. Electric guitars skank just out of earshot. Hue Blanes puts in a rousing piano line, transporting the track into almost Classical realms. The classy brass section is back, doing it's Jazzy-Soca thing. Reverb, synths and the muffling of the piano add Dub into the mix. The whole thing is awe-inspiring.
What's also awe-inspiring about Roots is Dub FX's poetic lyricism. He covers a broad range of subjects, weaving not only storytelling but messages together with ease. Standouts include Fire Every Day, where he projects his angriness about the system and its effect on us: "Disconnected from humanity, and so I must suggest: to focus on community and unity is wise. And realise the beauty when our voices organise". It's this clever use of phrasing coupled with accessible messaging that puts Dub FX ahead of some of his peers. Vocally, he is also very skilled, ensuring each and every syllable is crystal clear with phrasing and intonation that hammer home his points.
Roots is a wonder to behold. Dub FX is a talented singer and lyricist. But moreover, he is a highly accomplished composer, arranger and producer. The sheer breadth of the album sets it apart from many of its contemporaries. And, it is an abject lesson in the musical diversity that can be achieved, while never straying to far from your 'roots'. Awesome.
---
Release details
Dub FX - Roots
DIGITAL RELEASE [Convoy Music Groups]
Release date: 01/31/2020
Tracks
01. Fire Every Day
02. Spark
03. Pull Up
04. Transmission
05. Rising Up
06. There With Me
07. Teach
08. Shotgun
09. Blessings