Festival Report - Rototom Sunsplash 2017
08/19/2017 by Brad Metzger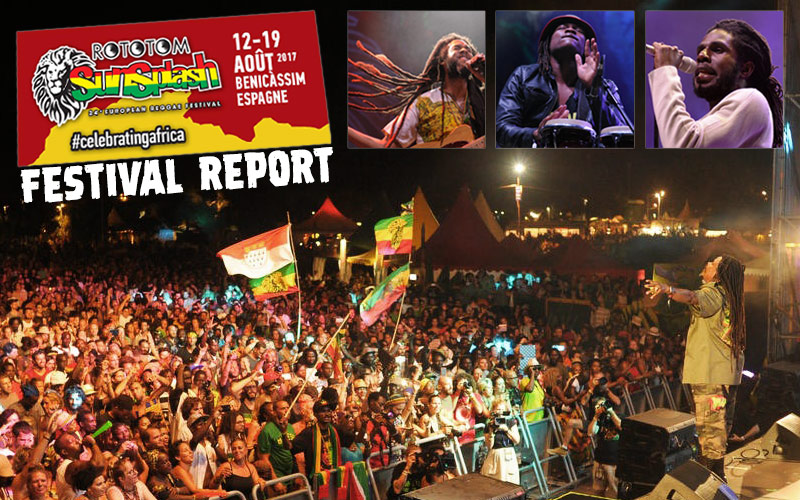 The only way to do Rototom Sunsplash is to go all in, show up early and stay late every day for 8 days. And unlike all of the great Reggae festivals in the US, "late" actually means 6am or even later as the artist schedule spans numerous stages and dance / soundsystem areas starting at 8:30pm. Rototom is heralded for providing, in addition to the music, a rich program of cultural, educational and social programs. In keeping with the Celebrating Africa theme this year, in the Social Forum, seminars included "The Africas of Africa" with Youssou N'Dour and over in the Reggae University "Back to my Roots" featured Steel Pulse while "Rootsman Party" featured Don Carlos discussing his life and career. So difficult to pick out individual moments in this overwhelming mass of incredible music and programing but I will try.
SATURDAY - AUGUST 12th 2017
The Twinkle Brothers brought the first sounds of the festival to the Main Stage and invoked the Celebrating Africa theme as they sang Free Africa. However my top performance of the day was Nkulee Dube as she brought maximum energy, highstepping from one side of the stage to the other, stopping briefly to declare "Greetings in the name of the most high from South Africa!" First up was her hit Luv The Way followed by Who Dem where even after the song ended, Nkulee seemingly in a trance improvised and continued the song acapella for about 30 seconds. Daughter of South African Reggae legend Lucky Dube, Nkulee brings a unique musical perspective that has been called "ethno-ragga fused with soul and jazz." Of the few Lucky songs she chose to perform, the 1989 hit Prisoner stood out as Nkulee paid tribute to the original but also managed to make it her own with her soulful sound.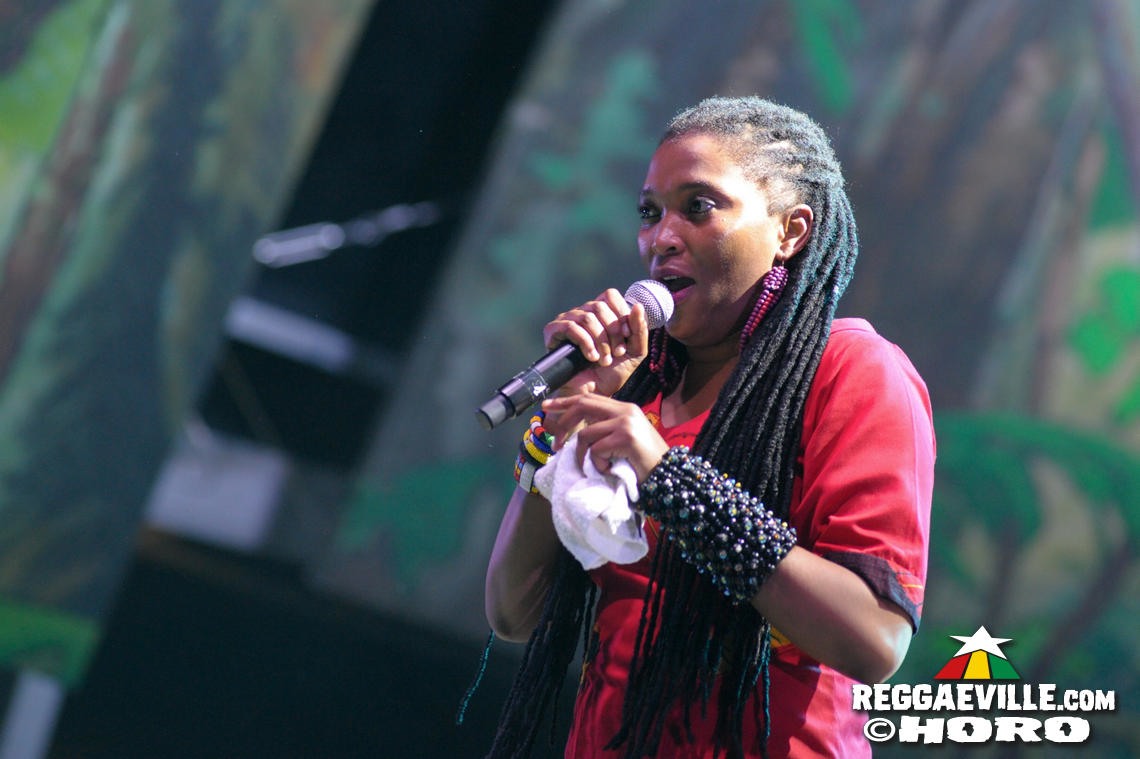 SUNDAY - AUGUST 13th 2017
Shaggy had the Rototom massive in a frenzy but the group that stood out to me was Mango Wood. Yes Mango Wood who is a backing band out of Madrid, Spain who backed The Silvertones, The Heptones and Kushart. The reality of live Reggae and cost constraints, requires often unknown backing bands to play with acclaimed artists who they have never previously worked with. This often results in some level of sacrifice in the music but in this case only slightly. Mango Wood and especially bassist Alejandro Veiga Canabal did a phenomenal job and paved the way for three legendary groups to perform. At the Lion Stage the Patois Brothers did most of the songs off their recent release Wise and Wild including Respect, Shyness Away and World. Next up was Panda Dub. Influenced by the UK and French Dub scenes, Panda brought a rave like vibe during his fluid and high energy set to the Lion Stage with his signature ethnic samples, electro reggae and heavy bass. Forward at Lion was Malaka Youth with a very strong set composed of many songs off their "Tanto Por Ver" release including Warriors, Busca La Manera, and Mediation but the energy was brought up a notch as they brought up Dada Yute, a bright youthful artist from Brazil to do his anthem, Rototom City and captured the whole experience nicely: "No body nah sleep inna Rototom City…people from all over the world, I man from Brazil…my old dream become real…" Next up on the Lion stage was Kushart again backed by Mango Wood. Reggaeville photographer HoRo gave great advice in that I shouldn't miss these guys and he was right. Formed in Trenchtown in 1979, the lives of Joel "Kush" Brown, Anthony Feurtado and Barrington Lord have been livicated to visual and musical arts as well as the education of others and their passion shined on stage as they performed Love Only Love, Years to Come, Reggae Dance and Jah Will Guide You.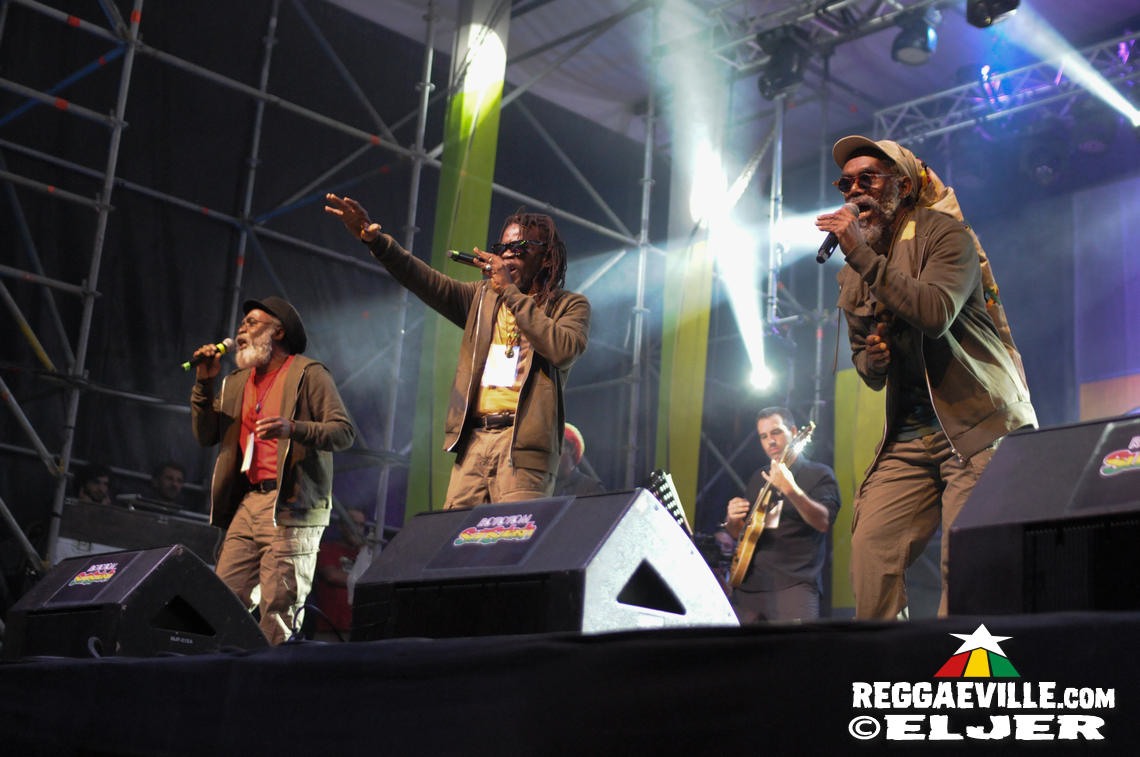 MONDAY - AUGUST 14th 2017
Today the Main Stage reigned supreme as New Kingston, who was originally scheduled over on the smaller Lion Stage was moved over into Sinsemilia's slot and rose to the occasion. After two self released albums (2010 and 2013), New Kingston signed with Easy Star Records in 2015 for Kingston City which rose to #1 on the Billboard Top Reggae Album Chart. They are a family affair including father Courtney Senior who lays down the bass for three brothers: Tahir (keys/vocals), Courtney (drums/vocals) and Steve (guitar/vocals). Kris on percussion is the only non family member. New Kingston, hailing from Jamaica and New York brought a very powerful modern roots reggae sound highlighted with the title track from their Kingston Fyah EP and Come From Far from their newest release coming out this month titled A Kingston Story: Come From Far. After a short break it was time for Reggae legend Don Carlos who strode onstage in a bright gleaming silver suit. Anticipation was high but unfortunately Don's mic malfunctioned right off the bat and wasn't corrected for about 30 seconds. However once it turned on and that signature Don Carlos chant started booming, Rototom erupted! From there, Don put on a clinic of famous hits including Johnny Big Mouth, Laser Beam, Just a Passing Glance, and Roots Man Party where he changed the lyrics many times to "Rototom Party." Perhaps due to the shortened set time (about an hour) as compared to his headlining shows of usually more than 1.5 hours, no Black Uhuru songs were performed but the reggae connoisseurs I spoke to didn't mind that one bit. Don and his Dub Vision Band just killed it.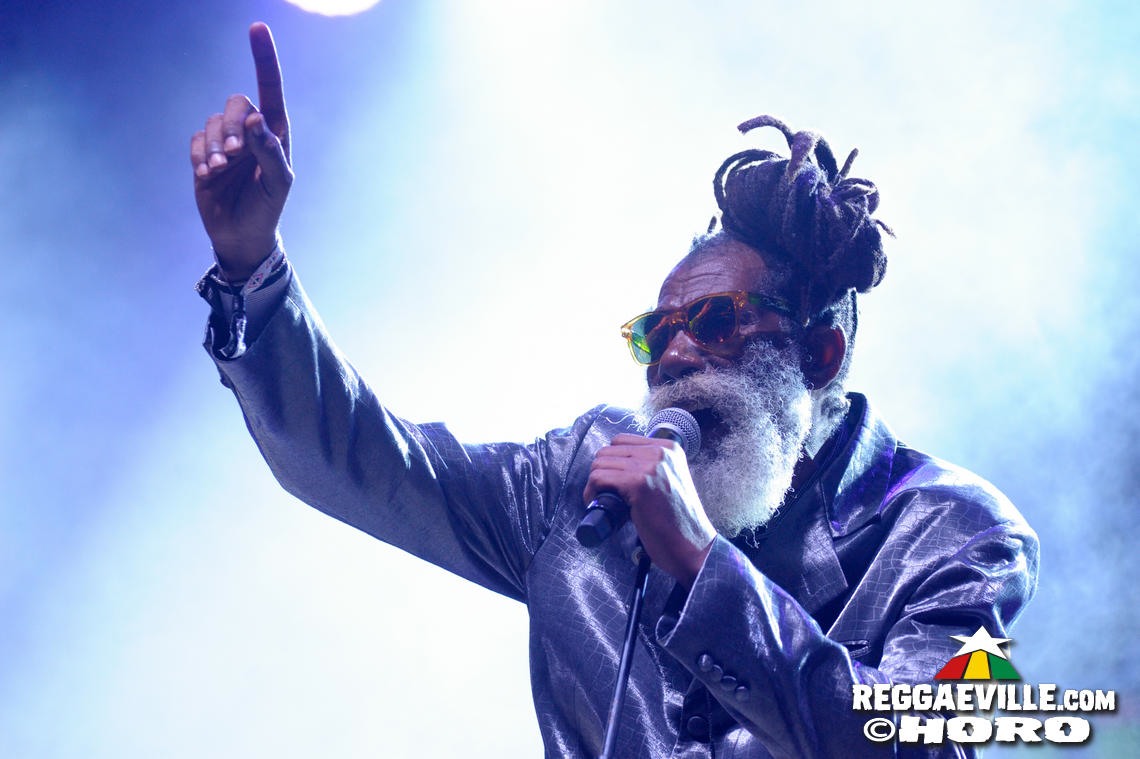 TUESDAY - AUGUST 15th 2017
Loved seeing Kumar "Kumz" Bent from Raging Fyah join Stick Figure from California on stage for a little improv session to Smokin' Love which they originally recorded with Collie Buddz. Next on the Main Stage was Treesha backed by Gentleman's Evolution Band which she herself has been a part of. My first time seeing her didn't disappoint and the synchronicity with the band was impressive as, with a flick of the wrist and quick glance back, she signaled each of the band members to solo. Then heavy hitter time! Gentleman and Ky-Mani Marley who came out together bringing as much energy I had seen all week. After Gentleman declared Ky-Mani was his "brother from another mother," he immediately jumped down onto the speakers and then stood on the barriers down below in order to connect with fans where he would return multiple times during the set. Phones out in a flash and hugs all around as he stood on the fencing. Then Ky-Mani took the stage and they alternated songs back and forth as well as some sweet collaborations off their joint Conversations album. This set was so tight I literally lost myself in the music but stayed conscious enough to remember them doing a nice Bob Marley tribute including No Woman, No Cry, Simmer Down, Is This Love and finally to close it out Redemption Song. 2:15am brought Nattali Rize to the Lion Stage. She is the full package delivering on all fronts: songwriting, conscious message, infectious rhythms and high energy performances where she genuinely connects with the audience. She comes close to the edge of being preachy but never crosses the line because her music is just so strong, but tonight she made her point as she sang, from One People off of her newest release "Rebel Frequency": "Babylon you hypocrytic enemy, you create more problems then you got to remedy, you're misleading and deceive my people endlessly… civilians are like slaves in servitude and the only way you keep them is to keep them from the truth…for anyone who wants some peace you need insanity…iration, one nation, one people, one destiny…" This is powerful. Nattali Rize is the real deal.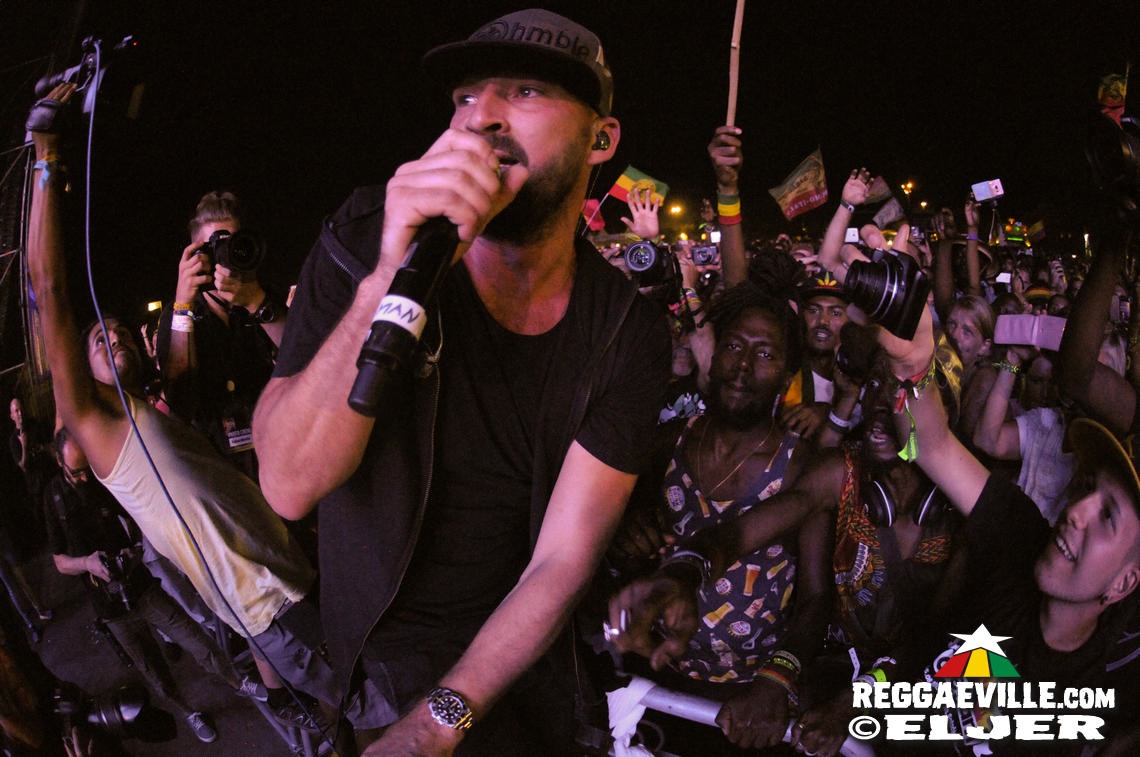 WEDNESDAY - AUGUST 16th 2017
Much of the action tonight was over on the Main Stage where after Beenie Man, Raging Fyah took to the stage at 10pm. These guys are super versatile and skilled musicians and hit their stride at Rototom as they performed many of their catchiest and infectious tunes including Dash Wata, Raggamuffin, and the soulful, sexy Ready For Love. Courtland "Gizmo" White just killed the rock like guitar riffs on Judgement Day off of their 2011 eponymous debut album. This rising star band from Jamaica is seriously committed to spreading their music and message. As a matter of fact I recently saw them perform at a free street fair in Reno, Nevada of all places. Following Fyah, time for Christopher Martin. Of course he performed, in fine form, Mama, and Paper Loving which this year broke the Spotify streaming record for any Reggae Song. In what were my favorite onstage surprise collaborations so far at Rototom, Chris brought up, separately, Beenie Man and later D Major. Chris and Beenie busted out some Busy Signal and later D Major ignited the crowd with his hit Real Know Real. Shortly after that Chris, jumping up in the air and fist pounding, took his shirt off and threw it into the crowd. MASSIVE!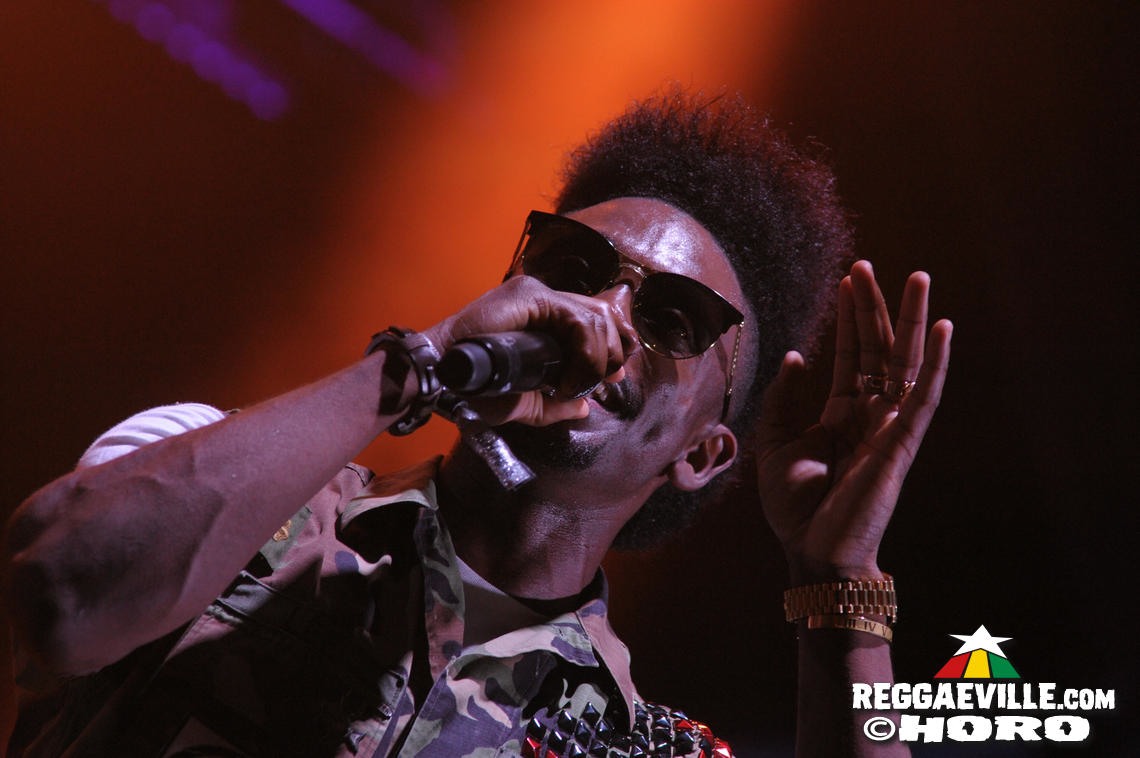 THURSDAY - AUGUST 17th 2017
Rototom takes over the small beachside tourist town of Benicassim and on Thursday things heated up at Heliopolis beach around 2pm when Raul from Barbass Sound took to the decks and rocked, as expected, most of the current hot Jamaican dancehall cuts but also broke out some old school InI Kamoze, Eek-A-Mouse, and some rare Spanish Reggae including the track Etiketa from Yeyo Perez. [WATCH THE VIDEO BELOW!] The smell of herb wafted in the ocean breezes as the young crowd lapped up the tunes, the vibes and the special Rototom beach energy. Hempress Sativa took to the Main Stage at 10pm. Her shawl draped over the microphone stand, most often she stood still and even statuesque as she performed Rock It Ina Dance, Skin Teeth, and before espousing on the qualities of herb, "Ooh LaLaLa The Weed Thing." Extremely rare in Reggae, there was no rhythm guitar in this Italian three piece band who also backed Mellow Mood. Instead keyboards took over that responsibility and then some. Without a break, Mellow Mood from Italy assumed complete control of the stage coming out in matching camouflage shirts. Fascinating to see how, in their comfort zone here in Europe with their fans behind them, they brought so much more confidence as opposed to when I saw them in California at Cali Roots this summer. What a great set! The twins were in top form tonight. It was expected that Hempress would join but who knew Forelock would jump onstage as well as they all performed their hit "Inna Jamaica PT.2." The early morning hours found Lutan Fyah crushing it over on the Lion Stage. Wicked!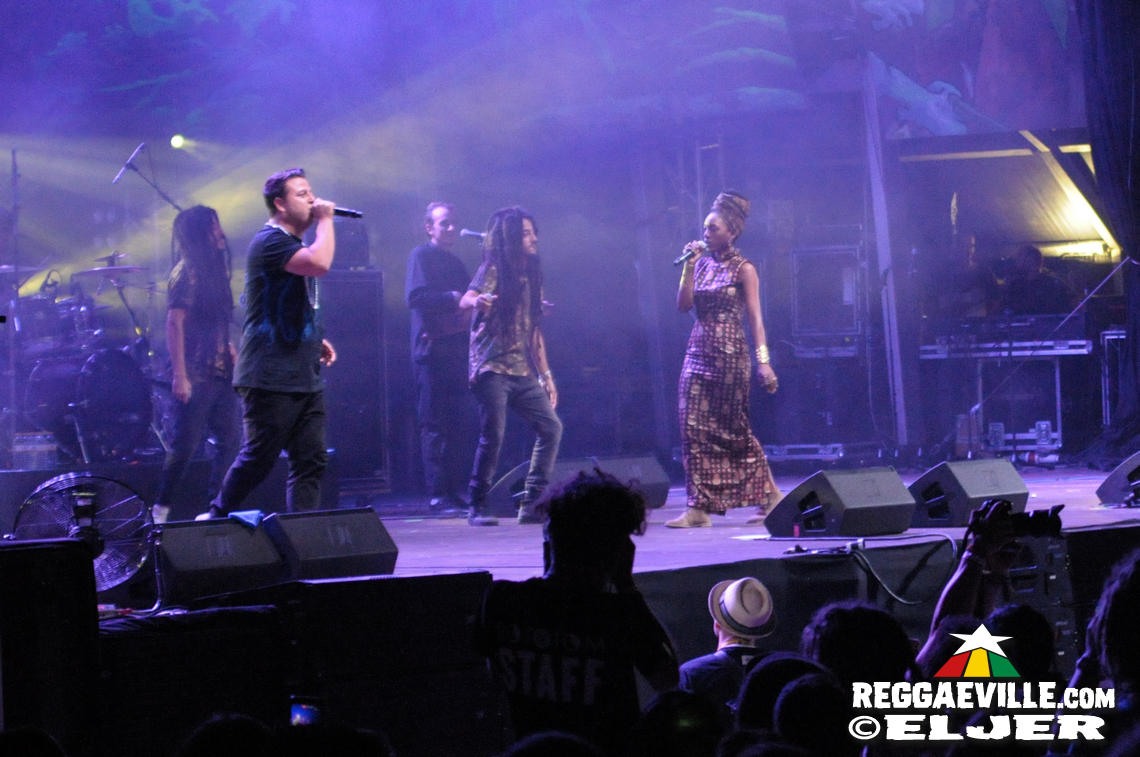 FRIDAY - AUGUST 18th 2017
Today was a little somber as the terrorist attacks in Spain over the last few days seemed to bring a cloud, especially during Main Stage headliner Alpha Blondy's set. Pimped out in a red suit and bright yellow overcoat, Alpha was on a mission: "Nobody can use God to justify a crime… thou shall not kill!" He then went on to discuss his feelings about God and Allah, much of which I couldn't understand due to his accent. However he and his nine piece band definitely delivered on the music with many classic hits including Cocody Rock but as soon as they picked up steam, about 55 minutes in, he went back to politics and peace. Then after starting a new song, he and his band abruptly exited the stage. It was such a surprise that the MCs just thought Alpha was taking a break before his encore and encouraged the crowd to call him back. However after popping off stage and then back on, the MC said: "We tried to speak with him and please come onstage. So tonight we close here at the main stage, sorry. Let us explain. Alpha is not coming back." This was the first disappointment of Rototom and you could hear a minority of the fans booing. The set was probably cut short 30-45 minutes and the rumor was that Alpha wasn't happy with the sound. Others speculated that he was getting attitude from some of the crowd up front about his vocal political views. One man's curse is another man's blessing and this snafu allowed me to bounce over to the Lion Stage to check out Sweden's Million Stylez who brought up Cali P while Beenie Man looked on from the side of the stage. The dancehall posse up front were motioning Beenie to join in, but to no avail. The highlight of the night was Chronixx's set which one acclaimed Reggae photographer who likes to stay under the radar, felt was so strong he could have been scheduled to close out the entire festival with the coveted Main Stage / final night / midnight slot. It was a hit parade: Here Comes Trouble, Eternal Fire, and Smile Jamaica as a sea of International flags waved above the massive crowd as most of them pumped their fists up and down to the riddim as directed by Chronixx. Now that's UNITY!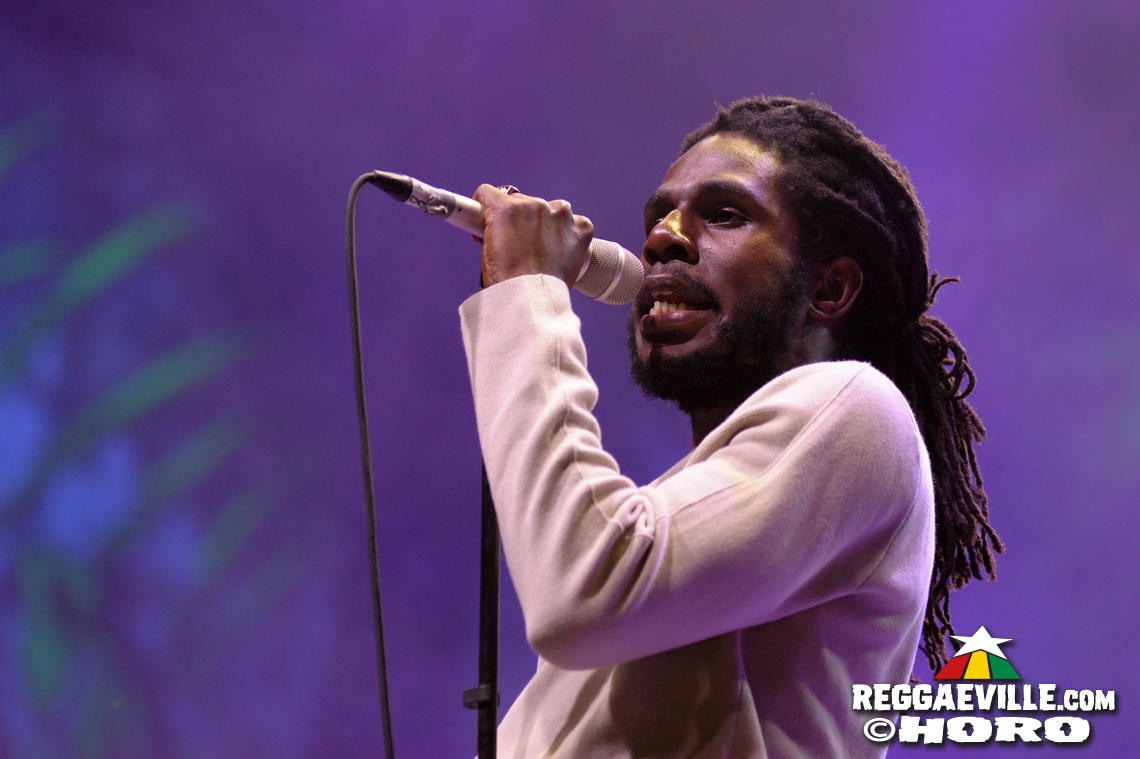 SATURDAY - AUGUST 19th 2017
The final day of this years Rototom started off on the Main Stage with the Ariwa Jamaica Showcase - U Roy meets Big Youth, Nadine Sutherland & The Robotics featuring Mad Professor. Nadine was excited to share that this was her first time in Europe and Rototom. She spoke about Charlottesville and the incidents a few days ago in Barcelona and then said: "I know our hearts are aching but I believe in the power of love, not hate." Then after four quick songs done in fine style, it was time for U Roy. "Love, peace and inity each and everyone Rototom!" declared this living legend who moved forward with songs True Born African and closed out with Bob Marley's Soul Rebel as he toasted along with his backup singers sweet harmonies. Next up Big Youth and the set started to go askew with the second song Every Nigger is a Star. What followed was a dull, even awkward set where Big Youth, in between songs, would ramble and even screech into the mic and at one point during the band member's solos, he stood right beside them and mimicked their movements. Others might disagree with my opinion but the facts are that the audience didn't respond very well and the crowd clearly thinned while Youth was onstage. Finally U Roy rejoined Big Youth for one song, a fantastic rendition of Stop That Train. During the break, over at the Dub Academy, guest Morodo from Spain joined Greenlight Soundsystem and the place was on fire! Later, closing out the festival on the Main Stage was Luciano who came out, with his seven piece band, in military Rasta fatigue, dreads flying, as he opened with a short version of "Give Praise to Rastafari." Then in Culture Shock: "It's like dem culture shock, or dem must be stupid or what? Why some Africans dem no proud to be black? Dem culture shock, why dem do a thing like that? Bleach out dem face until dem skin get crack?" Lots of discussion in between songs about peace, unity, hope, how to make the world a better place and the need for people to come together: "if there's a 3rd world war, billions of people will die. We need to unite before it's too late." Soon, mid song he jumped down into the photo pit and literally started hugging and kissing his fans who, at this point, were going nuts. The encore found Luciano doing a rendition of Old Time Religion which turned into When The Saints Go Marching In immediately followed by an announcement by the MC that Rototom will be back next year in Benicassim.