Festival Report - Reggae On The River 2015
08/14/2015 by Justine Amadori Ketola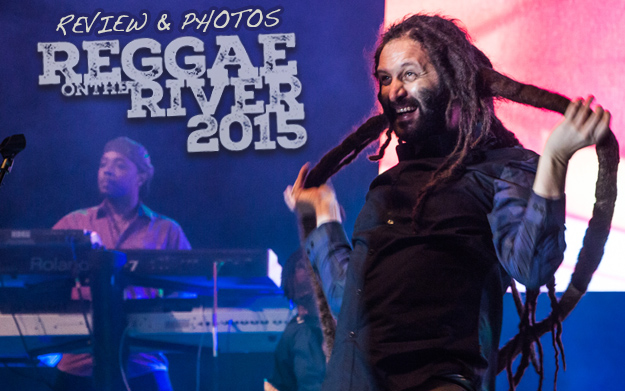 REGGAE ON THE RIVER 2015

CLICK HERE FOR THE PHOTO REPORT

This year's 31st staging of Reggae on the River was very well-organized logistically by the mighty non-profit organization the Mateel Community Center even though it's programming was affected by changes in the artist lineup. Try as they may, promoters and artistic producers for reggae festivals find themselves at the mercy of international travel restrictions and regulations when it comes to booking artists that are from outside of their area. It's reflective of some of the tides of change in reggae, not just in the Western U.S. where there is a saturation of festivals of this type, but globally with the myriad issues and styles of reggae that are actively touring in the global reggae industry. Some of reggae's most sought after artists and devoted fans converge in one place, and if one thing goes wrong with a musician or artist's travel it can restart the entire game. Protecting and preserving reggae was an undercurrent that ran through many of the artist's vibes and comments throughout the weekend as these concerns are foremost on their minds.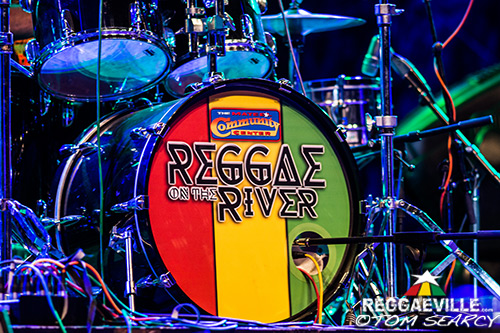 This festival after 31 years, Reggae on the River takes place in what is really "Reggae" country of Humboldt County has had a long and intriguing history literally resurrected a few times by those that love reggae to turn into into a legendary event. This consistency has made this festival a game changer, a life altering experience and what introduces many to reggae music for the first time and ultimately for a life time.

From the non-profit managed staff, volunteers, radio station, security, vendors, and all of the attendees came a constant chorus of "Happy Reggae" to one another throughout the weekend. An almost sacred chant that proclaimed the timeless nature of it in this remote setting along the river, devoid of internet connectivity for thousands. Shepherded into the moment along the riverside, a camping village with rickshaws and ital stew, a nyabinghi weekend, the Mas camp, the revival, with its river party DJ sessions all night long on two points of the Eel river. "Reggae" as its known for short, is a sonic experience in the redwoods that centers on the sound quality. From every angle around the customized two tiered viewing platform on both sides of the stage there is access to this quality sound. The musicians have a top audio experience to their preferences, and it means they can give some of the best sets in music from that stage in the giant redwoods.


DAY 1 - THURSDAY, JULY 30th 2015
The fans were offered a Thursday night early entry grouping of entertainment which was to feature Mr. Williamz from the UK and King Jammy (reportedly based in New York) and it was the case that neither of these artists appeared as had been previously advertised.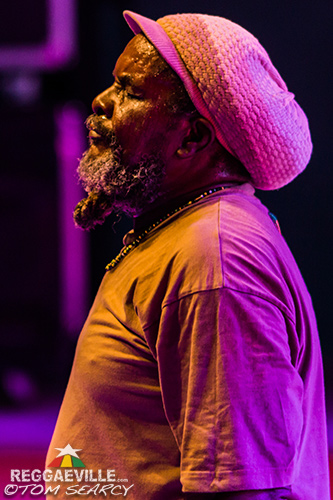 Instead deep roots veteran Pablo Moses came in to warm up the stage and level the vibes. His song Dubbing Is A Must exemplifies the general tone that the music of this artist takes in that these songs have a militant fervor a type of rallying cry in the lyrics and vocal delivery juxtaposed with upbeat, cheerful emotion infused throughout his melodies. With songs like Reggae Warrior Moses reminds us of the difficulties that are faced on this trod as the appear in stark contrast to the positive results. For Ready, Aim, Fire this 67-year old mimicked the movements of a warrior with the energy of a teen setting the pace for the rest of the weekend.

DAY 2 - FRIDAY, JULY 31st 2015
Friday afternoon was dubbed "Aloha Friday" by this writer as groups like Inna Vision took the stage. Inna Vision talked about getting their start in 1995 in their college days. The band still maintains that youthful rock-infused sound. They told the audience it was their first year at Reggae on the River and that it was "an honor to be here." The artist Hirie joined the band on stage for a tune while her young daughter watched from side stage. They were then followed by the great Stick Figure band who performs with their golden retriever canine band member Coco always on stage gazing out on the audience and getting lots of cheers. Their sound stands out amongst other "West Coast Reggae" bands in that they rely heavily on dubwise song changes, shifting into lengthy dub instrumental segments with tripped out keyboard lines that shift tempo with ease. They sing deep roots style harmonies giving an authentic vintage feel to their sound. It's not often that I am engaged by a band's music that I don't know especially when it is instrumentals, but this band is different. They shouted out to the fans at one point asking whether there were "any Stick Figure fans out there?" To which they received an enthusiastic response. Hirie came out again to sing with her Stick Figure ohana some more, including a version of Alpha Blondy's "Cocody Rock".

After the set Reggaeville caught up with Stick Figure frontman Scott Woodruff who commented on their first appearance at the fabled festival. "We've been coming here since 2009, every year, we were here last year. To go on stage and be a part of this energy is incredible, just the vibe and the people here." The band started out in the Eastern US in Massachusetts before relocating to California and Woodruff commented on their trajectory of touring success noting, "We just love travelling, its just new experiences, that's why I moved originally from East to West just to get a different flavor to see a different part of the country and being on tour, being in a new city every night and meeting new people and going outside of the country and doing it with your best friends, there's not a better feeling. We have a crew of 9 people, 4 in the band and 5 crew." I noted that their special band member Coco is also part of the band to which Woodruff replied, "We cannot forget Coco". When asked how Coco works out in the club setting he explained, "She's at every show, if they don't want to let her in, we don't want to go play there."

Katchafire from New Zealand sang their R&B tinged catalog to the crowd in 100F/37C degree temperatures on Aloha Friday. Horns, percussion and a bass heavy sound made this band with lead vocalist Logan, one of the most crowd friendly of the weekend. The band has recently added Hawaii's Jordan T on vocals and guitar who was a lively addition. Founded originally as a Bob Marley & The Wailers tribute band, their version of Three Little Birds charmed the audience and set the pace for numerous artists to give their own Wailers tributes throughout the festival.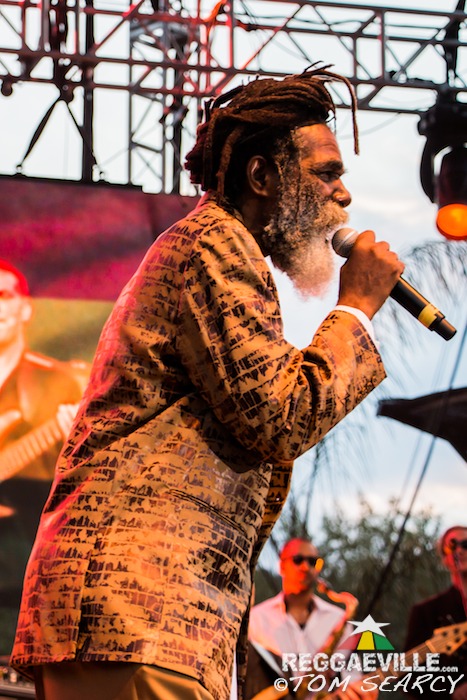 On Friday the lineup was affected by a missing Protoje who was to perform later in the evening right before Cham closed the night. Instead Don Carlos was brought in to perform in place of Protoje. Don was in his usual top form commanding the stage with his signature "Waterhouse" atonal deep roots style and grace that has been emulated by so many groups in the West Coast Reggae genre. Don had left the Slightly Stoopid tour where he is a featured vocalist to fill in. Don Carlos has a voice that is still as fresh as when he first started, punctuating his intros with his trademark pledge, "I love you, but Jah loves you more" he closed his set with the classic Just A Passing Glance.

Protoje claimed visa issues prevented him from making this long-advertised date in Northern California. Being the only artist that represented the "reggae revival" and its progressive success to help preserve conscious reggae on the lineup, his non-appearance left a noticeable gap in the headline performances for the weekend.

Collie Buddz has a considerable following in the Western US after extensive touring and airplay since his breakout hit Come Around a classic weed tune that was introduced first by the artist singing the Peter Tosh's Legalize It which sent the audience into a smoking frenzy. Songs like Blind To You, Tomorrow's Another Day, Mamacita and more had the audience participation on point. This couple was waving a red gold and green hybridized Bermuda/Hawaii flag and were so enthusiastic that Collie Buddz invited them on stage for a dance party during Come Around passing them the mic to sing the tune. The artist ran through several of his favorite tunes as covers as part of his set songs like Greetings by Half Pint and Under Pressure by Super Cat were on point.

Cham once known as Baby Cham has grown up into a headliner and turned up the dancehall vibes in his set with a big sound from Mad People Gang his band that he noted has been with him "from the beginning in Sherlock Crescent" with just two keyboard players, a drummer and a bassist who ran through classics like Babylon Bwoy, Ghetto Story, Wine and Tun Up. The trucker hat emblazoned with "Lawless" that Cham is often seen performing in was explained by him in this way, "When we say lawless we don't mean take purses, we mean that I am a citizen of this world, no borders, we are all just one people." When asked what it was like to headline Reggae on the River he told Reggaeville, "To headline Reggae on the River is like, one of them dreams, and its a big thing for us as a team because it is not just me, its a team, its the whole family, my band, Mad People Gang, they are excited also. I've been playing here since I was a kid, and to be here headlining Friday night is a big thing and we appreciate it. It's one of those festivals that no matter where you go in the world it's one that you will never forget, Reggae on the River always remain a part of you."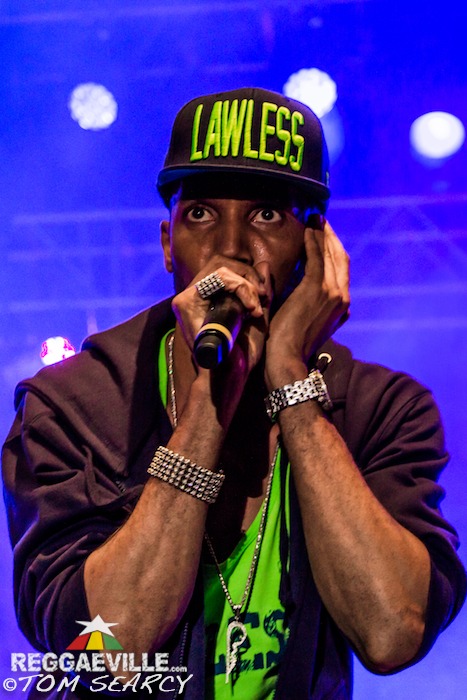 Cham explained in the press conference that his new album is a bit of a different strategy for him as he will release an album produced by Dave Kelly with 10 tracks and 10 videos to accompany it, Beyonce style. He noted that they were shooting part of one of the videos for the song Don't Want To Die A Hero at Reggae on the River in the form of a documentary that includes footage taken in the giant redwood tree forests that the area is known for noting, "I've been coming here for years but I have never taken the time to go in the woods and hold a vibe and we got to do that this morning." Cham also noted that Dave Kelly is working on Damian Marley's new album at the same time that he is completing Cham's album and he is "basically hopping from studio to studio and its a good vibe we are feeding off of each other's energy, Dave Kelly will always be working on my albums, ever since I was a little boy just graduated from Calabar High School, 15 years old, that's almost 20 years now, it's like family.…using the studio to have fun, I've kept that instinct in my head for years no matter how high the tide get you keep an even keel, no matter how low the tide get, you keep an even keel. You have seen our track records, what our resume is, so its done me well over the years. It's just one of those things where you have to give thanks for him for Dave and the whole team for guiding me, for those records and for preparing me for those big moments, it's just a blessing. Music needs that chemistry, not just going into the studio, but where if you have chemistry with an individual you can make a hit."

As far as the state of dancehall, Cham commented, "The sky's the limit, for Dancehall and Reggae music is a lifestyle that will never die, that's people's livity every day, that's what they live that's what they breathe. So you find that when you go to an authentic dancehall vibe you have the peanut man, you have the herb man, you have the chicken man, the man that sell the Rizzla, the chewing gum, you find that is people's life, that's how people feed their families, its a cultural movement. An artist is like a mirror to society, we use it to reflect it with lyrics and melodies, so no boundaries, we just use it to reflect it back, go into the studio and whatever vibe comes, we move with it." Cham also noted he will be off for one week to spend time with his children then its 3 weeks in Europe beginning at the Boomtown Fair in the UK. He said it will be six days on one day off, and that he prefers it like that as the days off take, "too much out of the budget and we have to keep an eye on the budget sheet."

DAY 3 - SATURDAY, AUGUST 1st 2015
Saturday saw the arrival of the Marley entourage with the Ghetto Youths International segment set for early evening and with the fantastic band that included players like Chris Meredith on bass, Squidly Cole on drums alongside Rica Newell and Rochelle Bradshaw on vocals, the four artists in this set could not be stopped. First up was Skip Marley, the son of Cedella whose steady pace and composed stage presence were well received by the audience who was introduced to his latest single, Cry To Me that echoes an early Bob Marley single of the same name. Next up was the commanding Black Am I from St. Ann whose anthemic hooks in songs like In The Ghetto and Modern Day Freedom have earned him a rightful place on the Reggae on the River stage. Son of Stephen Marley, Jo Mersa was the next youth on stage, he has the most pop-oriented sound of this crew, with songs like Sunshine and Rock and Swing with its retro riddim and hip-hop chant, along with the production effects used. One can see that he is a chip off the old block and that those hours at his dad's side in the studio have paid off both in the finished product and what he exhibits on stage in terms of confidence and interaction with the band, a fine example of his grandfather's role modeling.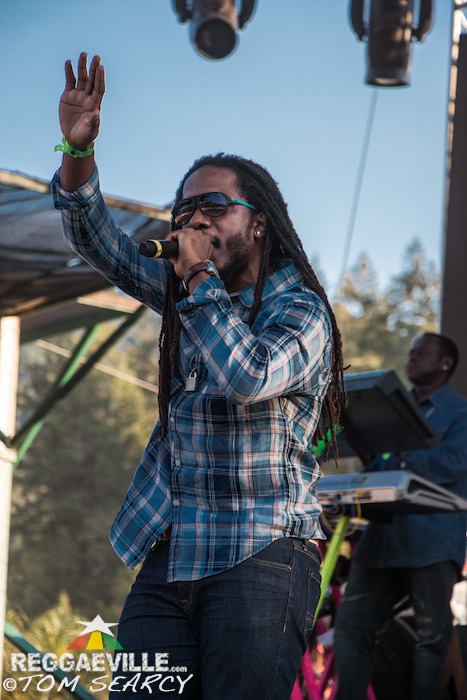 Wayne Marshall completed the Ghetto Youth segment delivering with his big voice on tunes like I Know and Stupid Money and charming the crowd within the limited time frame allowed him.

After their set in the press conference, they were asked how this Marley legacy affects them all as performers and musicians today. Jo Mersa commented on how both his dad and Bob Marley infiltrate his life experience by saying, "For me growing up in Jamaica and watching him (Stephen) perform every night we take from it…its something new." As far as Bob Marley is concerned he recalled, "Our parents spoke of him, even certain Sundays where we decide fi roast fish and you hear the whole of them start laugh and say, 'You remember this time when Daddy did this and that or you remember this time when we go in Africa and them throw the tear gas?' All sorts of things so…"

The question was also directed to Wayne Marshall who noted, "When on the road with them its always a learning experience for me. For me Bob Marley carried the standard that was a super high standard musically, it wasn't the regular music progression so, even now I find myself listening to Bob Marley nowadays looking back at Santa Barbara Bowl performance and just watching, snare for snare watching every song and how they did it because we feel that we, the younger generation have a part fi play to keep the music and the standard to the way Bob left it, you nah mean? As I say, Bob is an icon and an influence for every musician in Jamaica including myself."

iKronik, the Northern California-based backing band took the stage Saturday to begin their stellar duties, first with a special showcase performance by Nature of his song Love Is Everywhere. He was not scheduled on the lineup but made the trip to Reggae to perform for the massive. iKronik then prepared for the arrival of Ce'Cile to the stage.

Keeping up with the males in her league, Ce'Cile is a dancehall artist whose latest album Still Running actually featured a wide range of influences from EDM to rock. This artist has a commanding presence on stage and knows how to interact with her audience, it was the first time, by Saturday afternoon that I felt an artist was in genuine conversation with the massive and speaking directly to us between songs from her extensive catalog. She led the fans in a singalong of her lover's tune, I'm Waiting. Ce'Cile closed her set with the rock-influenced power pop song One Love that appeared on her latest album. She explained to the audience that this was her own form of tribute to Bob Marley, her way of doing a cover song. She said she "never want to try sing that so I write my own song". Observing her and the other artists like Tarrus Riley backstage that afternoon it was great to see her joyfully parring with the Jamaican male contingent that often "buck up" on one another on tour for a type of Jamaican musical family reunion at these type of events.

Despite competing for the front of the stage left area with an eight-foot plus hand carved redwood lion faced figure, Tarrus Riley was in his usual "A" game state on Saturday. He and Blak Soil were on fire with an endless string of hits, medley style in order to fit them all in. We heard Rebel which had a reverberation in the redwoods in light of the situation in the U.S. with regard to violence and police brutality. Herbs had the crowd singing the various strains in the lyrics word for word.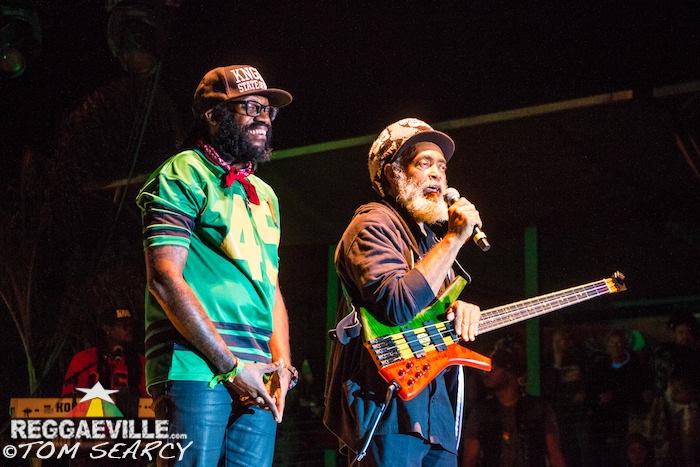 Tarrus made time for a Buju Banton tribute as well and had veteran bassist and Blak Soil band member Glen Browne do a wonderful nyabinghi chant that represented a portion of the Rastafarian Creed: "Let the hungry be fed, the shelter less be sheltered, the sick be nourished." During the song Protect The People Tarrus made a direct comment on the state of Jamaican reggae in the world marketplace by changing up the lyric to sing: "Protect Jamaican music". The band closed with Gimme Likkle One Drop which served to emphasize this undercurrent of preservation of authentic Jamaican reggae.

During his press conference, Tarrus Riley was asked what it was like to be at the festival and he replied, "It feels nice, its a pleasure to be here, and bring reggae to this river. In Jamaica I live on the East side and I bring reggae to that river. I live in St. Thomas, Jamaica and go to the river but that is not a festival, so this is a festival I should call it one of a kind, it is one of a kind." When asked about new music, he noted that he "has a lot of new music coming out, I have a song produced by Major Lazer coming out with Ellie Goulding. It's a love song but the music is kind of different it's not a regular reggae song or a dancehall song." He then broke into the bridge and sang a piece for the group from Powerful and followed that with the comment "I really give thanks for the opportunity to work with Major Lazer on some different kind of music because I try to do different styles of music from day one. So I give you uptempo music, slow music, listening music, lover's music, conscious music that's always positive and that is something I am about, I am not prejudice in any kind of way and I am not musically prejudice either, I like to experiment with different kinds of sounds. It's good for the concert, you know tonight you have a listening time, a jumping time, a different time because people have different emotions and feelings and we have to have music for all of these different kind of vibes. So any time you hear me do some different kind of music, listen to the words, cause the content of my music don't change, even though the rhythm might change."

Tarrus further outlined his writing style by explaining his origins in the industry, "I started out as a DJ, I am a Dancehall baby so I grow up in the 90's listening to Dancehall. So that's my influences. I grew up listening to Hip-Hop too, Tupac and Biggie, that's my influences, I can't do anything about it. So all of these different things make up Tarrus Riley so I could never be prejudiced against music because I am influenced by so much different kind of music, then my father music (Jimmy Riley) and then Rocksteady music, and then so much music. Then I want to do different kind of styles to give you my message." When asked about production teams that he prefers to work with he points out that there are so many, and he mentions Juke Boxx and introduces Shane Brown who is standing nearby on the dais and who works with him as a management team member. He shouts out producers including Dean Fraser, musical director for Blak Soil, he mentions the "V.I. massive, we just did something with Virgin Islands- based Rock City, different kind of style, same message."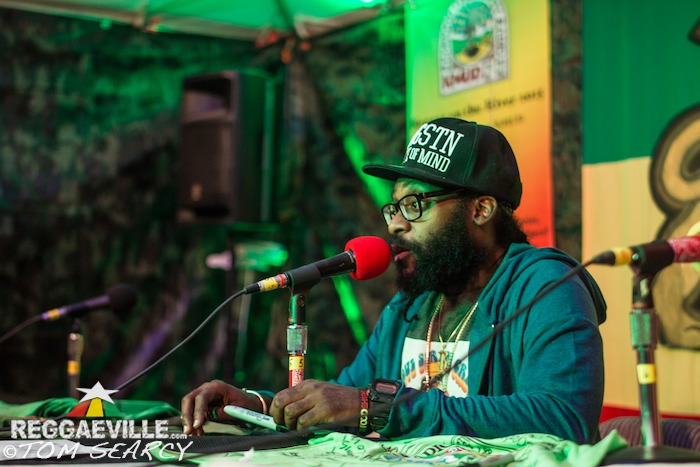 When asked about the influence that musicians in Jamaica had on him growing up around the music as a child, Tarrus exclaimed, "They were like super-human beings. I swear like Superman and Batman and Robin, like musicians were God-like. Because in Jamaica, musicians are very powerful people, respect them and look up to them. And a lot of them come from inner city communities where they are now like role models and help out other people there, so people have a great level of respect for musicians in Jamaica. And music is very important to the Jamaican people because a lot of them learn what them learn from music, they hear it in a song. I can speak from my own experience. I have a song called Shaka Zulu Pickney and the amount of conversation that song caused, is learning. So in Jamaica musicians growing up and even to this day, they get a lot of respect. The elders are there with the roots, and we are here with the now kind of vibe, so together, I think we make a whole sound."

When asked how he feels that reggae music can influence the youth of today, Tarrus notes, "First of all music, influences youth, because most of the things that we learn, we learn them with melody and lyrics and timing. For example: (starts singing the ABC's song)….influence you and me…so children pick up to melody, they pick up to timing, stuff like that, so music, the words, sometimes even when we don't know the words we pick up to the melody and after we look on the words and reggae music carry a strong message for example: (starts singing "One Love") you say 'what is this one love one heart, let's get together and feel all right, the message of Rastaman, the message of Reggae music."

When asked about upcoming videos he has in the pipeline, Tarrus notes that Cool Me Down on the Country Bus riddim has a new video releasing soon. When discussing making videos he explained that he "enjoys doing videos, at first I wasn't really comfortable with it but now, I kind of like the whole visuals and lighting, maybe one day I will be directing videos cause I like it. I mean like for real I would like to do a movie."

The Reggae on the River event has always been a special place for the Marley's to perform over the past 30 years. This year Stephen "Ragga" Marley gave a carefully planned set for this "Reggae" audience. He seemed to be listening to the audience closely, reading them for signs and responses. The sound at the front of the house is made for a band like this, one that when they play quiet or slowly you can feel their notes and discern the lyrics and spaces between the notes, the way reggae is supposed to be heard. For Made In Africa he had the audience at attention with its solemnity and nyabinghi pace. The vintage soul-influenced Simmer Down by Bob Marley and the Wailers was a refreshing version to hear performed by the next generation. As Three Little Birds began so did his conversation with the audience who sang the lyrics like a church hymn. He continues to feature Ethiopian flag wavers including his growing young son Jeremiah who waved frenetically during the next Bob Marley & The Wailers songs like "Buffalo Soldier" which had the crowd rocking as Stephen asked, "Did you say you love reggae music?" For Iron Lion Zion Ragga did a great freestyle intro and then the segue from this to his own Iron Walls which boomed the concert bowl with the biggest vibes of the weekend.

No Cigarette Smoking featured veteran Melody Maker Rica Newell whose solo during the song echoed Jazz divas of yesteryear. For his recent single Rockstone Stephen started out singing the lyrics from the Bee Gees' Saturday Night Fever movie classic, Stayin' Alive. Moving into Traffic Jam Stephen took the sound down low to do a call and response on the scat portion of the chorus with the audience. For The Mission he moved into more freestyle vibes at the intro while singing "From California to Jamaica" in the opening lines. There were audience members waving flags all weekend as is the common practice, for this set a giant lion face puppet that resembled the singer was bobbing up and down in front of Stephen Marley. As the set began to wind down, Stephen Marley had Jo Mersa come on stage to join the festivities for Revelation Party as he sang: "Tonight we are going to have a good time, everything all right, we are going to party from night to morning light".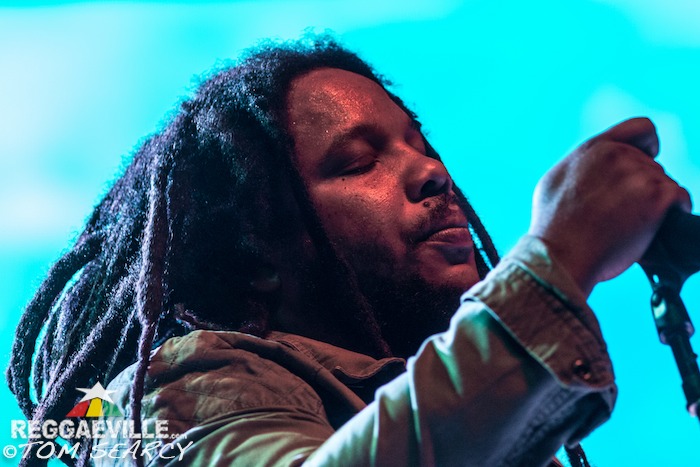 The vibe took the feel of a real groundation as Stephen spoke directly to the audience to say that "In the future, no preacher, no teacher, no politician can free us as a people, our future is our responsibility and our responsibility goes a long way." He then emphasized his point by introducing his sons on stage noting that it is "from generation to generation." As the band completed the set, they were all introduced on stage by the band emcee Yusef. Stephen Marley and his 14 members of his band entourage ended up partying on the riverside at the late night dancehall stage that night into the wee hours of Sunday morning exhibiting how for them it really is a special place to play.


DAY 4 - SUNDAY, AUGUST 2nd 2015
Exco Levi was the mid afternoon artist to watch on Sunday. His voice is so full of depth, it played well on this big sound stage at "Reggae". Having the iKronik band back him after just a few hours of rehearsal meant that he could wheel out and perform a Jamaican-style set that was highly anticipated. Songs like Blood Tears and Jah No Sleep were a conscious breath of fresh air on a cooler Sunday in the redwoods. The tune Reggae Music Calling was another reminder that this music is to be preserved and protected.

The festival had a few changes in the lineup but before these changes The Congos were on the lineup as the sole deep roots vintage reggae group. Their set, replete with songs like Congoman with its haunting harmonies singing, "Out of Africa comes the Congoman" over a funky rhythmic bed remind us that this group is heavily influenced by '70's Soul music. Formed originally as a trio with Cedric Mython singing the falsetto, they had to do without him as visa issues caused him to not make the trip to the US. Instead Ashanti Roy Johnson led the band in a commanding presence on stage addressing the audience in a somewhat conciliatory manner stating, "These songs are from the seventies." Baritone Watty Burnett was like the sidekick to Ashanti Roy, riffing and styling on stage. Joining them to sing the falsetto harmonies was LaVenia "Bunny" Brissett a well-regarded female vocalist who held her own with The Congos and is most often seen touring with artists like Israel Vibration. This vocal trio was backed also by iKronik who seemed to be having the time of their lives performing these "songs from the seventies." Once Fisherman came on the artists had the audience under their spell singing the chorus to this classic.

Later in the press conference, they explained their own experience in studio as quite different from that of today's singers noting, "you have to get your part right, there are two tracks, all the musicians are on one track, and you are in this studio with only one entrance in and out and no air conditioning and it's 200 degrees in there in Jamaica." They also decried the current state of the Jamaican music with the trends in sexualized, graphic lyrics.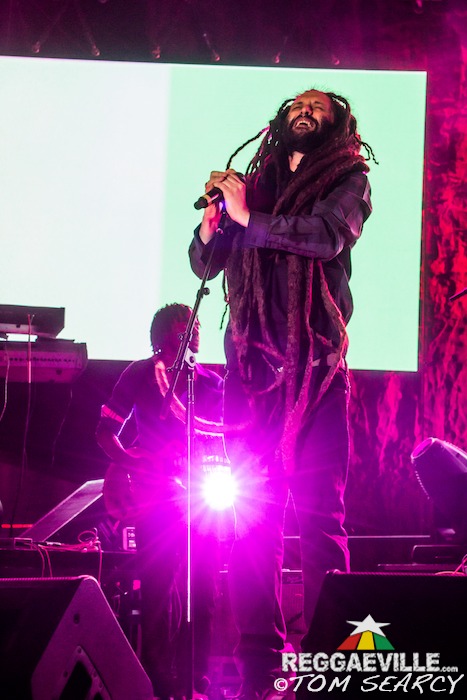 Alborosie gives one of the greatest shows in reggae, with a band hand picked by The Specialist that includes some of the best musicians Jamaica has to offer especially drummer Dave "Prime Time" Green who is so athletic and animated and yet so in control of the Shengen Clan, he is shouting commands and directives throughout the set. Albo has a significant following in the area, having toured there numerous times in the recent past. He had the audience singing word for word to songs like Kingston Town which received the most air horns blaring and fans jumping. Even fans from Italy had made the trek to the redwoods to support the artist in this coveted headline spot. He covered a few songs that seemed to be his personal anthems like John Holt's Police in Helicopter and Bob Marley & The Wailers' Crazy Baldhead which he planned out with a special note by note call and response with the audience that was like its own production within the set. Albo also treated us to an Italian aria he sung a cappella to show his diversity and celebrate his culture. His set was organized like a symphony with him orchestrating a joyful presentation to close out Reggae on the River 2015 on Sunday.


CLICK HERE FOR THE PHOTO REPORT