Best Moments... One Love Cali Reggae Fest 2019
02/26/2019 by Brad Metzger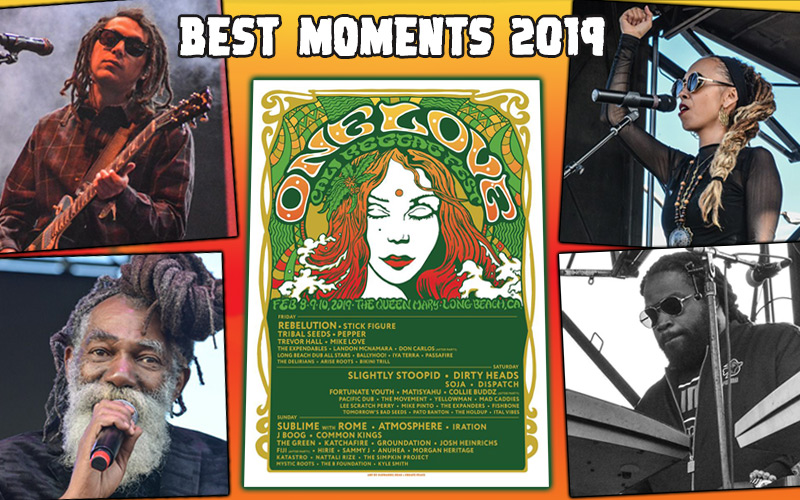 The sold out One Love Cali Reggae Fest 2019 at the Queen Mary floated into the twilight zone on day one with ultimately Eric Rachmany accidentally droppeding his guitar mid song during Rebelution's headlining set, something he's probably never done before.

Earlier we had to listen to Pepper's Bret Bollinger talk about how big his drummers' penis looked in his outfit. And a friend backstage explained how she left her purse in Don Carlos's microwave inside his trailer… to keep it safe. At the time, Don Carlos, who was scheduled to host the afterparty that night, somehow ended up playing a 25 minute set at 3:45am. This is way too short of a set, and a lame time for such a star. It was also a little disorienting seeing $4,500 Cabanas and $800 bottles being sold. Was I at a reggae festival or Coachella? And to top it off when we checked into our neighboring hotel, there was a mini riot going on in the lobby since they had overbooked and were bumping people with reservations to another hotel miles away. However, there were moments of hope on Friday, the highlights being Landon McNamara and Tribal Seeds.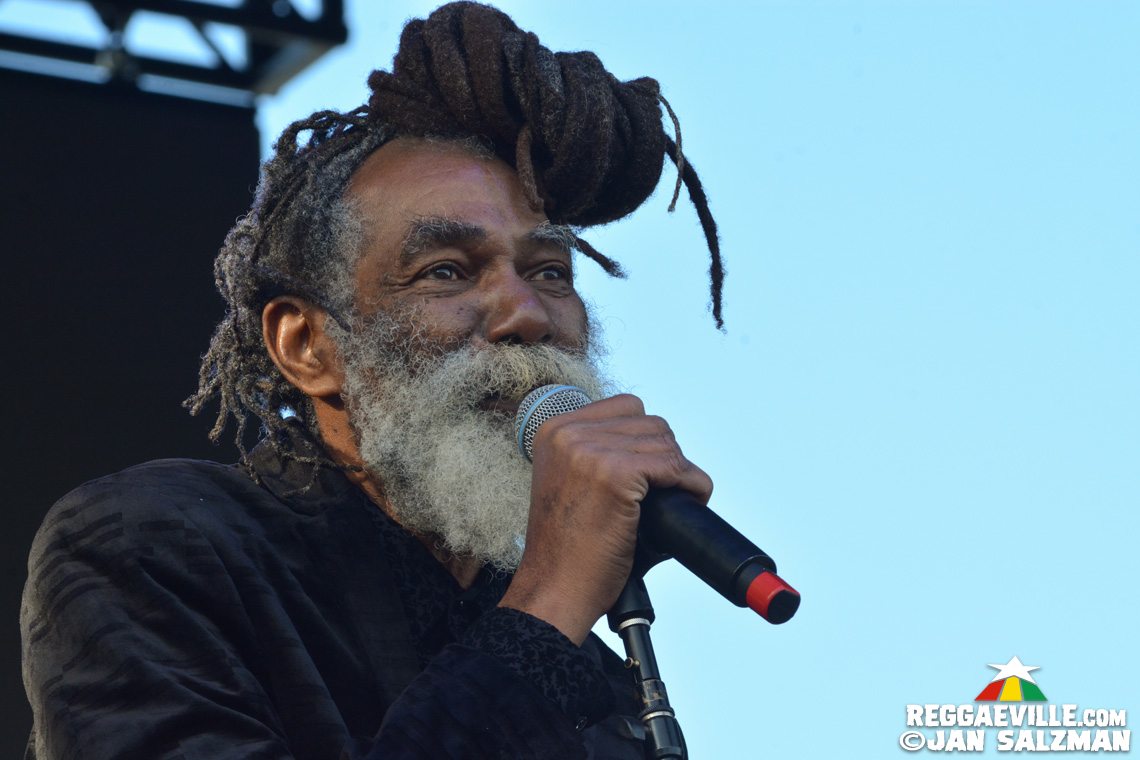 ONE LOVE CALI REGGAE FEST 2019 PHOTO-REPORT HERE!
Landon McNamara is an introspective, thoughtful singer songwriter, surfer and model from Hawaii. He and his music don't quite fit into a box and he comes off a little nonchalant and distant, letting his music speak for himself. In I Do What I do, he sings: "They never get the best of me. I ain't no hippie, I ain't no rasta, just smoke a little herb and jam my guitar…who are you to tell me I ain't livin' right?" From Time To Waste: "…I got a whole lot of love and time to waste…Finding happiness is my only goal, don't really care to impress you I just live my life and do the things I do." As with many talented artists, Landon who rarely tours, is a bit withdrawn but this is part of his genius as exemplified by the moving lyrics to Loss For Words: "I'm at a loss for words, and my heart it hurts. Things going on in this world, so absurd. Mr. President tell me what's the word? Selling ammunition to the mentally ill, just to make a penny while innocent get killed. Turn on the news and I heard the sounds, from the thirty-second floor gun shots raining down. All those lives lost, what a pity. Just tryna have a good time down in Sin City. This ain't the first occasion, but I hope it's the last. Kindergarteners can't feel so good in the class…This ones for Columbine this ones for Paris and one for all the lives lost in Las Vegas. This ones for Cali and for Miami, this ones for London and no I'm not done. One for Iraq, Yemen and Saudi, and for Syria and those murdered babies." With a brand new album just released, "Still Kickin" Landon is someone to keep an eye on.
Tribal Seeds always bring surprises to the stage, one of which was Gonzo's excellent version of Mark Morrison's hit from the 90's Return Of The Mack. He later explained that his mom would blast this for him when he was a youth and he just loves this and other 90's like hits. Bassie Victor Navarro took the mic for a killer rendition of the Spanish song by Manu Chao, Machine Gun, while Louie Castro slid over to bass. The song was so perfectly Spanish, if I closed my eyes, I could have been at Rototom Sunsplash in Spain listening to Malaka Youth. And thankfully Castro on keys tore it up with his track Secol and Cool. Lead singer Steven Jacobo has no problem sharing the spotlight which results in some great onstage comradery.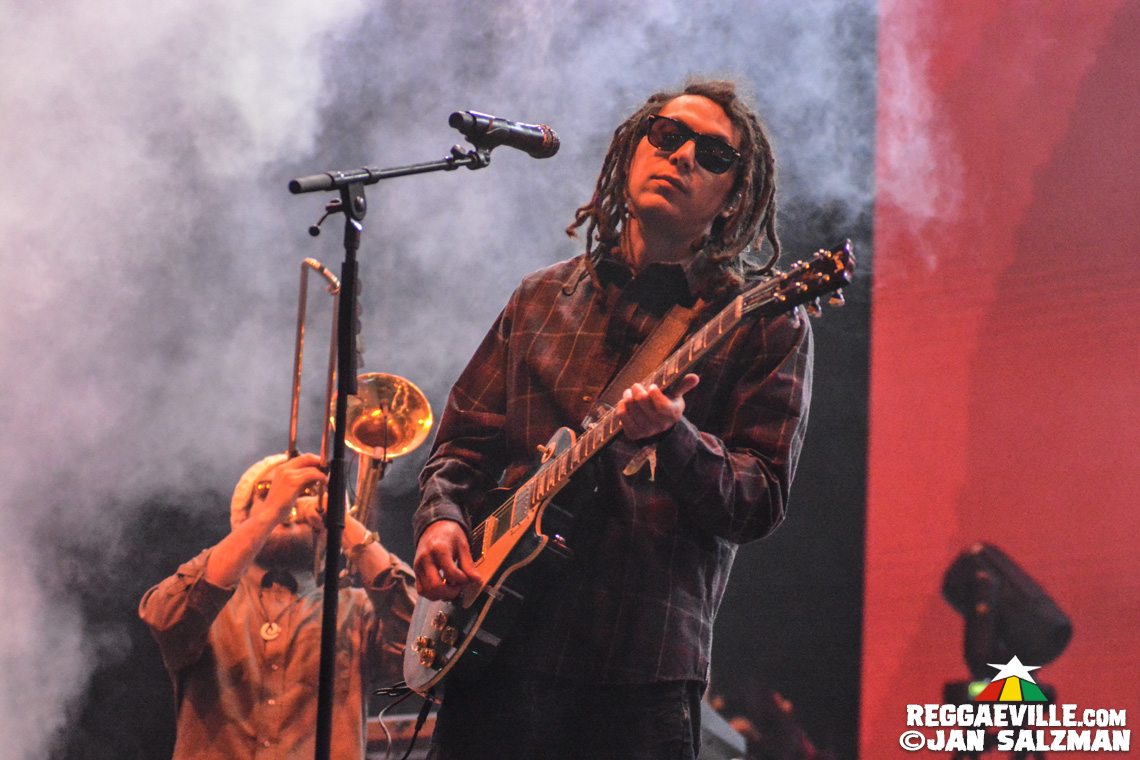 Saturday featured a stacked line up starting at noon with Analea Brown outside on the main Koi Stage till well past midnight inside the ballroom on the Queen Mary with Collie Buddz' afterparty. One of my takeaways from the weekend was Pacific Dub, poster boys for the Cali reggae surf rock genre. From Huntington Beach, miles down the coast on Pacific Coast Highway, they are the full package: songwriting, musicianship and stage presence. Matisyahu is always dramatically mixing up his set list so even though he is active on the festival circuit, it's always hard to follow where he's at and where he's going but he always seems fresh. This guy truly beats to his own drum and it shows in his outfits. Saturday he sported a multi color neon lion print windbreaker, yellow ski beanie, baggy faded grey sweatpants, orange socks and white lawn bowling sneakers… but believe it or not he actually pulled it off. Unlike last year he didn't launch himself into the crowd over the photo pit for some crowd surfing and it only took him four songs in to start swigging cans of cheap domestic beer as he twirled around in pure joy during a guitar solo. Lee Scratch Perry was in his own world as he preached about Jesus being black as he dragged his suitcase back and forth around the stage with him while he burned incense.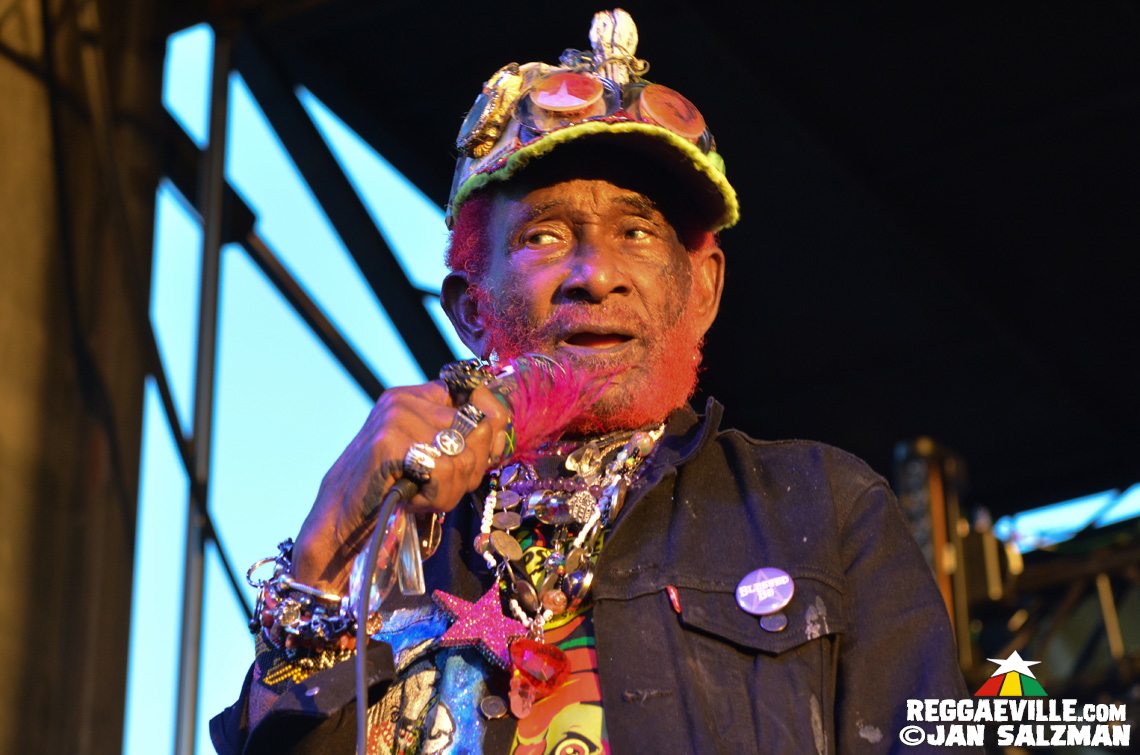 The best set of the weekend goes to Collie Buddz at the afterparty on Saturday night. Jacob Hemphill from SOJA joined for Legal Now, Collie's new track, and if this new materials is a hint of what is forthcoming on his upcoming release that he has been touting on social as "gonna be madness,!!" it promises to be Grammy material. Legal Now is catchy and infectious without being trendy and it's not crossover crap like so many of the modern artists are succumbing to. And Collie has always managed to stay true to a roots reggae beat while still staying fresh and current, over decades at this point. Case in point Good Life and Blind To You which he tore through tonight. There are artists that go through the motions while performing and there are those like Collie who perform in the moment while having a blast. Many of his songs are anthem like, party oriented, talking about herb and or drinking, often with a booming dancehall lick. He has a way of transporting you to his native Bermuda as if you were on vacation at a reggae beach party. Surprisingly he's a good family man with wife and kids back at home which is apparently his "Good Life."
Sunday was another full day with Hirie waking and baking at noon on the main stage. Nattali Rize was a highlight of the weekend and as always brought a spiritual message wrapped in a gift of music: "Every time we gather with music it's a very powerful element of our existence that we need to make sure we are conscious of these things by injecting intention into these little gatherings all right? Reach into this place in your chest, your heart force…we are going to send this collective heart force right up into the skies and spread it right around mama Earth where we are sharing with this lifetime." This was the premise to a classic and strong set including most of Nattali's hits including One People, Rebel Frequency and Heart of a Lion.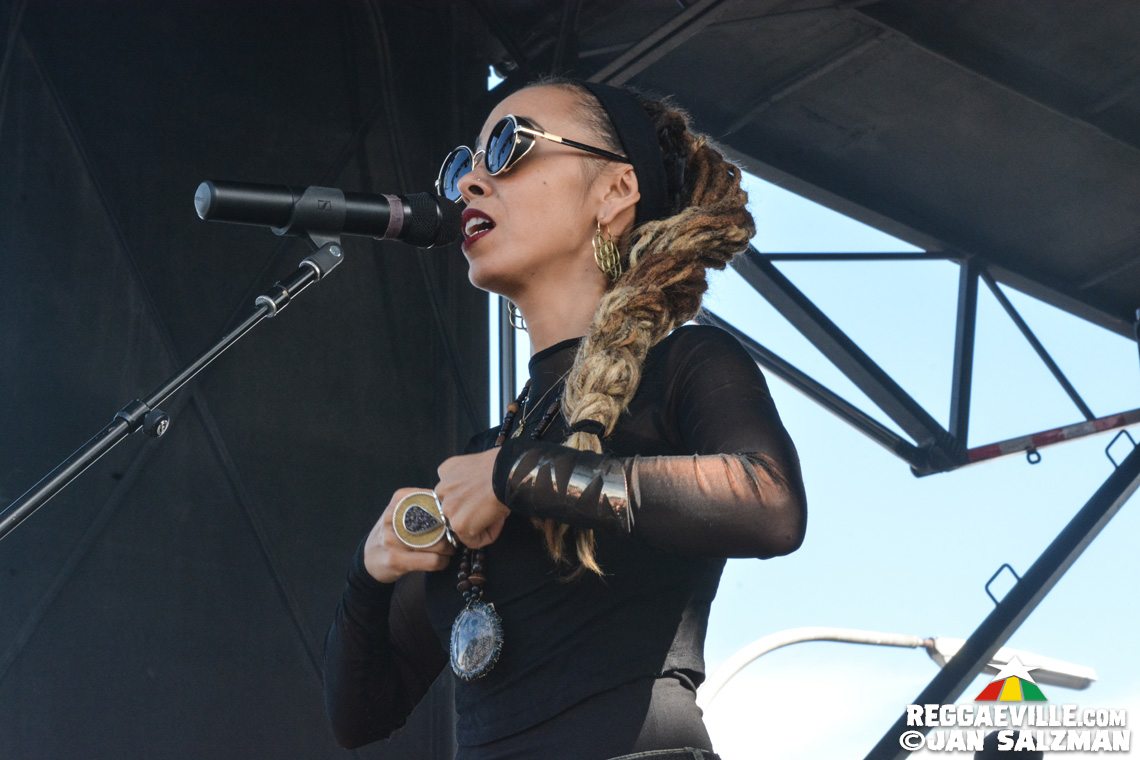 When there isn't enough time for J Boog to join The Green onstage, it's clear set times were a bit short to allow for the onstage collaborations these California mega festivals are known for. But during Iration's longer set, J Boog managed to jump onstage with Common Kings' Sasualei "Jr King" Maliga, and there were other noteworthy collabs including both Hirie and Don Carlos with Slightly Stoopid and J Boog again later on Sunday joining Fiji. However the sold out crowd would have loved to have seen Collie Buddz join the Movement on Saturday for their track Habit 2016 they recorded together, especially since Collie was hanging backstage in anticipation of hosting the afterparty later that night. The shorter sets aren't as conducive to these collabs but the upside of course is the sheer quantity and variety of artists over the weekend from Lee Scratch Perry to Atmosphere to Morgan Heritage and everything in between.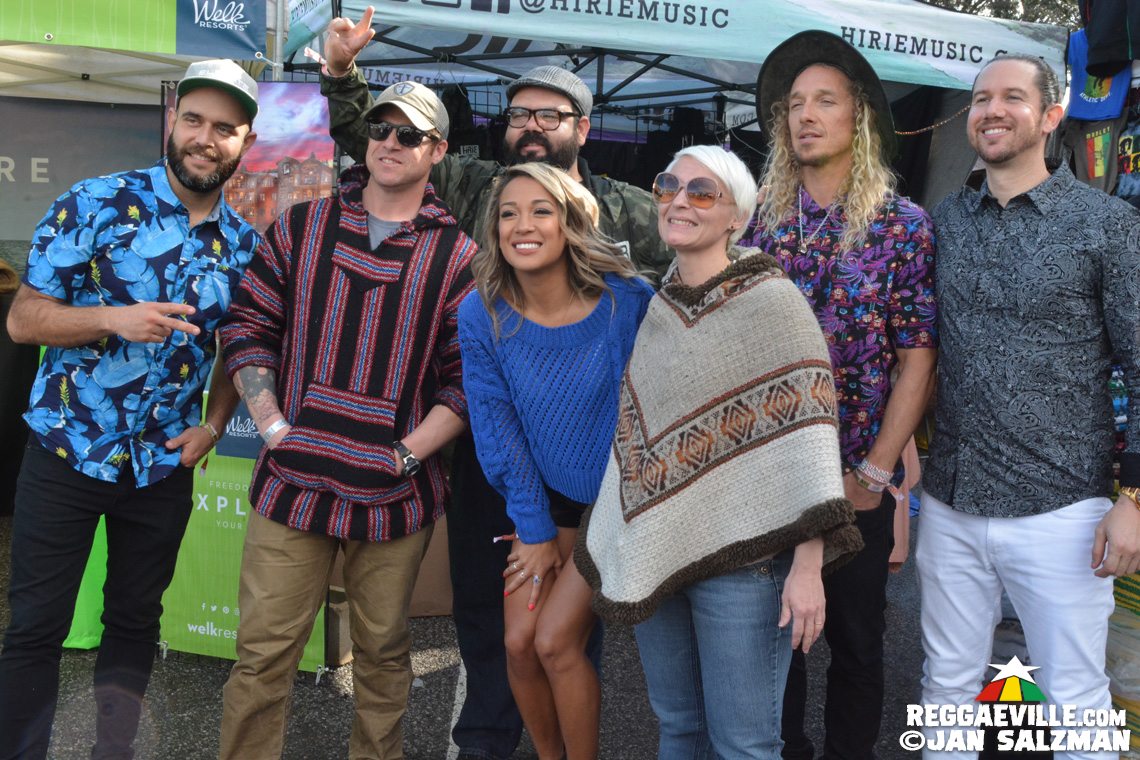 Goldenvoice did an outstanding job at mud mitigation considering the rain most of the weekend. The intermittent and at times pouring rains all weekend could have been a disaster and destroyed the dirt field in front of the main stage. Instead with a fleet of wood chip wielding golf carts running around and an ingenious proactive use of bolted down astroturf that let the water seep through and capture the mud, it felt like you were walking around on sand instead of getting soaked and trashing your shoes. Crisis averted. After 3 days of great music and vibes, at the end of the day it's about the memories but also the takeaway. I left with the spirit and message of hopeful and meaningful songwriting by talented artists like Landon McNamara, Nattali Rize and Pacific Dub. This is ever more important these days and its inspiring to know that today's modern Reggae artists are pushing forward with the music as a message.

ONE LOVE CALI REGGAE FEST 2019 PHOTO-REPORT HERE!