Best Moments... California Roots Festival 2018
05/31/2018 by Brad Metzger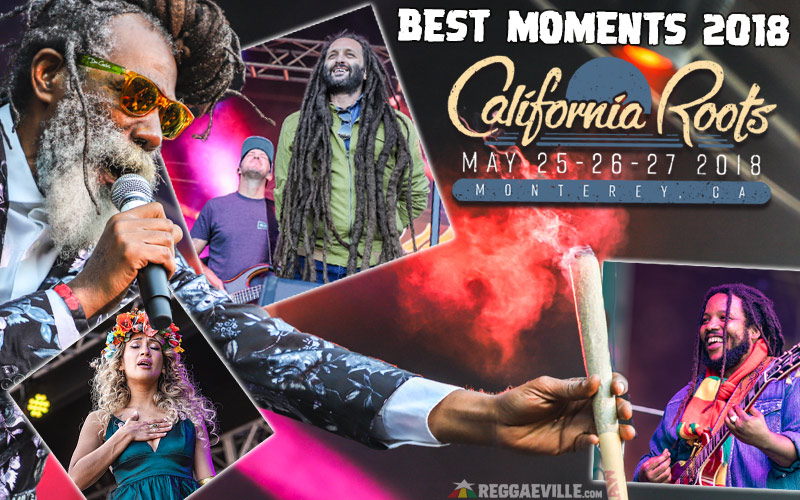 What makes Cali Roots unique and pretty mind blowing is that it's a festival as much for the artists as it is for the fans. So you'll be heading from one stage to the other and Nattali Rize, in fan mode, herself not even on the schedule this weekend, will be walking right alongside you. Or you'll be checking out Tash Sultana and right next to you is Steven from Tribal Seeds and he'll introduce you to his dog Enoch. And best yet you'll be at the Iya Terra afterparty on Saturday night checking out Hirie, Dan from Fortunate Youth and The Expanders all sharing the stage while Zeb from Tribal Seeds tears it on the mic, and holy shit lookout here comes Rebelution bassist Marley D. Williams crowd surfing right over your head! This year also saw some epic onstage collaborations: Alborosie and Don Carlos joining Slightly Stoopid, Stephen Marley joining JBoog, Eric Rachmany and The Green and the memorable finale with Nattali Rize, Eric Rachmany and Hirie all joining Tribal Seeds together to close out the Cali Roots stage on Sunday. Tribal Seeds had one of the strongest sets of the weekend. So awesome to see singer / guitarist Ryan Gonzo back after recuperating from a stroke and Secol & Cool by Louie Castro just killed!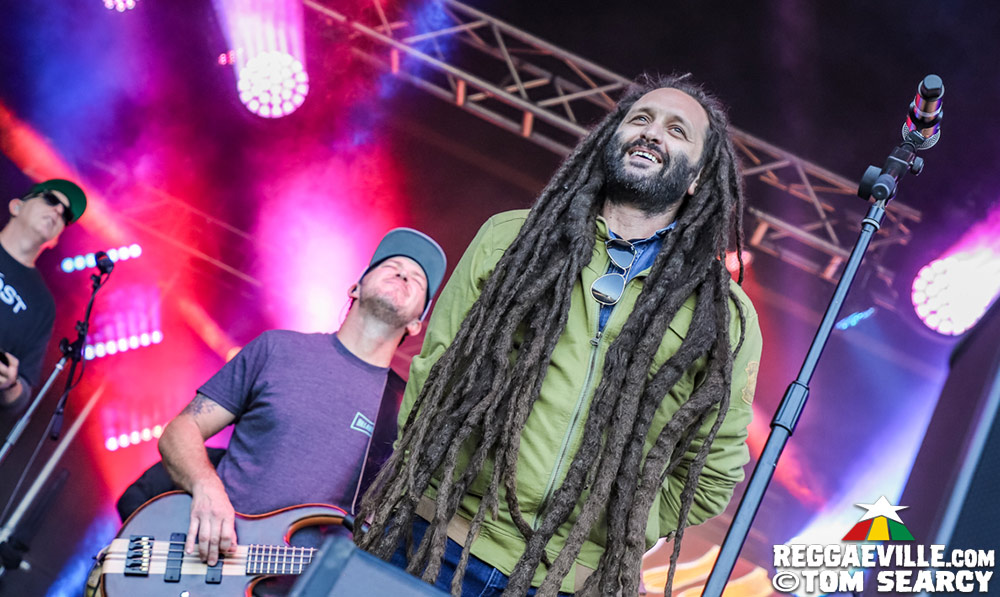 This year the smallest of the 3 stages was transformed into a chill area with huge beanbags, a stage for hilarious intoxicated interviews (Beebs and Fortunate Youth), a screen to see what was going on over at the 2 main stages, as well as pop up acoustical performances by For Peace Band, The Expanders, Iya Terra, Mike Love and Kyle Smith. With 2 instead of 3 main stages, this year was a tad light in terms of quantity of acts however the Cali Roots team always brings out of the box, lesser known artists such as Tash Sultana and Trevor Hall who both had a big impact. They always bring special artists to the west coast as well. Last year it was Alborosie and Mellow Mood and this year brought Alpha Blondy in a very rare California performance who is on tour supporting his new album Positive Energy. This year I especially felt the dichotomy of old versus new. Veterans Steel Pulse, Alpha Blondy and especially Stephen Marley truly put on a clinic while rising stars Fortunate Youth, Hirie, Raging Fyah and Iya Terra proved with new material, stage presence and fan support why they have come into prominence over the last few years and that they are here to stay.
STEPHEN MARLEY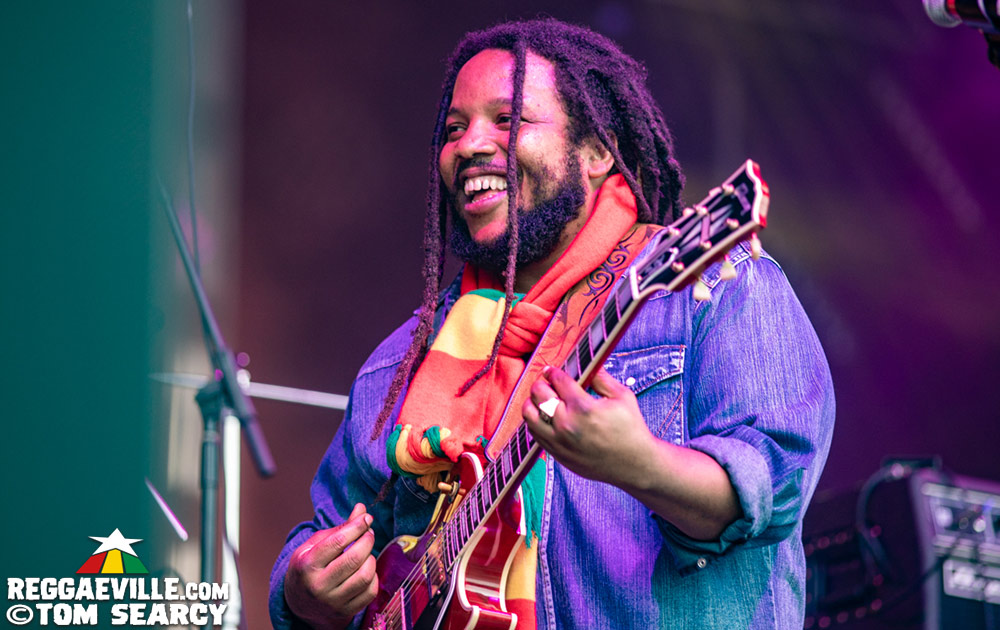 "The lion is in the house!" declared Ragga as he tore through Rastaman Vibration and Mind Control with an ad lib ragamuffin style rap at the end. Then, I Shot the Sherriff, as the Cali massive erupted. And we weren't even half way into the set. Yes, on Stephen's cue, the crowd repeated "LOVE," and yes those amazing bongos, and of course that infectious smile. But tonight there was so much more. Ragga is the most versatile, agile Marley who effortlessly transitions between modern ragamuffin dancehall, classic Bob, African, and best yet his own wide ranging original material. Having studied up for his acclaimed acoustical set last month at Kaya Fest, Stephen ended with an acoustical version of She's Gone and finally Could You Be Loved.
ALPHA BLONDY & THE SOLAR SYSTEM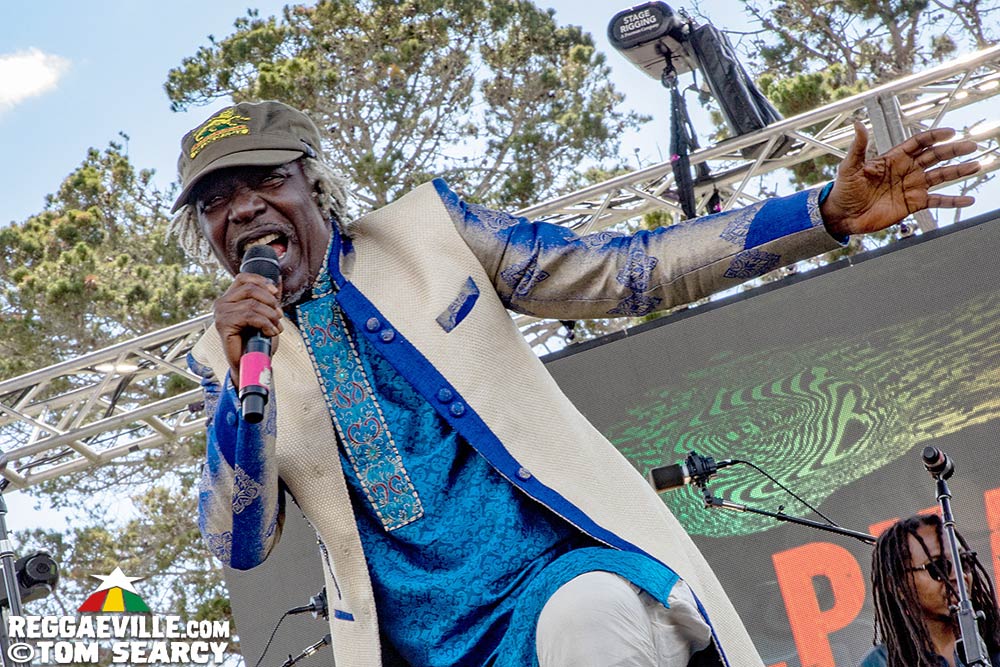 Alpha Blondy, with his striking dress like turquoise outfit, head buried in his Lion of Judah cap, truly lost himself for a moment a few songs in, then came back to reality with words of wisdom: "No one has the right to kill in the name of God, because God say in the Koran thou shall not kill. God say in the Bible thou shall not kill. Do not involve Allah in your crimes… Terrorism, violence, enough is enough. We want peace. How many generations of Israeli children and Palestinian children will politicians sacrifice? The U.N. needs to take responsibility to stop the bloodshed. Children of God are you ready for peace?"
The message and preaching in between songs is dead serious but the music is uplifting and positive. After Jerusalem and many other classics as well as a few songs off of his most recent Positive Energy album, Alpha and his 10 piece band did an extended dub version of Pink Floyd's Wish You Were Here. The average youthful Cali Roots goer looked on in rapt wonderment having never seen, nor in most cases having ever even heard Alpha's music. Yet on some level I felt that the message was soaking in big time and they understood they were witnessing something important.
HIRIE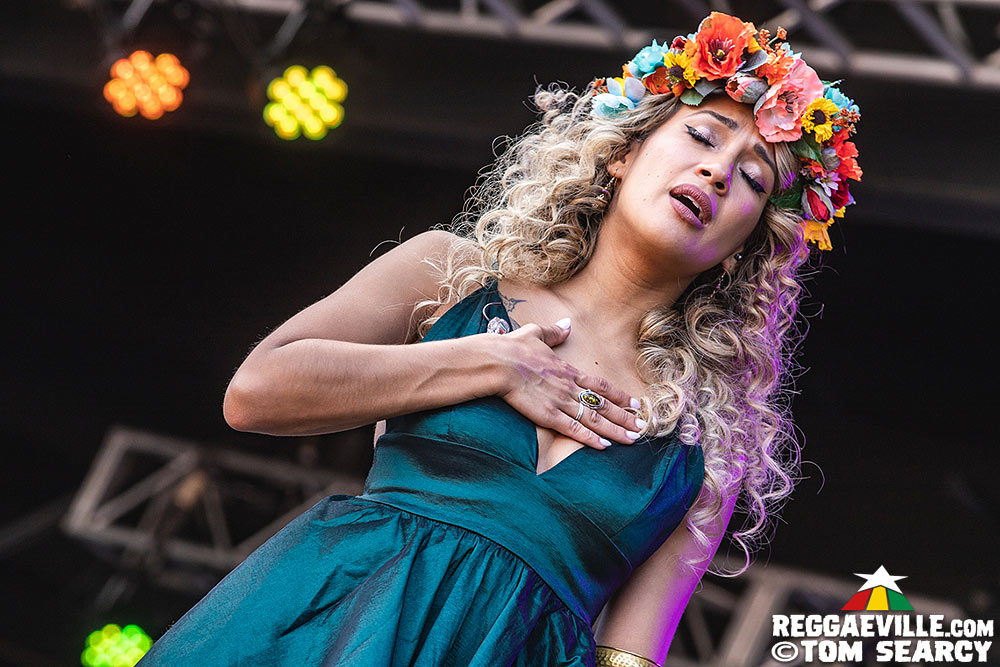 The Hirie band, decked out in white, green and pink pastels took to the stage with confidence and the synchronicity of a tight knit band on a rising trajectory. Despite constant touring they always bring an ever changing set. Twirling around, dress flying, Trish, aka Hirie, introduced Kaylan Arnold onstage during Sun and Shine, the new single featuring Eric Rachmany from Rebelution. Rumor had it Eric was going to join but he hadn't yet arrived in Monterey. Next to be invited up was Karim Israel from Arise Roots to do Cool Me Down, the single they recorded together in 2014. Then, surprise, Nattali Rize joined onstage for a quick sesh! What a treat!
FORTUNATE YOUTH
Smoking reached a fever pitch of the weekend with Love is the Most High, as Ozzie from @weshouldsmoke passed around bat size joints and huge boat sized inflatable Raw joints floated amongst the crowd. Sweet Love and Soul Rebel finished off a quintessential Cali Roots performance.
RAGING FYAH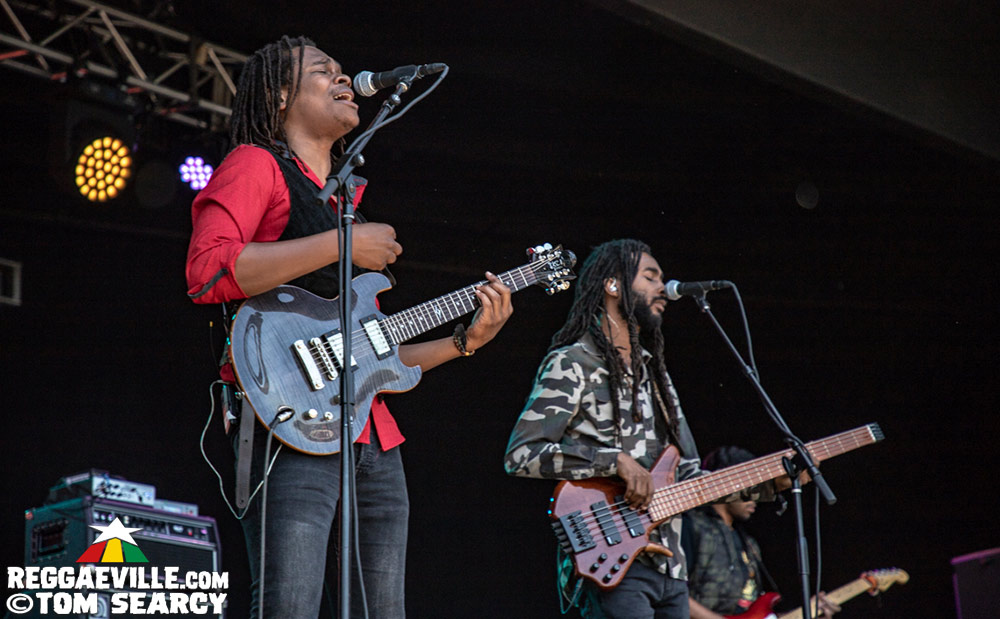 Despite an early set time on Sunday, fans filled The Bowl arena to check out Grammy nominated Raging Fyah outta Kingston Jamaica. Charismatic lead singer Kumar Bent ramped it up mid set with Raggamuffin, followed by new songs Chalice and Rebel which I hope will be on their upcoming album. Extensive touring and booking important festivals like Cali Roots and Rototom Sunsplash in Spain where I saw them last have really upped the profile of this promising band.