Reggaeville Riddim Corner #23 (Top Shelf, Anti-Racism, Rudeboy Skank & Vibes Maker)
05/11/2018 by Dan Dabber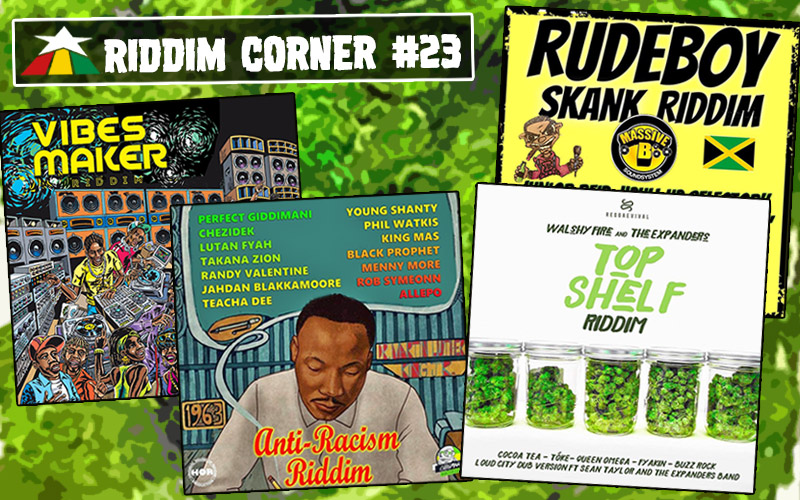 TOP SHELF RIDDIM (THE EXPANDERS X WALSHY FIRE)
While other American reggae bands tend to water down the genre with rock and/or pop, L.A.-based group, The Expanders, lean hard into the pure roots sound, creating music that feels like it could be 40 years old and Jamaican. The instruments sound right, the mastering is accurately gritty, and their three-part harmonies could stand alongside legendary Jamaican groups like The Mighty Diamonds, The Abyssinians, and Israel Vibrations. If The Expanders were alive and living in Kingston in the 1970's, they would likely already be reggae legends. For their latest project, Top Shelf Riddim, The Expanders link with Black Chiney selector/producer, Walshy Fire, who came to global prominence as part of the pop-dancehall outfit, Major Lazer. There are also several high-caliber reggae artists like Fyakin, Queen Omega, and Cocoa Tea featured on the juggling.
Top Shelf originally appeared as a tune on the 2015 album from The Expanders, Hustling Culture, which suggests that it was more recently cherry-picked by Walshy Fire for the juggling. The instrumental is everything you would expect from a roots reggae riddim - heavy bouncing bass, rolling riddim guitar, and dubbed out drums, plus the riddim was customized further to accommodate a few of the individual artists. The customizations are at times extensive, which makes Top Shelf exciting sonically on the whole, especially when mixed together by a skilled selector who can efficiently present all of the highlights in a condensed form. The project includes nine total tracks, with one instrumental of the original tune from Hustling Culture, as well as a cool trumpet version from Sean Taylor, and its dub counterpart mixed by Loud City Music.
The top selection has to be Fyakin's I Story, in which he adopts a wicked 80's deejay flow that is matched by a heavily modified, dancehall version of Top Shelf. The vibe on this one is next level, and one of the few tunes from the project with a retro appeal that's appropriately nostalgic for a throwback-style riddim. Cocoa T's song, Medical Marijuana, is another track from the juggling with old school flavor, though the much younger Fyakin's approach is more about creativity, adopting a style he has never used before, where the veteran Cocoa T just does what he always does. That's not to sell the singer short. What Cocoa T does with this ganja tune is fire - bubbling sweet melodies over the second most customized version of Top Shelf Riddim. Although it isn't in an old school style or backed by an extensively modified variation of the instrumental, Queen Omega's She's an Empress is undoubtedly one of the best selections from the juggling, in no small part due Omega's powerful vocals and especially skillful songwriting. The other artists featured on the project, Buzzrock and Tóke, each step up for their respective tracks, leaving Top Shelf Riddim without a single track to complain about.
ANTI-RACISM RIDDIM (GIDDIMANI RECORDS)
Perfect Giddimani is a reggae artist with a deep catalogue across many labels, but some of his most interesting work is being released on his own label. Giddimani Records has put out superb jugglings over the last few years, like 2016's Bay Area Riddim or the hilariously titled Burnhard Spliffington Riddim from last year. The newest release from Giddimani Records, Anti-Racism Riddim, may be their best riddim release yet, with an amazing backing track, selections from a large list of talented artists, a couple versions with cool, spaced-out mixes, and two new Perfect tunes. Even the cover art is monumental - a depiction of Martin Luther King writing, as if the revered civil rights leader somehow penned the Anti-Racism album himself.
The Anti-Racism instrumental track is traditional one drop reggae with a few updates, like crisp, clean, modern production and flourishes of contemporary synths. The powerful bass marches forward with exuberant hope, interacting with triumphant, fluttering horns and organ skanks. A couple of tunes get the Rosa Parks Mix treatment, which opens up big in the fifth bar, setting selectors up for dramatic transitions. One of the Rosa Parks tracks, Randy Valentine's titular Anti-Racism, is an exceptional song for a multitude reasons. The way Valentine builds back from the fifth bar fallout is tremendous, beginning slowly and gaining momentum, along with the bass, until he announces the intense chorus with the line, ...when dem blow the horn/ it's like a sound turn on, and then the full riddim finally drops. Valentine's song also stands out because of his unusual delivery, which at times seems heavily influenced by Steel Pulse's David Hinds. Wherever Valentine got his vision for the song, it is probably the best tune on a riddim juggling that is very good overall.
Lutan Fyah may be the most dependable artist in the business and his contribution to Anti-Racism, From the Dust, is yet another homerun. A heartfelt tribute to a matriarchal personification of Africa, From the Dust is as evocative as it is alluring, tying together global politics, history, and geography in one beautiful package. Why by Jahdan Blakkamoore is another top selection from Anti-Racism, using a catchy, heartfelt hook to ask our politicians, Why you lying so much? Chezidek adopts a similar, but more radical theme for Politician, exclaiming on the chorus, Thieving politician/ You must got to prison! Ghanaian artist, Black Prophet, seems to channel Burning Spear at moments for Good Neighbors and One Day from Rob Symeonn has a positive message and a sweet, inspirational hook. Several other artists are featured with strong showings on Anti-Racism, giving the juggling a deep bench that will undoubtedly appeal to a wide audience. Although there's probably not a hit single on this project, it is certainly an artistic success, and will likely appear on plenty of playlists and mixtapes in the months to come.
RUDEBOY SKANK RIDDIM (MASSIVE B)
Based out of the Caribbean immigrant enclave and hometown of founder Bobby Konders, Brooklyn, NY, Massive B is one of the oldest and most respected reggae/dancehall labels in the U.S., with releases that date back to 1992. Alongside his partner, Jabba, Konders built Massive B into an East Coast reggae powerhouse, with a huge catalogue of original productions and an internationally booked soundsystem that has a long and prominent radio presence in New York City. With this kind of clout, Massive B has voiced some of the most influential artists in reggae and dancehall history, including Bounty Killer, Ninjaman, Shaggy, and Vybz Kartel. But for their most recent project, Rudeboy Skank Riddim, Massive B played it super conservative, only voicing four artists, all of whom have a close affiliation with the label. The riddim itself is safe in the sense that it is a retro, 80's/90's-style dancehall riddim, and it is always safer to go with a proven formula.
Rudeboy Skank is not a misnomer. The riddim's backbone is consistent upbeat accents, often called skanks; a musical hallmark of the reggae genre, played repeatedly in this riddim by what appears to be a combination of rhythm guitar and electric piano. But Rudeboy Skank is not a reggae riddim, at least not in the traditional sense. The snare drum is clearly playing a syncopated pattern usually associated with dancehall, making the riddim a hybrid of the two closely related subgenres. The way these elements are combined explains Rudeboy Skank's throwback vibe, since riddims in the early days of dancehall tended to have a similar structure as the genre was evolving away from the previously established reggae template. A riddim like Rudeboy Skank can also be quite versatile and especially useful for a selector, as it can fit in with riddims from more than one category, making it a great selection to transition between musical themes.
Massive B's flagship artist, the great Burro Banton, is always present on their jugglings, and his track on Rudeboy Skank, Chemist Inna Dis, is the toughest on the project. The veteran lays out his recipe for cooking up pure deejay lyrics, while highlighting Rudeboy Skank's dancehall appeal. Elephant Man's presence on the juggling has a similar effect on the overall perception of the EP, probably even more so than Burro's appearance. Ele's tune, Rudeboy Skank, provides not only the title of the release, but also a large chunk of the overall fun, as Ele's lyrics play to the hybrid nature of the riddim, reveling in a nostalgic sound that is somewhat rare in the current dancehall landscape. Junior Reid may be the artist most suited to voice Rudeboy Skank, as his career was built on his ability to move seamlessly between the worlds of reggae and dancehall. His contribution to Rudeboy Skank is Pull Up Selector, a song that could have been transported by a time machine directly from the 90's. Choppa Chop's version, I Feel So, has the most reggae appeal out of the four tunes on Rudeboy Skank, and the fact that it's a ganja tune may also get it some attention. However I Feel So's melody is a bit cheesy, and it may work against the talented singer unless his listeners are too stoned to notice.
VIBES MAKER RIDDIM (MAXIMUM SOUND)
Frenchie, a French national who moved to London to learn the music of Jamaica, founded Maximum Sound in 1993, and there have been numerous jugglings released on the label since. As one of the oldest dancehall labels in Europe, Maximum has built an immense catalogue of riddim albums, including a period in 2004-2005 when they contributed heavily to Greensleeves' popular Rhythm Album series with riddims like Blue Steel, Fowl Fight, and World Jam. The last three jugglings from Maximum, Skank & Rave, Royal Step, and Blueberry Haze were released in 2016 and 2017, and it looks like 2018 will be another busy year for the label. The newest release from Frenchie and the gang at Maximum is Vibes Maker, a dark, midtempo dancehall riddim with an infectious, trance-y synth and an impressive lineup of some of the biggest dancehall stars from Jamaica and the UK.
There are three UK artists that stand out on the Vibes Maker juggling, and Lisa Mercedez may be the most striking. Her performance on Waste Man is lyrically sound, but her ability to blend with the riddim, almost like another instrument, is what really sets off the track. Mr. Williamz does something similar with Nutt'n Normal, but his approach is more lyric-focused, falling squarely into the category of ganja tune. The result is still a nice song, and it is wise of Williamz to title the track subtly, so as not to be selected or disregarded based on subject matter alone. The much more brazenly titled song, High, from UK dancehall superstar, Stylo G, may mention weed repetitively, but it is more of a lifestyle tune, mixing up cannabis and air travel references with descriptions of his elevated mindstate. The association works on multiple levels, and Stylo's tune will likely be in heavy circulation by any selector running Vibes Maker.
There are also some great performances on Vibes Maker from Jamaican artists like Khago, Ding Dong, Qraig from Voicemail, and Vershon. The iconic Mr. Vegas provides the titular track, which boasts of his wealth and influence, repeatedly chanting We a di vibes maker for the hook. References to his Bugatti are probably a reach for dramatic effect, but Mr. Vegas' influence is unquestionable; though a musical homage, no matter how deserving, is less effective when written and performed by the artist it is honoring. Never one to be humble, Beenie Man also blesses the Vibes Maker juggling with a boastful version about money and power, adding Dancehall President to a list of self-given occupational titles that previously included (The) Doctor and King (of the Dancehall). Dancehall President is the obvious pick for a top selection from the album, but probably due more to the broad familiarity with Beenie's name and voice than to the track being head and shoulders above the others.